When I lived at my last house, I did try to join a Buy Nothing group but sadly, I was a little too far outside the lines of any current groups.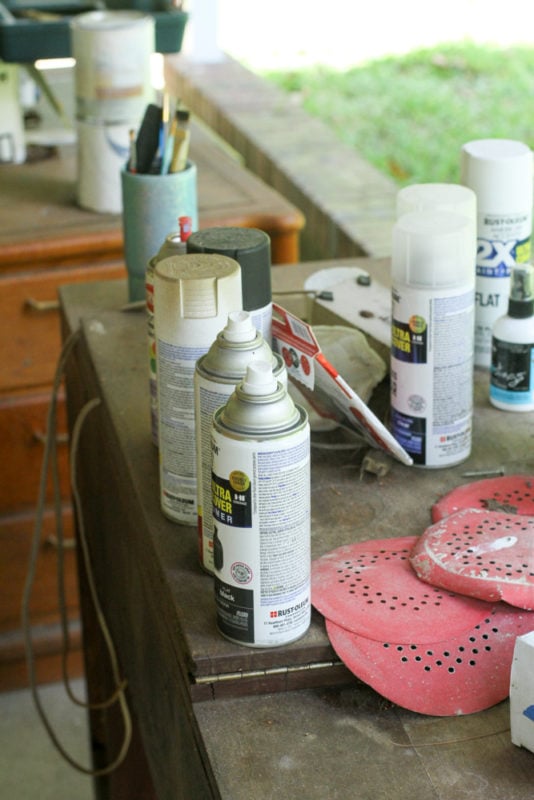 In case you haven't heard of them: Buy Nothing groups are hyper-local Facebook groups where people give things away (and also sometimes ask for stuff).
The idea is to keep things out of the trash but also to keep things local. That way people aren't having to ship stuff or drive a long way to pick up freebies.
When I lived with my parents, I joined their group because my mom had some stuff to give away and I figured I could help her get rid of it. Along the way, I picked up an end table: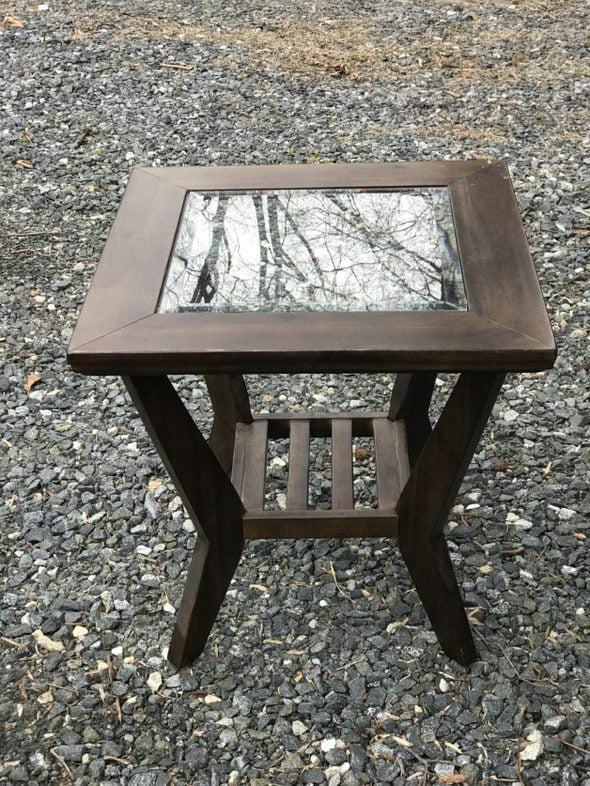 And a bookshelf, which I rehabbed (lots of before, during, and after photos here)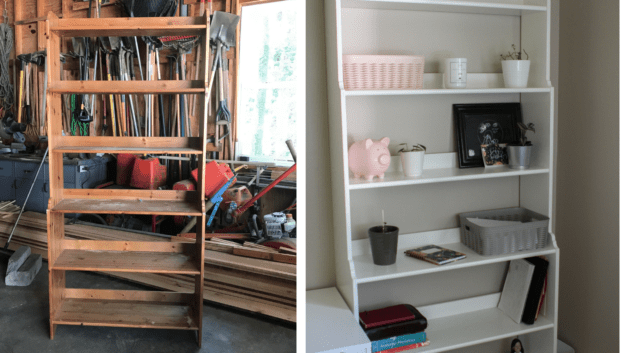 You can only be in one Buy Nothing group at a time, so once I moved into my rental, I unjoined my parents' Buy Nothing group and joined the one here.
Things I've given away
I haven't had a lot to give away, since I'm basically starting a household all over again. But I have been able to give a few things!
The vacuum I ordered from eBay came in a big shipping box full of packing peanuts. Packing peanuts are messy but useful, so I offered them up, and someone came to get them the same day.
I also gave away a box of staples (from the treasure house!), and several metal/plastic dishes (someone wanted them for her daughter's backyard mud pie kitchen).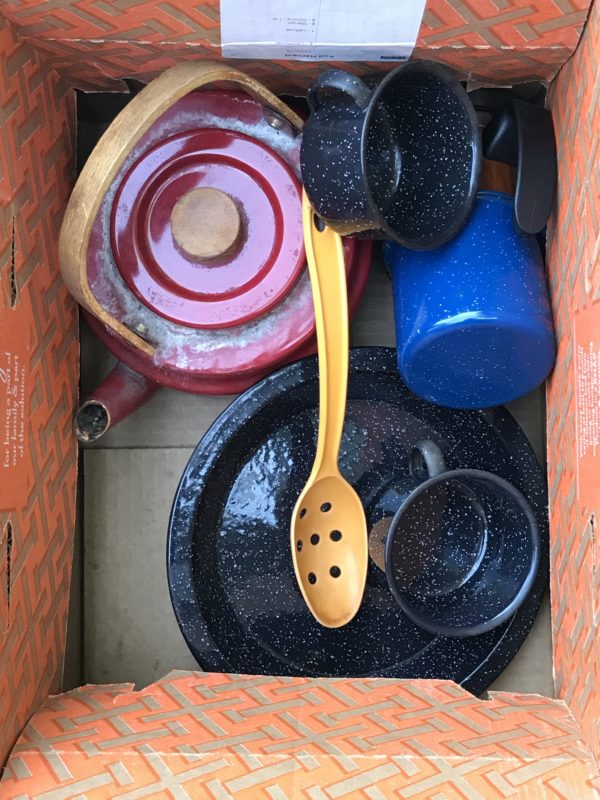 And I gave away some crochet hooks from the treasure house.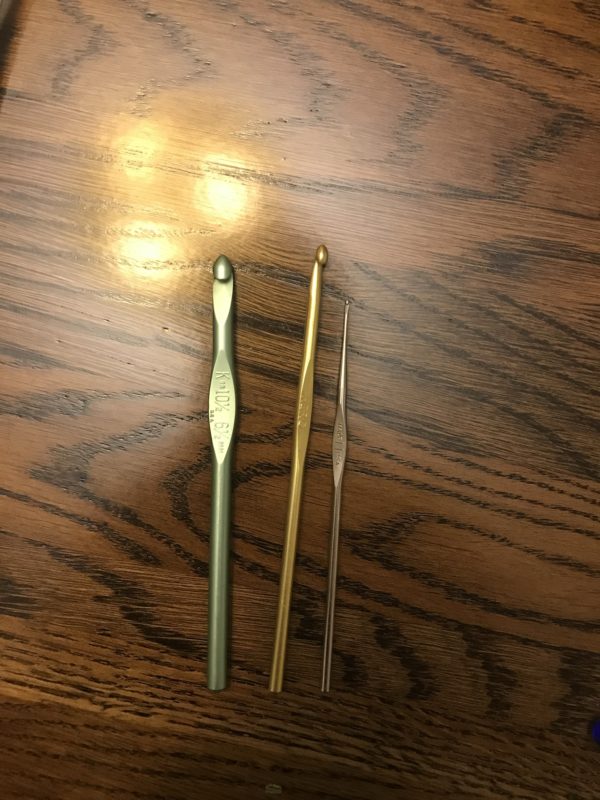 Things I've picked up
butter dish
We didn't have a butter dish, so when someone offered one up, I was like, "OOOH YES."
trash cans
I needed some small trash cans (I didn't have one in the laundry room, for example) and I'd stopped in at Goodwill to see if they had any. Nope!
But a few days later, several popped up on the Buy Nothing group, so now I'm all set for trash cans.
Buying trash cans is very unrewarding, so I was delighted to get some for free.
And for somewhere like the laundry room, I really could not care less what the trash can looks like.
plant pots/spray paint
Someone was giving away three dirty/dilapidated pots, so I picked them up.
The same day, another person was giving away a huge collection of spray paint, so I stopped to pick that up, with the idea that I could use it on the pots.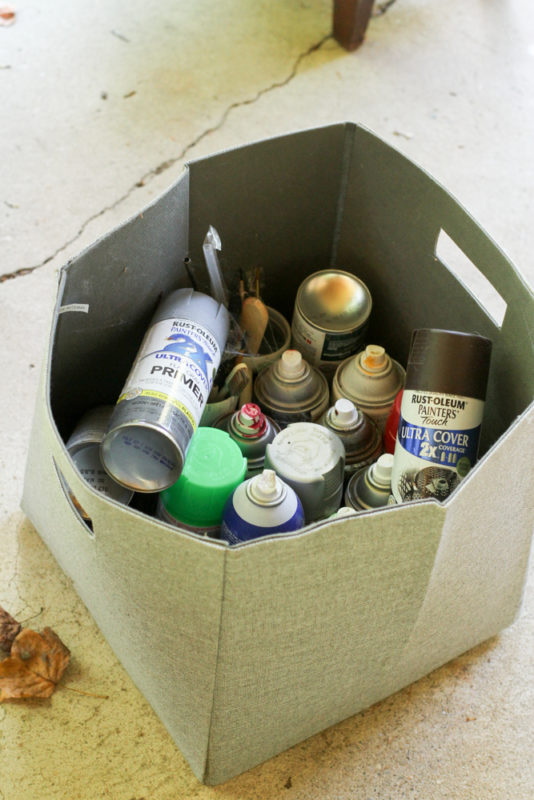 The middle pot in the above photo is a Pfaltzgraff ceramic pot, so I did not want to paint it.
It was very dirty and almost looked like it had been sprayed with tiny drops of cement.
I washed it and then painstakingly scraped off all the little drops, and I am happy to say it looks new now!
I planted some cuttings from my long-lived Aldi succulent, and they are thriving.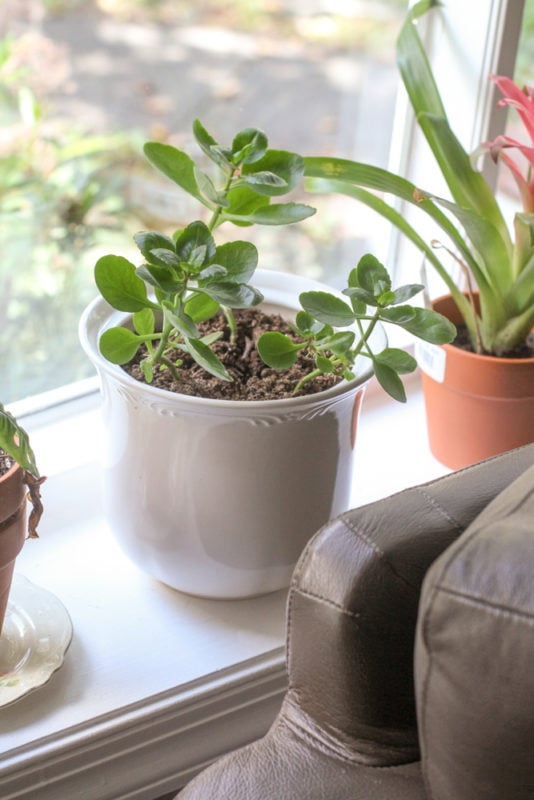 I spray-painted the terracotta pot on the left with purple spray paint.
And for the big pot on the right, I tried using some green-ish spray paint, but then I realized it was gonna clash with my house.
So I swapped that out for a cranberry color.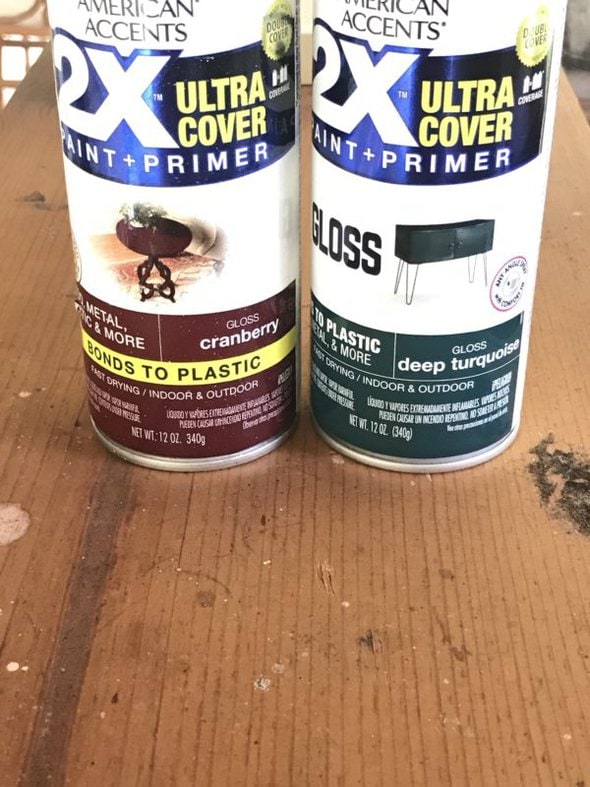 And I filled the pot with some sedum from my old house.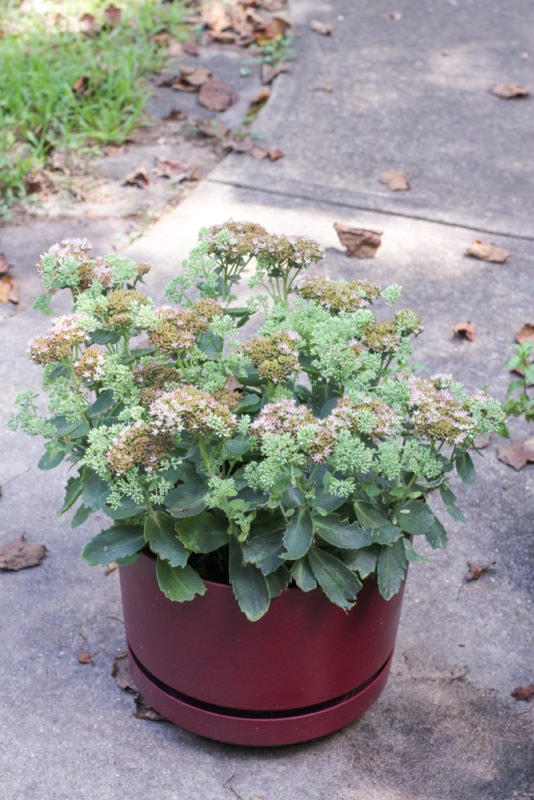 So, before:
And after.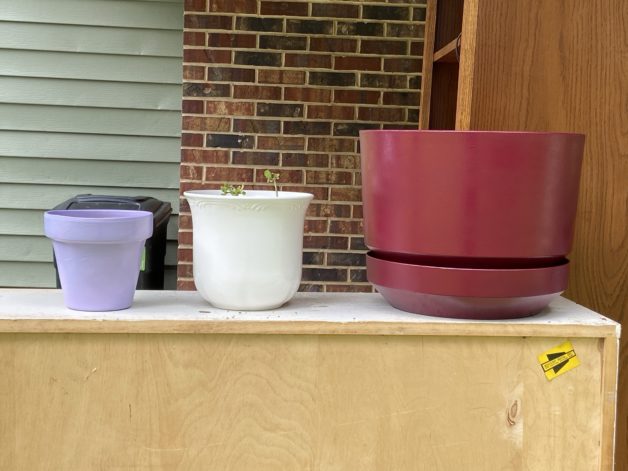 The bookshelf these pots are sitting on was also a Buy Nothing group find, but I want to show you that in a separate post.
Back to the paint: I used some to fix up my mailbox flag too, as I shared before.
some earrings
These obviously fall into the nice-but-not-necessary category…but someone in the group was giving away some jewelry, and since I was already in the area for another pickup, I stopped by. I gave some of the earrings to Zoe, but I kept these gold ones for myself.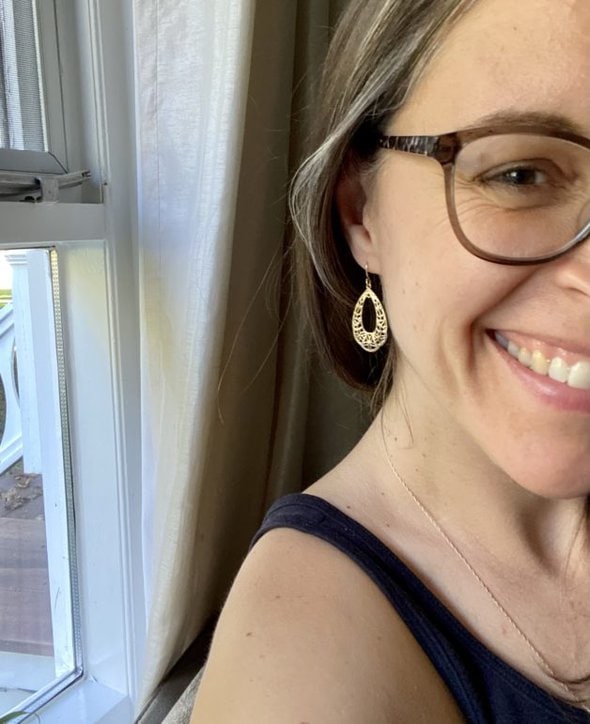 While I was trying to take a picture of my earrings (it's harder than it might seem!), the cat came to join me.
silverware
We were scraping by with a rather motley assortment of flatware from the abandoned house, but we were pretty short on some things, like knives.
So, I was seriously thrilled when someone offered a whole set of silverware. Yay!
Now we don't have to wash dishes quite as often.
___________
In conclusion: I really love my Buy Nothing group. A solid 10/10 from me!
If you want to find a Buy Nothing group near you, there's a directory here.
Or you can always just google the name of your town plus "Buy Nothing Group" and see what comes up.
Are you part of a Buy Nothing group? If so, tell us about it!