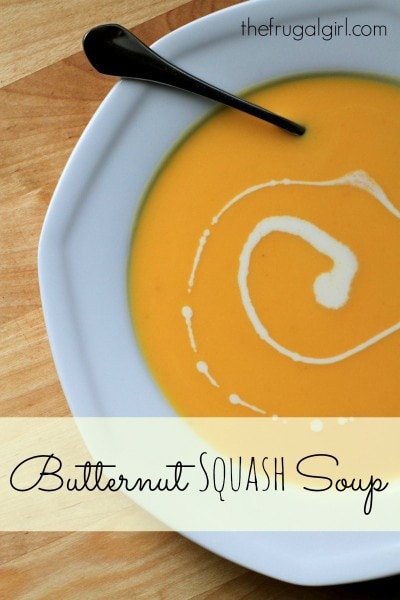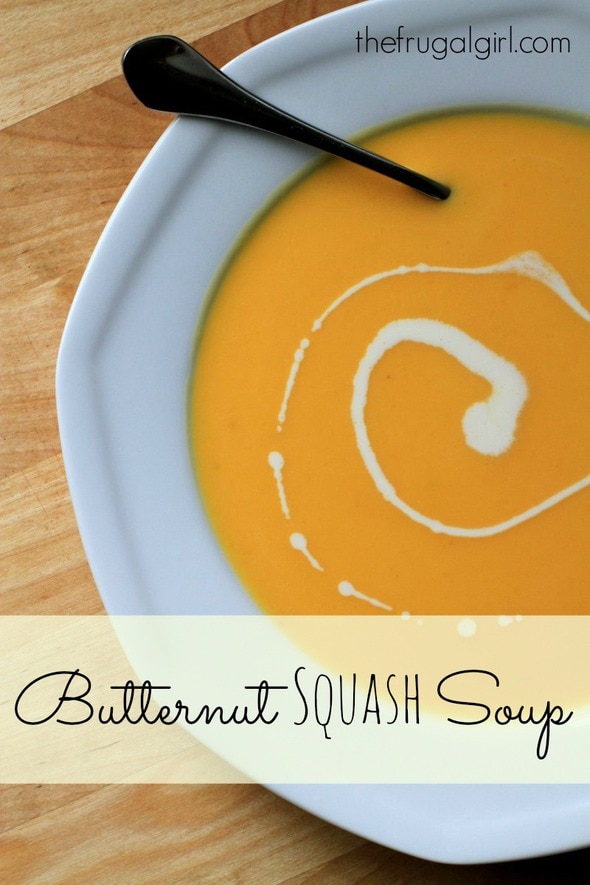 I shared a photo of this soup in a recent photo dump post, and lots of you emailed to ask for the recipe. So, here I am, recipe in hand.
I found the recipe in The Cook's Illustrated Cookbook
, which I really love.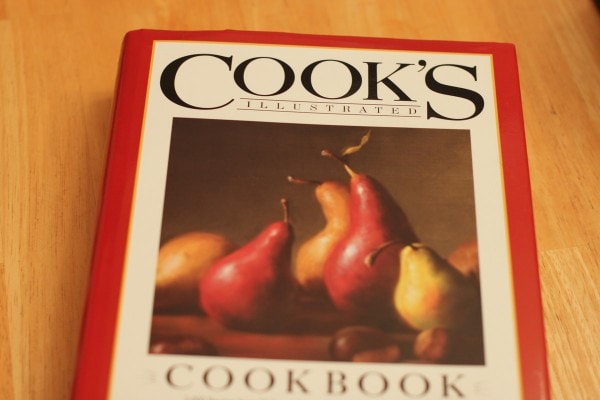 (I wrote a full review of the cookbook right here. If you're looking for a reliable, comprehensive book to add to your cookbook shelf, put this one on your Christmas list!)
This soup has a really lovely buttery flavor, which complements the squash nicely. Also, it's pretty much just squash and water, with some salt, butter, and cream, which means it costs next to nothing to make, and is respectably healthy as long as you don't consider dairy fat to be of the devil.
(And I do not.)
Ok!
First, you'll need to chop up some onion.
Cook's called for a shallot, but holy moly, those are kind of expensive (at least at my store!) and I've decided that an onion works just fine for this soup.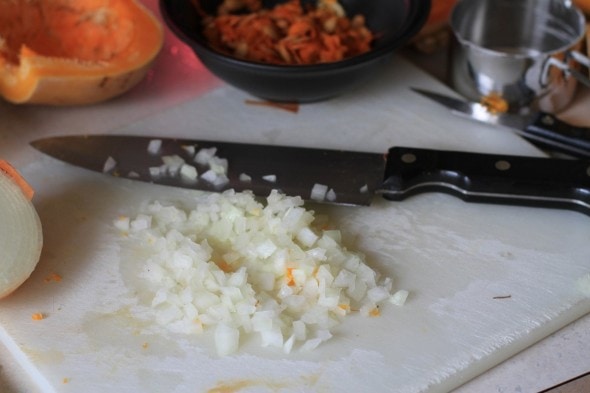 Now for the squash (My Aldi has had these of late, which is marvy-fab.)
Hack up your squash (no need to peel!) and scrape out the seeds. I just cut the round end off of the squash and then cut the two pieces of squash in half.
Scrape the innards of the squash into a bowl and set them aside.
In a Dutch oven, saute the onion in four tablespoons of melted butter; then add the squash seeds and fibers, and saute them for several minutes.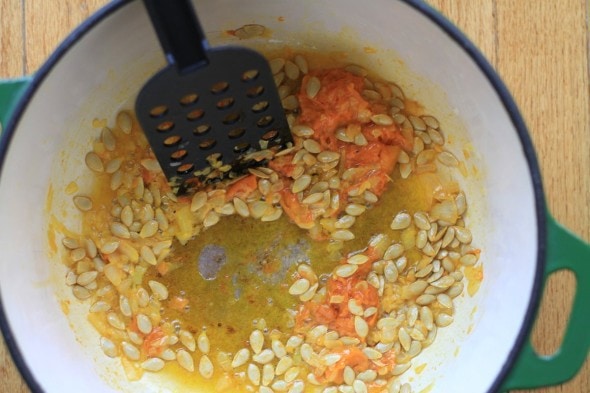 Pour six cups of water into the pot, add 1 1/2 teaspoons of salt, and put a steamer basket over the liquid (you can get a collapsible steamer like mine for under $8
), and place the squash pieces on top.
Depending on the depth of your pot, you might not be able to add all six cups of water right away, or your squash will be under water. I have to add 4.5 cups or so, and then add the rest after some of the water has steamed away.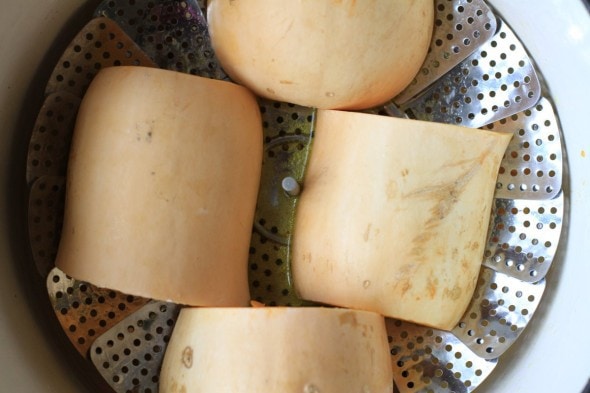 Cover the pot and steam the squash for 30 minutes, or until it's nice and soft. I've found that the time necessary for this seems to vary a bit, perhaps because the hardness of squash varies.
At any rate, you want the squash to be very, um, squishy, because you're going to puree it.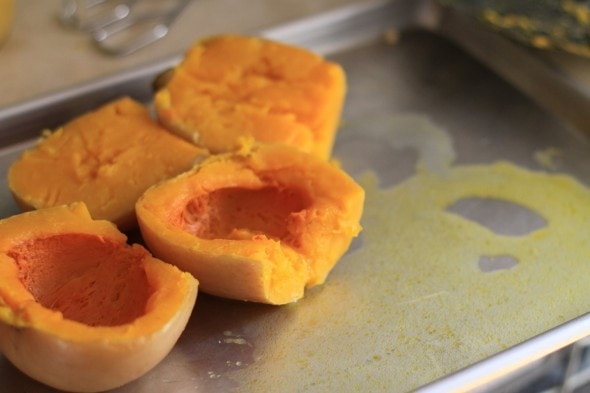 Put the hot squash onto a plate or rimmed baking sheet to cool (these half sheet pans are what I use
).
Strain the steaming liquid through a strainer, pressing on the squash solids to remove all of the juices.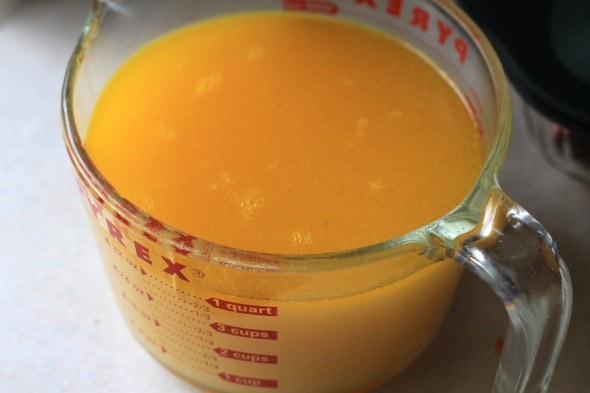 When the steamed squash has cooled down, scrape the squash out of the skins and into a bowl.
Then, working in two batches, puree the squash and the steaming liquid together. Don't be tempted to skimp on this step…I've done that before and it gives the soup a kind of unpleasant texture.
Blend, blend, blend!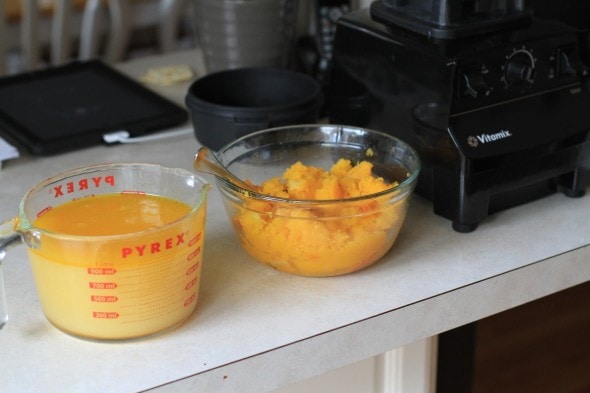 Pour the puree back into the Dutch oven. Cook's says to wash it, but I never find much residue in there after the squash steaming, so I don't bother. Yay for fewer dishes!
Stir in 1/2 cup heavy cream, a teaspoon of brown sugar, and a pinch of nutmeg.
For a variation, I've stirred in some curry powder, and that's quite delicious.
I'm kind of in love with doing heavy cream drizzles on top of my soup.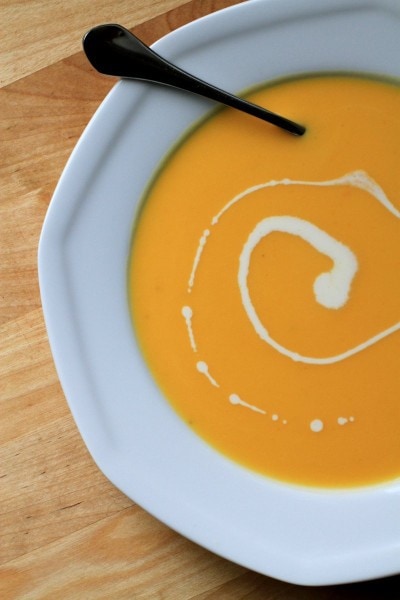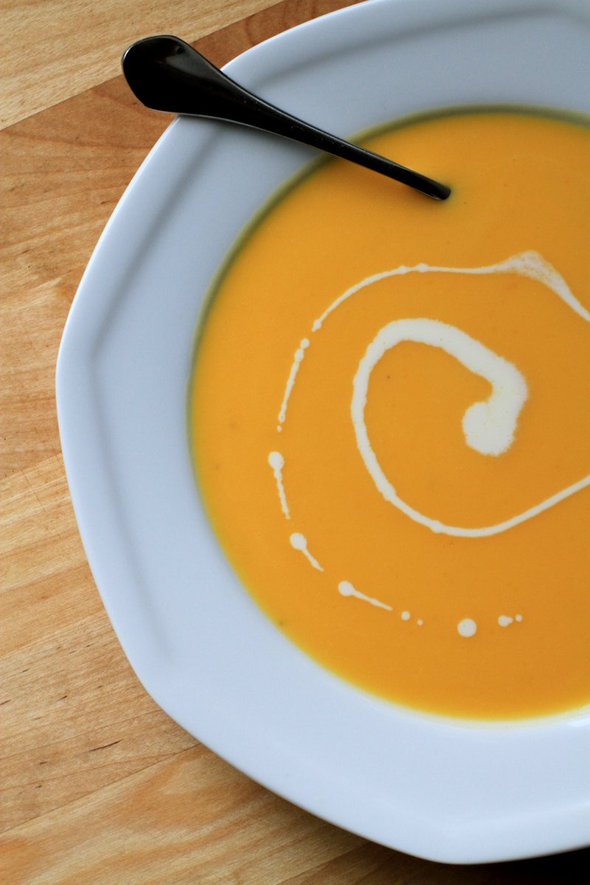 But Cook's recommends making brown sugar croutons to sprinkle over the top. So, Lisey and I did a little collaboration…I made the soup, and she made the croutons. (just click right there to see the recipe and our post.)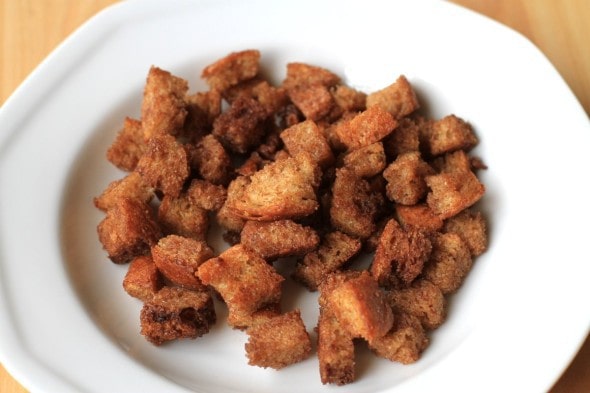 (If you follow me on instagram, you know that I made three loaves of whole wheat bread and managed to leave the fat out of the whole recipe. Oops. So, I have a lot of chewy bread, and crouton-making was a perfect way to use some of it up!)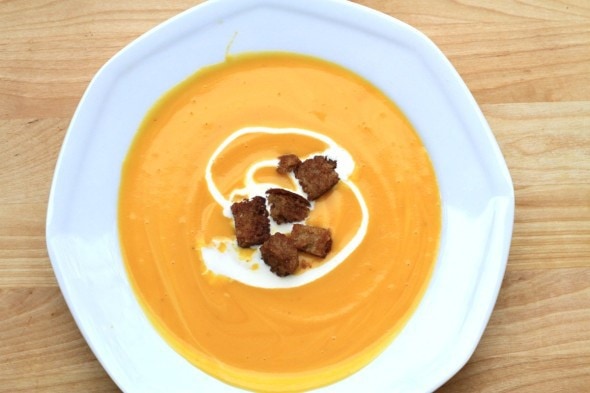 By the way, Joshua helped me make a super short video of the process for making this soup…you can check it out right here.
Butternut Squash Soup
Printable butternut squash soup recipe
4 tablespoons (1/2 stick) butter
2 medium shallots, minced (or four tablespoons of chopped onions)
3 pounds butternut squash (about 1 large), unpeeled, squash halved lengthwise, seeds and stringy fibers scraped with spoon and reserved (about 1/4 cup), and each half cut into quarters
6 cups water
Salt
1/2 cup heavy cream
1 teaspoon dark brown sugar
nutmeg or curry powder
In a Dutch oven or heavy pot over medium heat, melt the butter. Add onions and saute for several minutes. Add reserved squash fibers and seeds and saute about 4 minutes. Pour water into Dutch oven, add 1 1/2 teaspoons salt, and place steamer basket over water. Place squash halves in steamer basket, cover pot, bring water to boil, and steam squash for 30 minutes, or until very soft.
Remove squash to a rimmed baking sheet to cool. Strain steaming liquid, pressing on solids to remove all liquid. Discard solids.
Scrape cooled squash from skin into a bowl. Working in two batches, blend steaming liquid and squash together until perfectly smooth. Pour puree back into Dutch oven, and stir in cream and brown sugar. Salt to taste and add a pinch of nutmeg or 1/2 teaspoon curry powder. Heat soup to desired serving temperature.
Serve with cinnamon sugar croutons if desired.
_______________
P.S. I'll be back this afternoon for a quick giveaway….an Aldi gift certificate!
Joshua's 365 post: Untitled