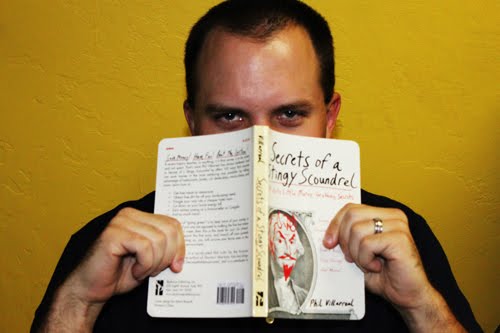 Phil Villareal, the author of this book, sent me a free copy of his book, Secrets of a Stingy Scoundrel
months ago (um, like in September, I think??), and it has unfortunately taken me until now to get around to reviewing it.
I must give Phil props for his persistence in emailing me about this…his faithful "Will you review my book?" emails remind me of the story of the importunate widow in the Bible who finally got her way by asking repeatedly! 😉
So, Phil, here you go! I'm finally reviewing your book, and you'll be pleased to know that you don't have to email me anymore.
Secrets of a Stingy Scoundrel is not a typical personal finance book, and it's not meant to be. It's comprised of 100 really short chapters which share savings methods that are mostly not-so-scrupulous (like taking extra napkins and condiments from restaurants, keeping a McDonalds cup and taking it back for free refills, finding fault with and complaining about a restaurant meal in order to get a free meal, and so on). Some of the tips are worthwhile, and totally honest, though, like his advice to hang out your laundry, and avoid texting.
Part of the reason it's taken me so long to get around to doing this review is that I really just wasn't sure what to say about this book. The combination of honest and dishonest money-saving methods make it sort of confusing to know if this book is meant to be taken seriously or not. If every tip was unscrupulous, it would make it easier to write the book off as a joke, but as things stand, I'm really not quite sure how to take it.
It's quite possible that I just lack a sense of humor (though I did think it was funny that he chose to write a "threeword" because he is too stingy for a foreword), and am completely missing the point of the book. My view is almost certainly colored by the fact that I do try to be unfailingly honest in my approach to saving money, though. For example, I don't use expired coupons, even when I could get away with it, I let stores know when they undercharge me, I don't use coupons for alternate products (say, using a Raisin Bran Extra coupon on regular Raisin Bran when it specifies the Raisin Bran Extra), and I report my self-employment income on my taxes. All these sort of things do decrease the amount of money I could "save" but to me, no money saving trick is worth compromising my honesty and integrity. Given that, the unscrupulous "saving" methods described in this book don't really tickle my funny bone. (I have more thoughts on the subject of honestly and frugality, but I think I'll probably save them for a separate blog post.)
I also couldn't disagree more with Phil's take on charitable giving (in short, he says that only large corporate donations actually make a difference for a charity, that individual giving is basically a waste and that charities waste donations.). While it is indeed true that some charities waste money hand over fist (don't give to those ones!), there are definitely other charities who manage their money well. Living Water, one of my favorite charities, received 34% of its 2009 revenue from individuals and only 14% from corporations, and spent 81% of its revenue on programs, 12% on developtment, and 7% on administration (this year's report is not online yet, but you can see previous year reports).
I would be remiss if I didn't mention that this book uses some off-color language, and also covers some topics that may be offensive to people who hold values similar to my own (for example, he describes how to get a free porno movie at a hotel by ordering it, watching it, and then claiming that it didn't work).
So, overall I wasn't enormously entertained or enlightened by this book, which probably means that I'm not really the target audience. I do appreciate the opportunity Phil gave me to read it for free, though. I think he'd be pleased to know that I'm thinking of selling my copy on half.com in order to squeeze a little money out of it! And he'd also probably be proud if I recommended that you buy a used copy on half.com, or try to get it from your local library if you're interested in reading it.
PS: Any of you that wondered if receiving freebies made me feel obligated to write glowing reviews have probably had your fears allayed now! 😉
PPS: Full Disclosure: The link to Phil's book is an Amazon affiliate link, which means that I get a small percentage of the purchase price if you buy the book after clicking on the link. I recommend buying the book from half.com or getting it from the library, though!