In the last reader survey, several people asked for tips on avoiding food waste as a single person. While I've had lots of practice at this with a houseful of people, I'm super inexperienced when it comes to managing food waste for just one person. So, I asked my friend Sarah to write a post for me. Sarah is a childhood friend of mine (I think we met when we were six!), and I'm so happy to share her words with you here today. Thanks so much, Sarah!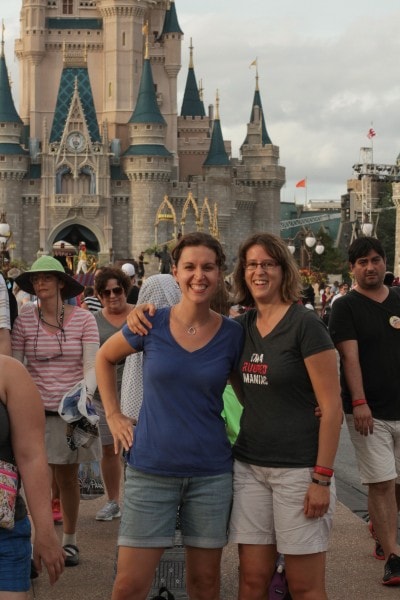 Sarah and me at Disney (because Sarah lives near Orlando!)
Kristen asked me to write this several months ago and I got very excited. Then life happened and all my food waste habits struggled to keep up. I won't lie and say that there was no waste.
However, I was able to refocus on 4 simple disciplines that I knew would keep my food waste low. I hope you will find these tips helpful as well.
1. Menu Plan
When Kristen talks about planning her menu, she means assigning meals to each day. When I menu plan, I go online, download a premade menu, and fit it into my schedule.
Having a menu plan (I use The Fresh 20) subscription is the second best investment I have made. It saves me from having to come up with a creative menu (not my strength) for the week.
In addition, since I subscribe to a plan for singles, the portions are always the perfect size. If I want leftovers, I can simply double the recipe. This beats dividing a recipe or having more than one portion of leftovers in my fridge or freezer.
2. Containers, Containers, Containers
The green lidded containers are the first thing I discovered in my quest to avoid food waste. Until I discovered these Produce Savers, I had given up on having vegetables in my home.
Best. Investment. Ever.
Produce that would usually last a few days can go for a week or more. I've also noticed that mixing the veggies in the containers does not result in blending of flavors. Green peppers and onions live together quite well without causing problems.
Over the years I have also invested in single portion-sized Pyrex. I've noticed that food stored in larger containers is more likely to be uneaten. All of my leftovers go straight into these containers and then to the fridge or freezer. These containers also make lunch packing and reheating simple.
Finally, the Ziplock Perfect Portions bags are my alternative to buying a vacuum packer. Freezer burn is very difficult to combat as a single person. A recipe may only call for one or two pieces of chicken or a quarter pound of ground beef; these bags provide the perfect place to put the uncooked leftovers.
I haven't had a piece of meat succumb to freezer burn since I added them to my food waste arsenal. I have also just reached the bottom of the first box that I purchased…3(?) years ago.
While we are on the topic of containers, I can't remember the last time I put anything in the produce drawers of my fridge. I've never had a refrigerator with clear drawers. Food unseen is food forgotten. Thus, I don't use the drawers.
Instead, I purchased a couple of sturdy wire bins that I put on the bottom shelf to organize my produce and other items that would normally go in the drawers.
3. Have a Backup Plan
I do not have leftovers without a plan for them. That plan may be lunch the next day or the freezer for future use.
Additionally, I do not buy produce unless I have a plan for how to use it if it starts to go bad. I may have a smoothie night on the menu, or I may chop it and put it in the freezer for future meals or smoothies.
4. Know Yourself and Your Food
For example, I prefer green leaf lettuce but know that I can't eat it quickly enough to avoid waste. So I buy Romaine.
I also know that when it comes to fresh fruit, waste will occur if I purchase more than three pieces. This is especially true of peaches, nectarines, and plums.
I will eat Brussels sprouts or asparagus long before I finish off fresh broccoli.
I also just discovered that yellow and orange peppers last longer than green so I no longer purchase green peppers.
I also know that there are days when I'm going to be too tired to cook. I try to tweak my menu plan with this in mind in order to avoid running to Chipotle or ordering a pizza.
That said, I'm not ashamed to admit that sometimes I put Chipotle into my menu plan. Days with work meetings or important school deadlines mean simple meals, leftovers from the freezer, or popcorn and smoothies for dinner (call me weird but I love this combo).
Since these are planned into my schedule, I'm not bumping a meal to another day and therefore risking food waste.
So, there you have it: the four things I use to keep my life simple and as food waste-free as possible.
I'd love to hear tips from other single fans of The Frugal Girl!