Hello, readers! I'm pleased to report that my illness has pretty much left the building…just a quiet, slightly hoarse voice remains.
Which means that I am unable to summon my children if they happen to be on another level of the house. It's inconvenient, but hey, I know my volume-producing capacities will be back soon.
And on the upside (There is always an upside, you know.) , I really cannot raise my voice with any of them even if I feel impatient. I could live with that for a while. 😉
Anyhoo.
Laura, the owner of Bee's Knees Gems, wrote me recently to see if I'd be interested in trying some of their jewelry and also passing on a special Frugal-Girl-Readers-Only deal to you. And I was all, "Sure! I'll do that on Tuesday."
(I try to fit in giveaways on Tuesdays or Thursdays, which are theoretically post-less days around here.)
Except then I got sick, blah-blah-blah, so here I am today instead.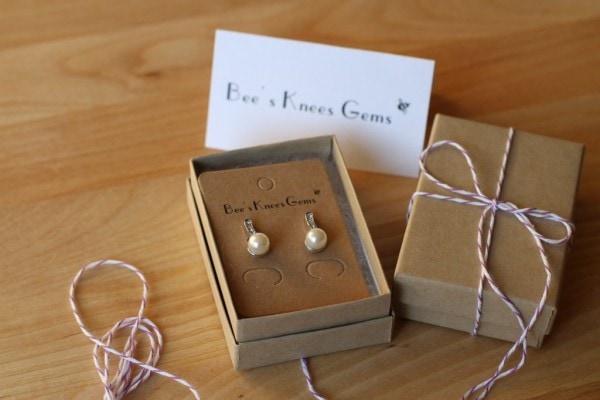 Bee's Knees Gems specializes in selling vintage-inspired jewelry pieces that look high-end, but come with an affordable price tag. Since Bee's Knees is an online-only store, their overhead is far lower than that of a traditional jewelry store, so they can offer great jewelry at great prices.
The idea is that you can enjoy some old Hollywood style glamour without the price tag that usually accompanies that type of piece.
(Wouldn't this necklace be fun to wear?)
I browsed the site and hemmed and hawed and browsed some more (I have a terrible time choosing things like this!) and finally decided on the pearl studs.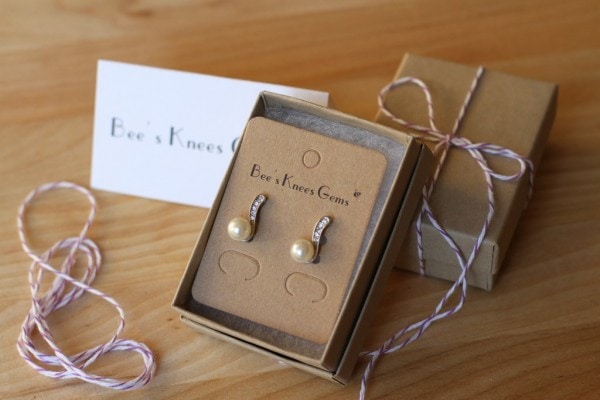 I really love these earrings! They're a little different than my plain pearl studs, and while they go very nicely with a dressy outfit, I've also paired them with more casual clothes.
Much to my surprise and delight, Laura included another pair in my package…these princess cut Swarovski studs.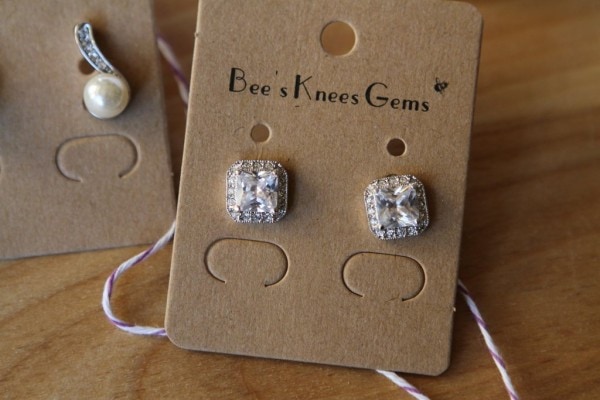 Now, sometimes faux diamond jewelry looks kind of ridiculous, mostly because the setting isn't fine enough to be convincing. I really don't feel that way about these earrings, though.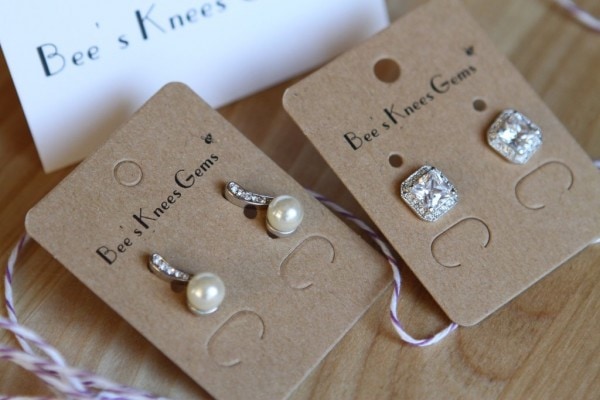 And since heaven knows I think diamonds are overrated and overpriced, I'm totally happy to wear Swarovski crystals instead.
Lisey feels the same way. 😉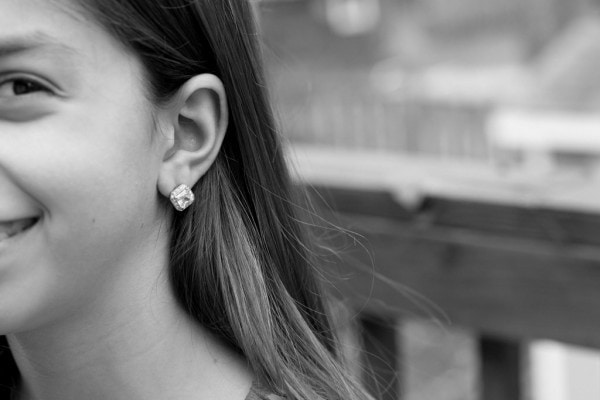 Diamonds are just a wee bit out of her price range, you know.
Since sensitive ears run in our family, I was delighted to learn that all of the Bee's Knees jewelry is hypoallergenic. And Bee's Knees is so confident in the quality of their jewelry, it all comes with a one-year money back guarantee, which is pretty sweet.
You know how cheapie jewelry tends to peel or turn orange/green? Bee's Knees jewelry promises not to do that, and that makes me happy. Yay for things that last!
Now, for you guys, I have a special code that will give you 40% off anything on the site except for the clearance (which is already 50% off).
Just go to Bee's Knees, figure out what you want (decisions, decisions), and enter this code: FrugalGirl40 when you check out.
Also, you might want to know that Bee's Knees runs a daily (woo!) giveaway. You can check their site each day to find the giveaway or you can do like I did and like their Facebook page to be reminded to enter. I'm kinda hoping that the Austrian Crystal Band comes up for giveaway one of these days.
Alrighty. I think that's enough words for today. Come back tomorrow for a Food Waste Friday, which promises to be far worse than usual due to the aforementioned plague that took me down.
Ahem.
__________________________
Joshua's 365 post: Encasing the Moon
P.S. Bee's Knees sent me two pairs of earrings, but this post was not sponsored in any other way, and naturally, all the words and opinions belong to yours truly. 😉