When Mr. FG and I moved into this house 10 years ago, it was in pretty dreadful shape. SO many things needed to be fixed just to make it livable.
Actually, want to see what the kitchen used to look like? I don't think I've ever shown you before!
(You might not be ready for this…)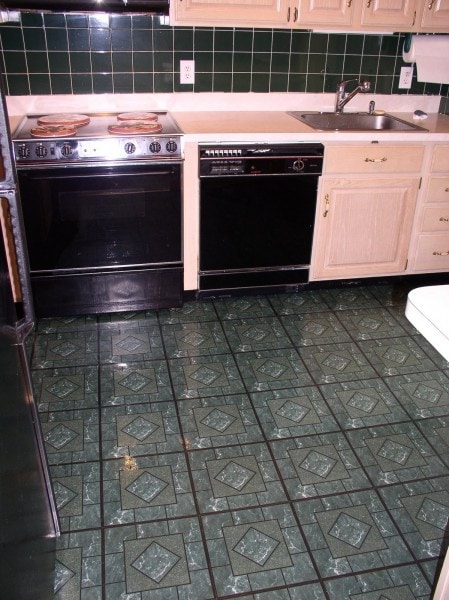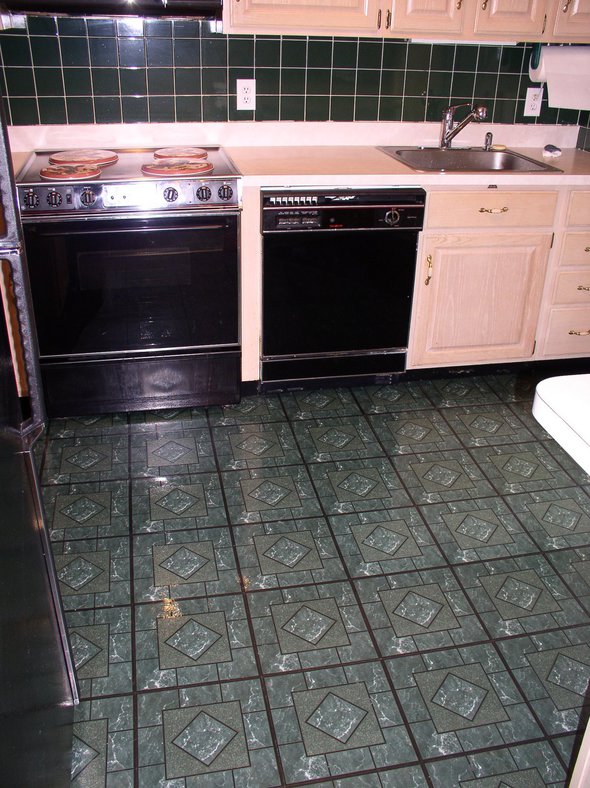 It had a serious case of Too Much Going On.
Between the flooring, the striped wall paper and the rooster border, just standing in there could give you a headache.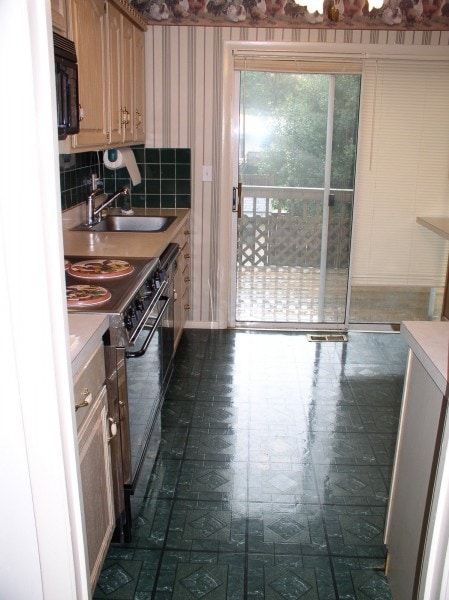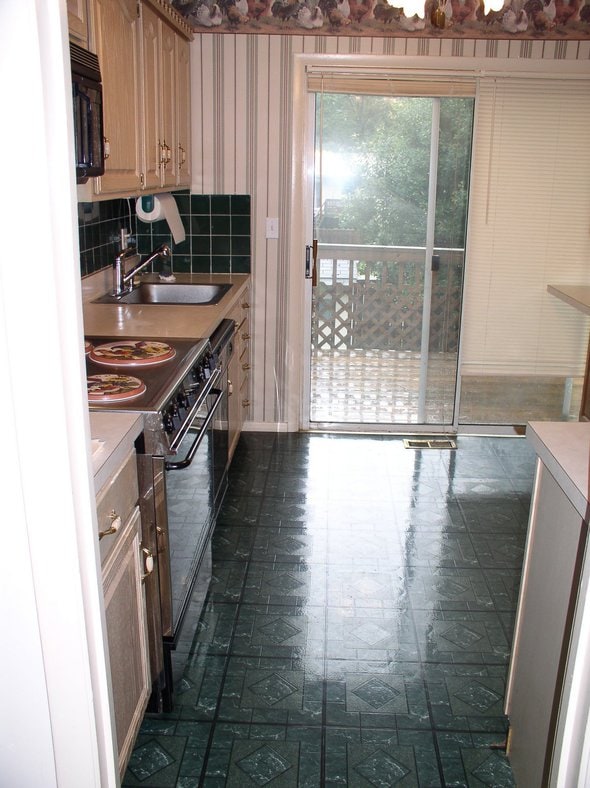 We un-decorated the kitchen (bye-bye, wallpaper!), changed the cabinet hardware, put up new trim, replaced the slider, and traded linoleum for wood flooring.
Then two years ago, I painted the kitchen cabinets, which helped a lot.
So, here's what the kitchen looks like now.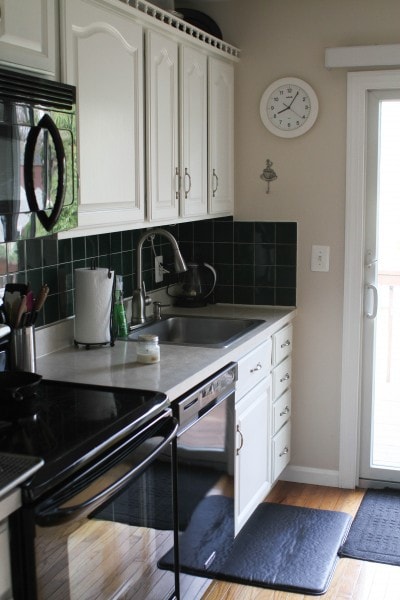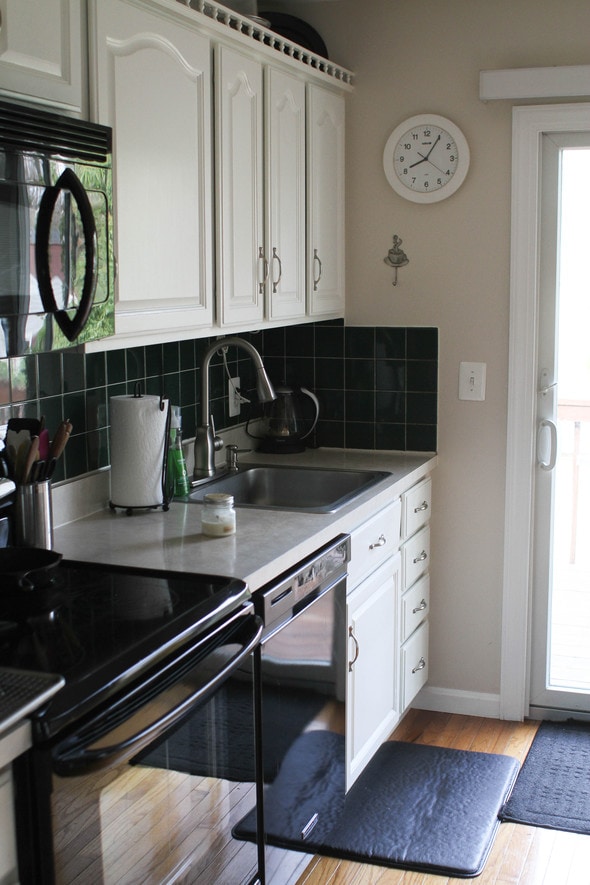 We're eventually going to buy some remnant granite to replace the counters, but for now, all of the most distressing elements of the kitchen have been fixed. 😉
If I recall correctly, something was wrong with the faucet that came with the house, and Mr. FG and I replaced it with a cheap builder's grade faucet.
Because when everything needs to be replaced, sometimes you end up scrimping on a few things.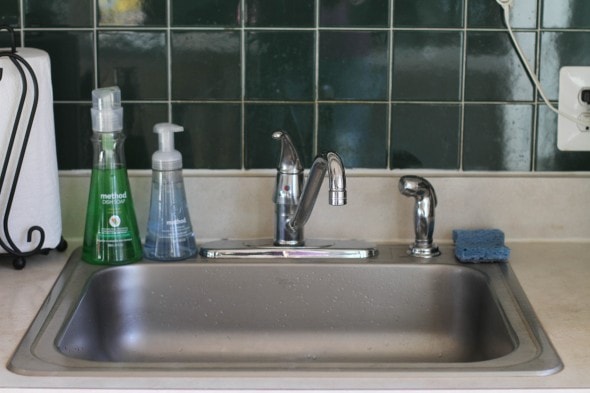 That was a decade ago, and this faucet has been needing to go for a while now.
How about a list of its faults?
It takes a serious application of brute force to move the spout.
Something is wonky with the handle (sometimes it gets stuck in the "on" position.)
The sprayer drips all the time even when you're not using it.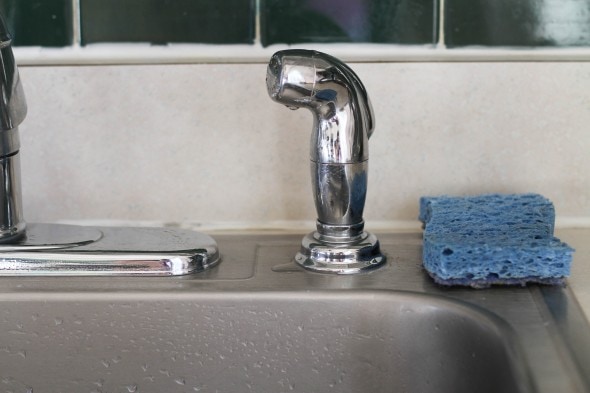 Then a month or two ago, the aerator broke, and the only replacement we could find didn't quite fit properly.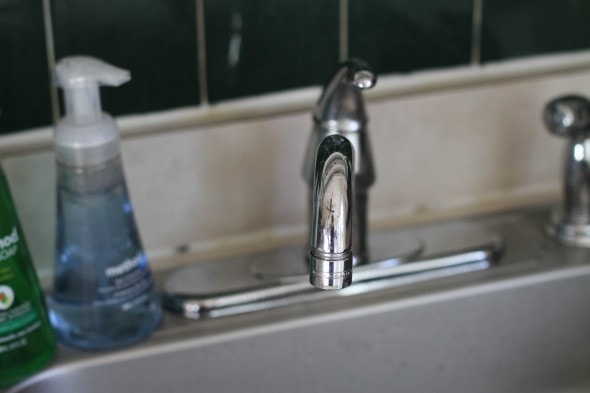 Also, this isn't the faucet's fault, but I got paint on it when I painted my cabinets (lo, these two years ago!) and I never did manage to get it off.
Ahem.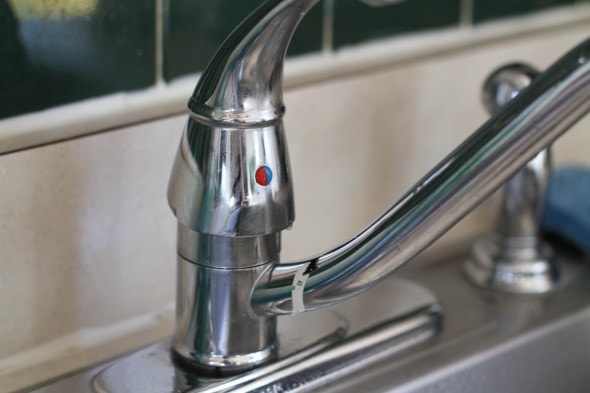 We'd have replaced the faucet sooner, but since we are eventually going to replace our countertops we thought we'd just wait and get a new faucet then.
However, when BlogHer emailed to say that Moen was looking for bloggers to review a faucet line, I decided it would be no problem to replace the faucet BEFORE the counters. 😉
I thought I'd get a faucet somewhat similar to what I had before, but oh my goodness you guys, I got to choose from Moen's Reflex line!
(Reflex faucets all have pull-down spray nozzles which automatically retract, and they are SO much nicer than what I had before.)
Mr. FG and I browsed through the choices and ended up with the Hensley faucet, which seemed like a good not-too-modern, not-too-traditional look for our kitchen.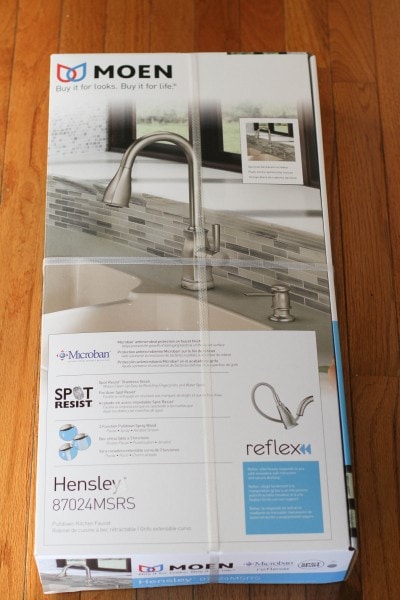 Reflex Faucet Installation
When we chose the faucet, we'd watched Moen's installation video, and were pleased to see that this seemed like a pretty simple project.
So, one night when Mr. FG was out, I decided I could to tackle it on my own.
(It seemed like a 15 minute project, so hey, why not??)
Problem is, I hadn't counted on how hard it would be to take out the old faucet.
Over ten years, the bits of moisture under there had sealed the nut on quite solidly, and good heavens, it's very hard to get any tools around that under-sink nut because of all the pipes in the way.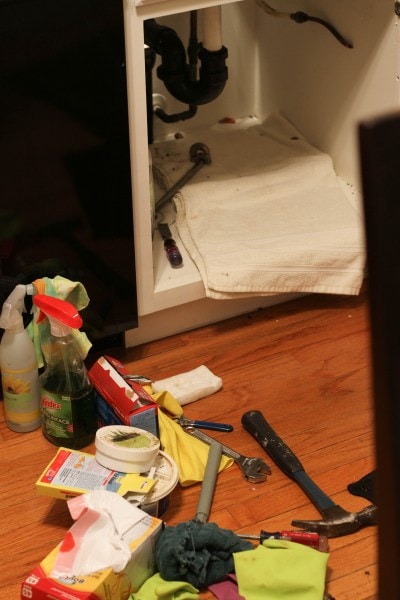 I tried various wrenches, sprayed the nut with Liquid Wrench, let it sit, tried again (and again and again) and it wouldn't budge.
I eventually ran out to the closest hardware store and bought a basin wrench, which you can see under the sink above. It has a 90-degree angle, which makes it much easier to work with under a sink.
Even so, you need room to get the basin wrench around the nut.
Rats.
Since no one was going to want this faucet anyway, I bent the copper hot and cold water pipes*, broke them off, and finally was able to get the wrench around the nut.
*NOT the water pipes that belong to the house… just the two coming out of the faucet.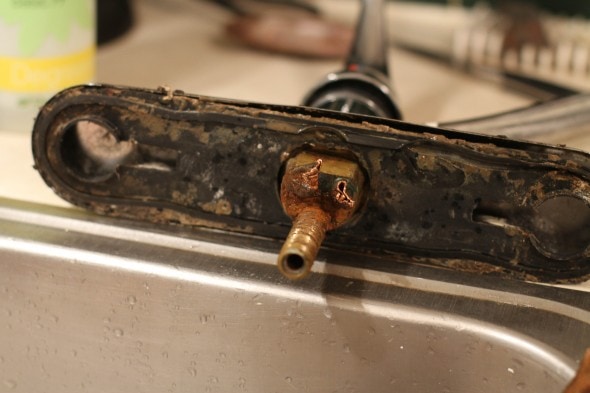 I'm fairly completely sure that's not how professional plumbers deal with this issue.
When the nut finally budged, I breathed a huge sigh of relief because I was thisclose to giving up.
(Although, since I'd broken the copper pipes off the faucet, I was sort of past the point of no return. Ha.)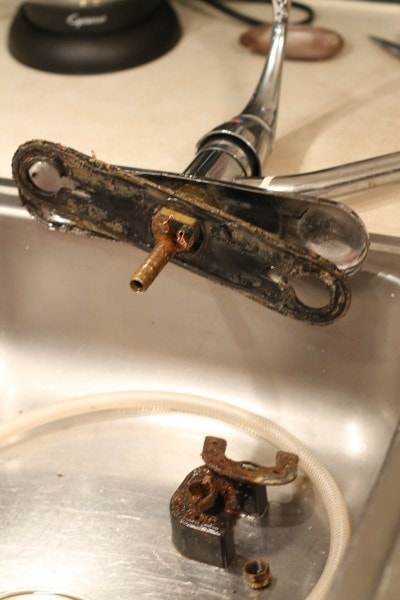 I have to say, God bless plumbers because I really cannot imagine spending my days on my back underneath sinks. I'm not even a very big person, and it was difficult to position myself under there.
Let's just say that should I ever need a new career, plumbing is not gonna be on my short list.
Once I got the old faucet out, this project was a breeze, even for a plumbing newbie like me. In fact, all you have to do is screw a few things on, tighten them with a wrench, and snap a hose connection into place. It was crazy quick and easy.
So, what do I think of this faucet?
The Height
Well, when I first installed the faucet, I was a little nervous about how tall it was, especially because I was used to my old, low faucet.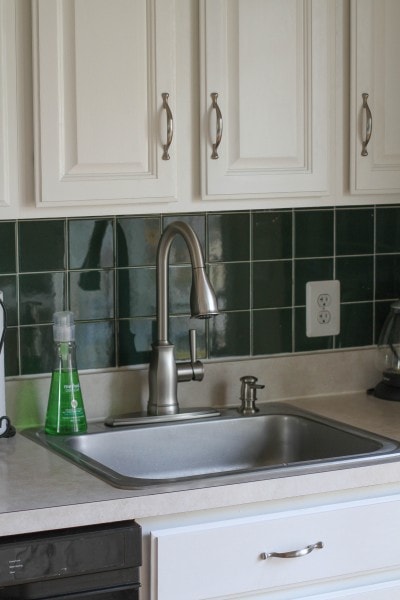 HOWEVER.
Because I still have my old 3-hole sink, I had to use the deck plate under the faucet, which means the faucet sits higher than it will once we get new counters and an under-mounted sink (no deck plate will be necessary then.)
I've totally gotten used to the height since then, though, and I am completely and utterly in love. I've never lived in a home with a tall faucet and I had no idea what I was missing.
With the faucet up and out of the way, the sink feels so much bigger, and washing things like large bowls and cookie sheets is a breeze. (I used to have to carefully maneuver them around the faucet.)
Plus, filling up pots is far easier.
I'm not sure I will ever go back to a low faucet again. I'm spoiled for life.
The Sprayer
This faucet is a faucet/sprayer in one. When you turn the water on, it functions just like a regular faucet: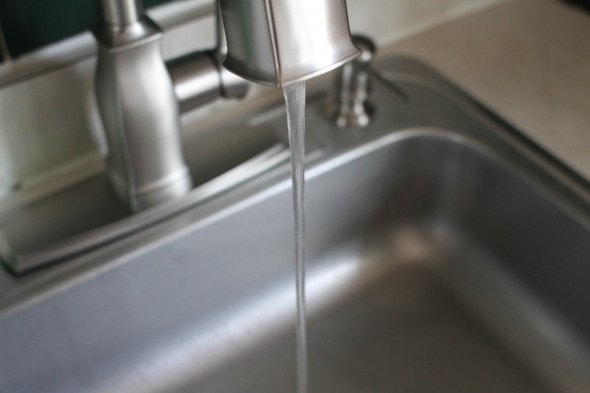 But if you want to switch to a spray, you just push a little button on the back and you've got spray.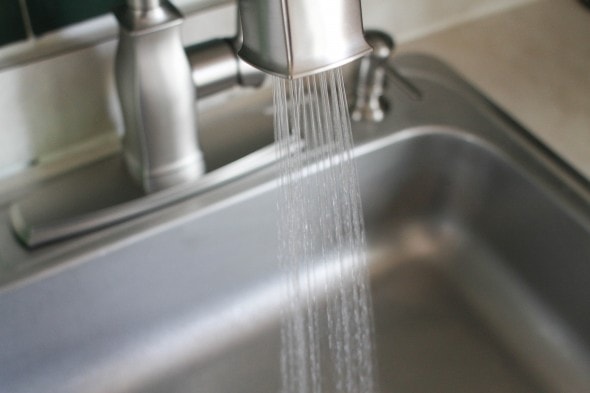 It's super easy to pull the spray nozzle down to spray wherever you want in the sink.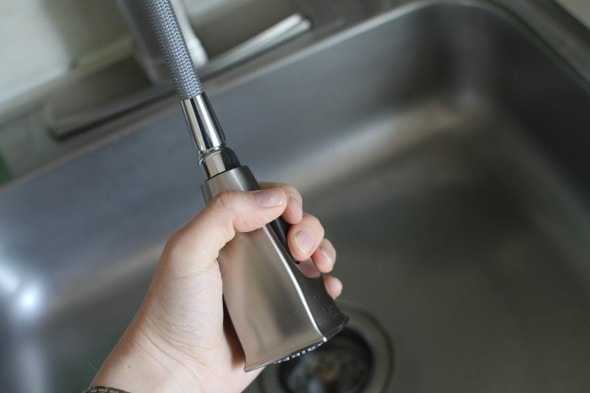 Since the button is on the back of the nozzle, it's not visible (unless you're turning it over for a photo. ;))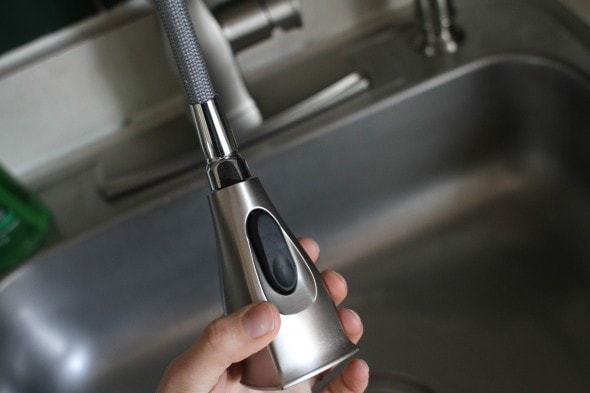 The faucet has great pressure (the flow isn't too hard or too gentle) and the spray wand is so so so so much better than the old kind I had.
The brilliant thing about a pull-down sprayer is that the spray is automatically pointed down, whereas the type I used to have was poised to spray out into the room until you made it point into the sink.
Plus, my old sprayer sprayed so hard, water splashed out of the sink and onto the counters, but this sprayer has a gentle, even flow. When you're done using the sprayer, you can just let go and it gently retracts to its starting position.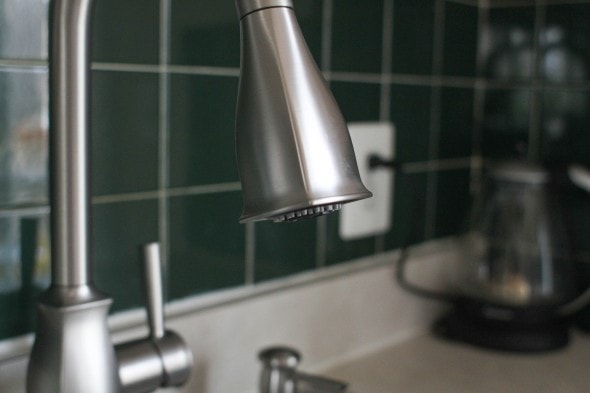 The Soap Dispenser
I was a little nervous about ordering a faucet with a soap dispenser because I was concerned about it being a pain to refill.
(I imagined having to unscrew the dispenser from underneath the sink.)
But since I already had that hole in my sink (from the old sprayer), I decided I'd at least give the soap dispenser a try and I'm glad I did. It's super easy to refill because you don't have to unscrew anything from under the sink!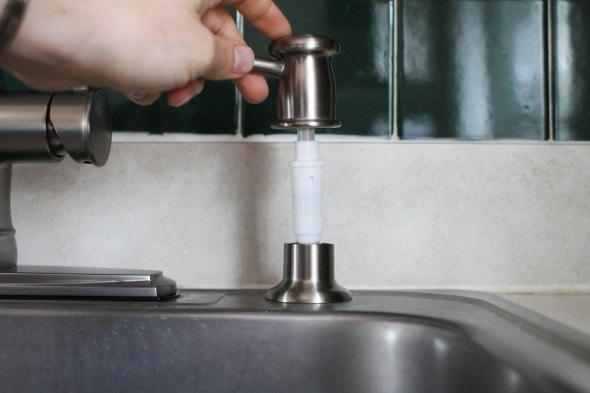 The top of the dispenser lifts off and you can pour soap right in, with no under-the-sink shenanigans required.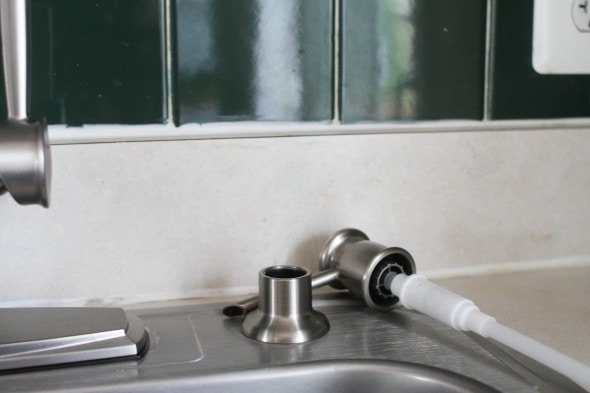 I am not a fan of under-the-sink shenanigans. So, here's my sink before: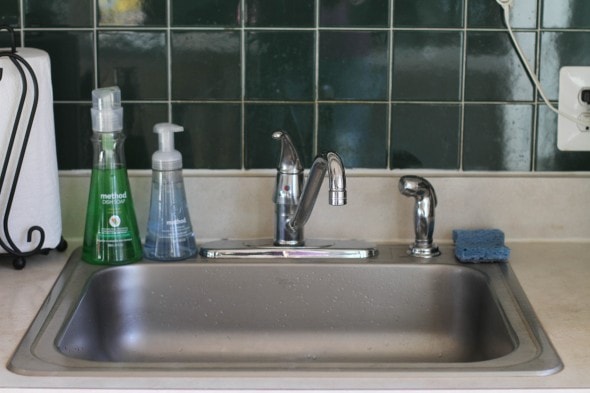 And here's my sink now.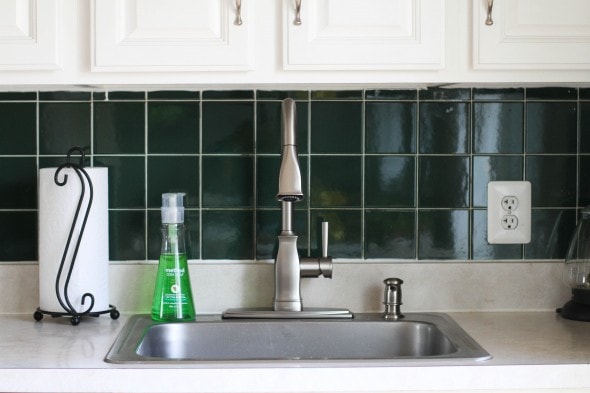 Ahhhh.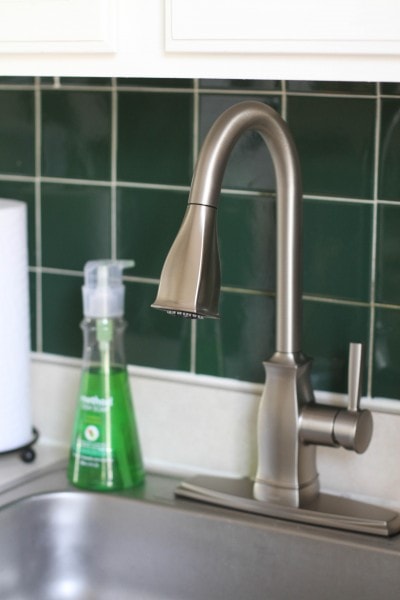 So much better.
Did you notice that since the sprayer is combined with the faucet and the soap dispenser sits where the sprayer used to be, I have one less thing on the back of my sink?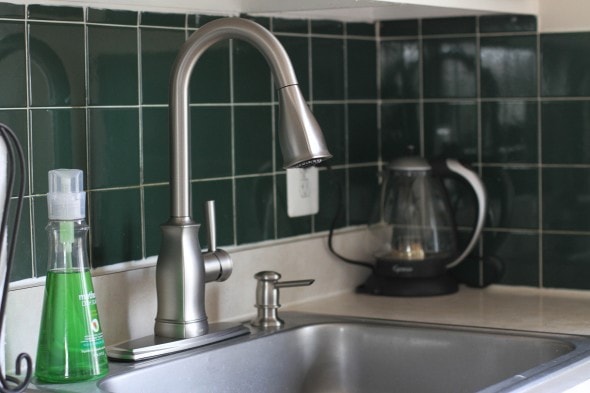 That's makin' me happy. Yay!
Just so you know, the Moen Reflex faucets do come in a pull-out option that's not as tall as the pull-down models. So, if you have less clearance above your sink than I do, you can still have a Reflex faucet.
Also, while some of the Reflex faucets are in the $600 price range, the one I chose sells for around $250. Given how much better it is than our old $100 faucet, I think it's totally worth the price.
(By the way, the prices on Moen's website are MSRPs, so they're a lot higher than the prices you'd actually pay at a retail store. The Moen site lists $550 for mine, but it retails for about half that.)
The Giveaway
I've got a $100 Visa gift card to give away to one of you, compliments of Moen. If you need a faucet, this could provide a hefty discount for you.
Or if you don't need a faucet then hey, $100 could buy a lot of other fun things!
To enter for a chance to win, take a peek at the Moen Reflex faucet line and leave a comment telling me which is your favorite.
(You can sort the faucets by style, price, and whether they're pullout or pulldown, just to make your choosing process easier.)
Entry Instructions:
No duplicate comments.
You may receive (2) total entries by selecting from the following entry methods:
Leave a comment in response to the sweepstakes prompt on this post
Tweet (public message) about this promotion; including exactly the following unique term in your tweet message: "#SweepstakesEntry"; and leave the URL to that tweet in a comment on this post
Blog about this promotion, including a disclosure that you are receiving a sweepstakes entry in exchange for writing the blog post, and leave the URL to that post in a comment on this post
For those with no Twitter or blog, read the official rules to learn about an alternate form of entry.
This giveaway is open to US Residents age 18 or older (or nineteen (19) years of age or older in Alabama and Nebraska). Winners will be selected via random draw, and will be notified by e-mail. The notification email will come directly from BlogHer via the sweeps@blogher email address. You will have 2 business days to respond; otherwise a new winner will be selected.
The Official Rules are available here.
This sweepstakes runs from 5/4/15 – 5/31/15.
Be sure to visit the Moen brand page on BlogHer.com where you can read other bloggers' posts!