(Usual disclaimer: If you hate Stitch Fix posts, I totally understand. They're polarizing! But you've been apprised of this post's content, so if you are in the "I hate Stitch Fix posts!" camp and you keep reading….well, you are proceeding at your own risk. 🙂 )

This shipment from Stitch Fix was quite un-fabulous.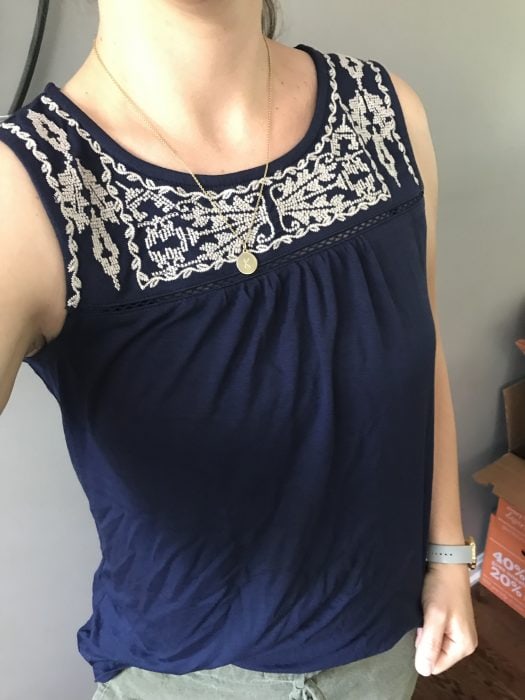 Which has been my experience more times than not!
So you might ask, "Well, WHY did you get another box??"
Apparently people on Google found my old Stitch Fix post that had a $50 referral link, so now I have hundreds of dollars of Stitch Fix credit that I need to use.
I can't cash it out, after all! So I need to keep getting some Stitch Fix boxes until I find something I want to buy.
(This is, quite obviously, a first world problem. I'm not actually complaining. And besides, this will provide entertaining blog fodder.)
Item #1 : a pair of wedges
I don't dislike these shoes per se.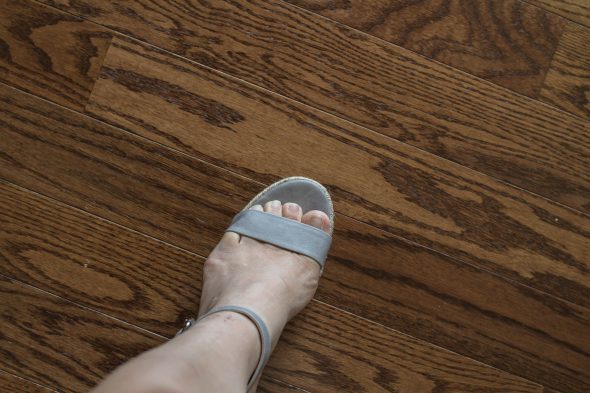 But I have really wide feet, so my toes barely fit in the toe strap, and the side of my foot is sticking out over the outside edge of the shoe.
I don't think that's flattering or comfortable, so these are a nope.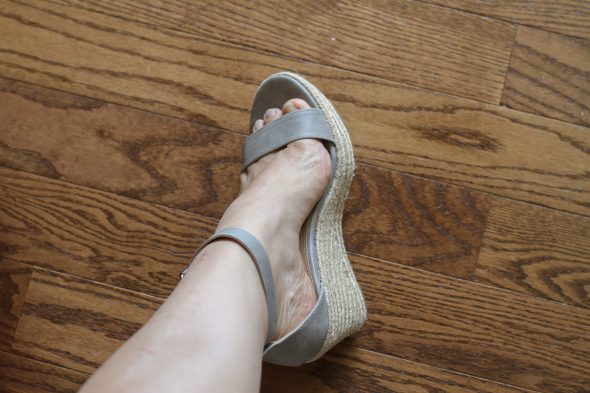 Item #2: a blue sleeveless shirt
A high-yoke, loose knit top always makes me think of old maternity fashions.
(I'm sure I don't have to tell you that's not a favorable impression. Ha.)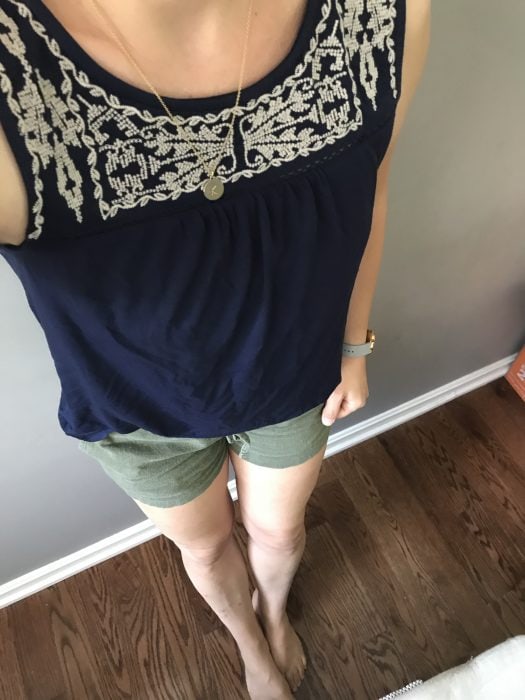 So, nope for me on this one.
Item #3: a white sleeveless shirt
I thought maybe I would like this one!
But untucked it looks shapeless and unflattering.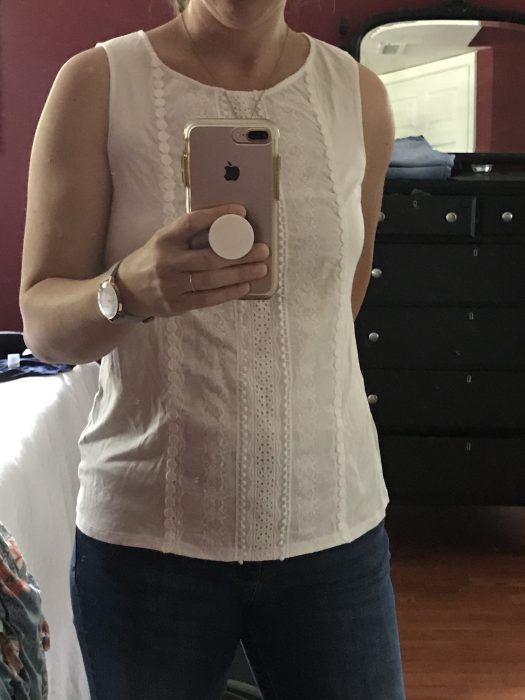 A half-tuck into shorts isn't a lot better. Since this top is a combo of knit and stiff woven fabric, it hangs weird.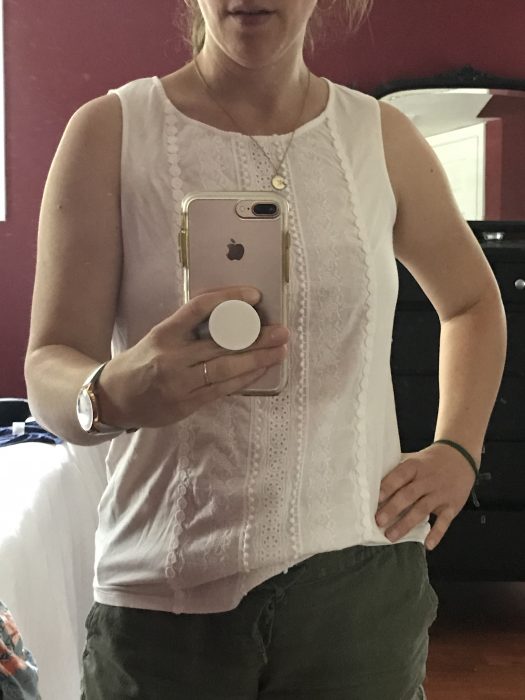 A half-tuck into jeans is an improvement from the front.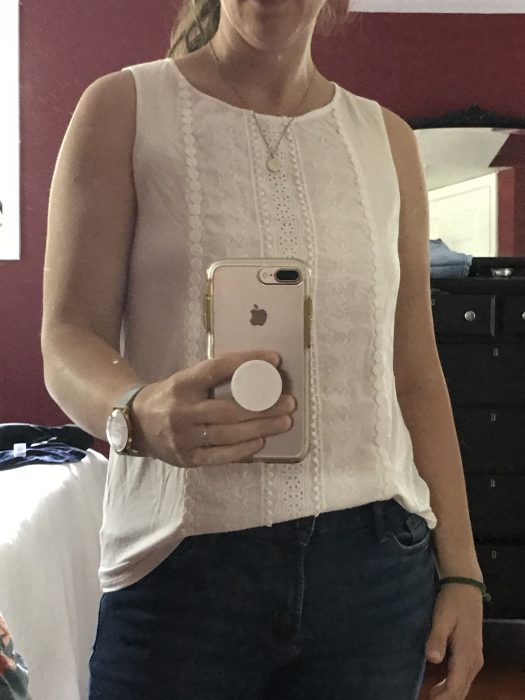 But if you look from the side, the woven part sticks out kinda weird.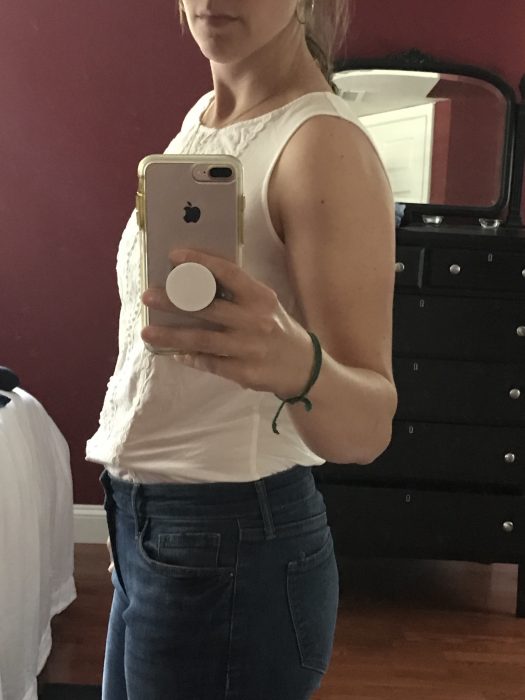 So, also a no.
Item #4: a floral maxi dress
When I saw this in the box, I thought maybe it would be good.
But when I put it on…it was not.
The back view is ok.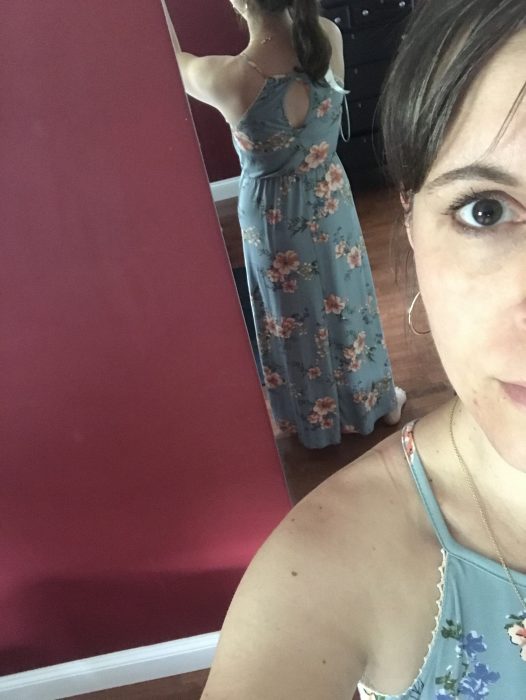 And from straight on in the front, it's not terrible.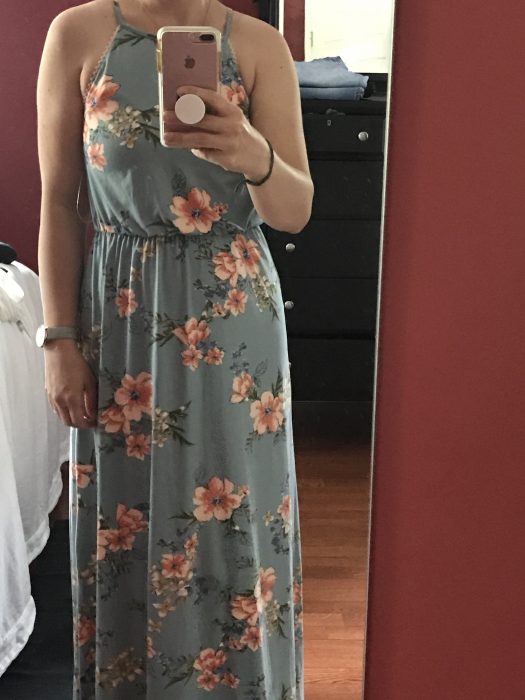 But the pre-defined waistline hits me in my ribs, not at my waist (hazards of being long-waisted!). So that means the waist is hitting at a wide part of me, not a narrow part.
Since it hangs down from there, it really just makes me look a lot thicker around the middle than I actually am.
Also: when an elasticized waist hits at my ribs, it feels a little uncomfortable to breathe. Like, not impossible to expand my ribs; just harder.
And there is no point in paying for a dress that makes breathing harder!
Item #5: orange floral….shorts (!!!)
I saved the worst item for last: these orange floral shorts.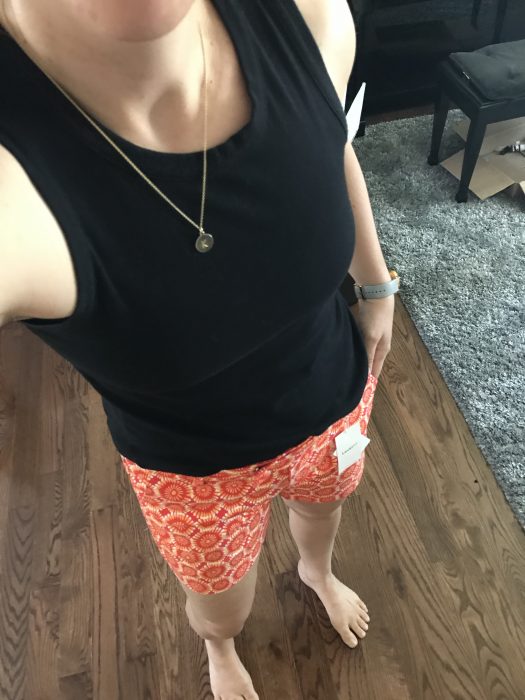 I look like I'm wearing men's swim trunks.
I really see no way that I could ever look cute in these. So. Much. No.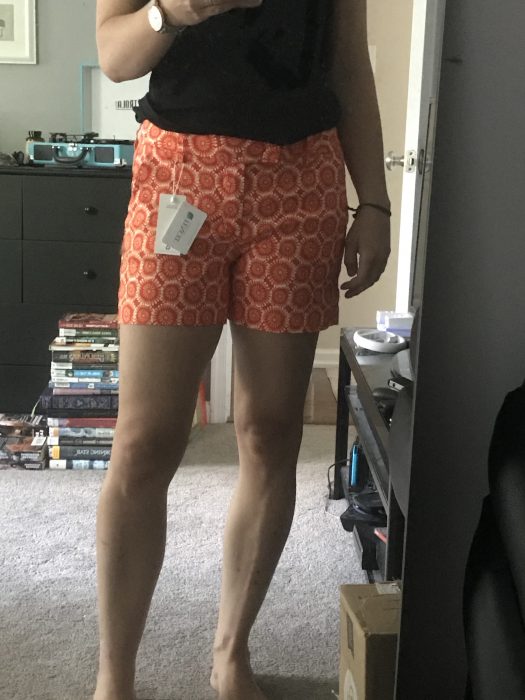 I sent everything back in the prepaid package with nary a second thought!
A new plan for next time
To try to make my next box better, Lisey redid my profile and made some Pinterest boards for me (because obviously I have been a fail at this!).
I have high hopes about this new strategy because Lisey often knows what jewelry or clothes I want even when I myself don't know what I want.
I'll let you know how this goes when my next box arrives. We bumped up the ship date because Lisey is very excited to see how her efforts pay off.
So, look for a followup post soon!
Would you have kept any of these items? Or would you have sent them back?