One of my dear friends (who happens to be a fellow diehard Aldi shopper!) is due to have her first baby in a few weeks. Our church always throws a shower for expectant moms, and I got to host this time.
I've never hosted a baby shower before, but fortunately two other friends volunteered to take on the decorations part of things (not my strong suit!) and I mostly handled the food.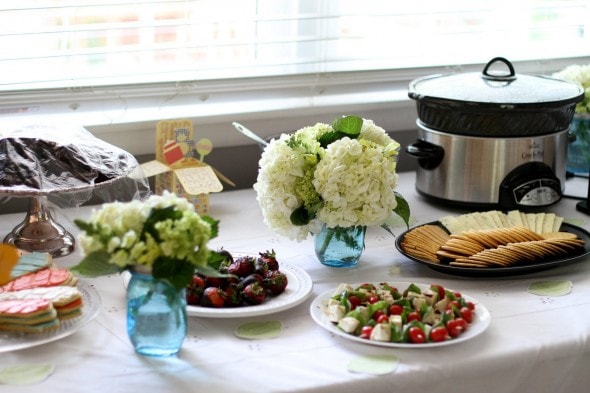 Cooking? I can do that.
Garland-making? Not so much.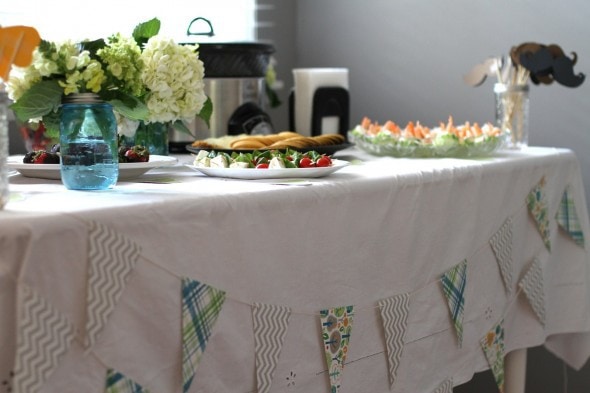 After I'd made plans to host the shower, Aldi emailed me to ask if I could host a summer party, serve food made with Aldi products, and blog about it.
I was already planning on shopping at Aldi for the shower food ingredients because, hello, that is just what I do.
So, everything worked out kind of serendipitously.
The shower was mid-afternoon, so I did a combo of appetizers and small desserts rather than an actual meal.
Zee Food
Of course, I did a cheese and cracker plate. Yay for easy!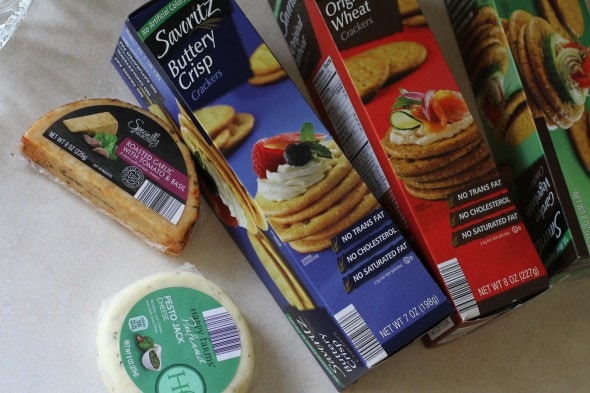 The pesto jack cheese is especially tasty, you guys! Go pick some up if you've got an Aldi near you.
And the crackers? Just as good as the veddy expensive sort from a regular grocery store.
I made the shrimp-cucumber bites I blogged about last summer. These are very simple to make, but they look kind of fancy and they're so delicious.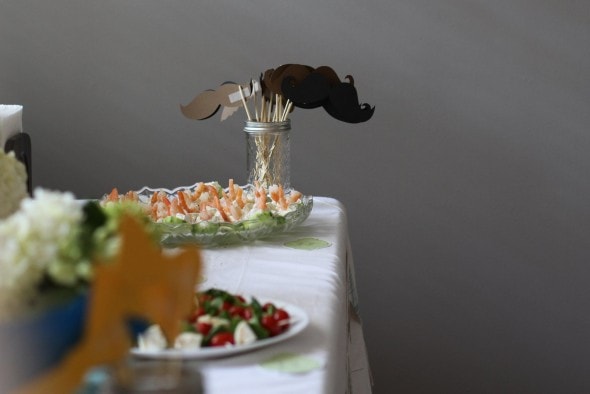 I didn't manage to get a picture of these by themselves, but I made a plate of caprese bites (you can see 'em in the middle of the table.) So delicious!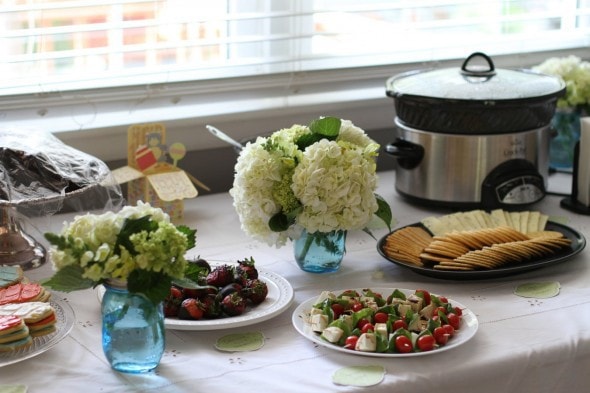 They're just grape tomatoes, fresh mozzarella, and basil leaves (you can't get those at Aldi, but I have a basil plant on my deck), drizzled with a balsamic vinegar/olive oil combo.
I also made a gigantic fruit salad.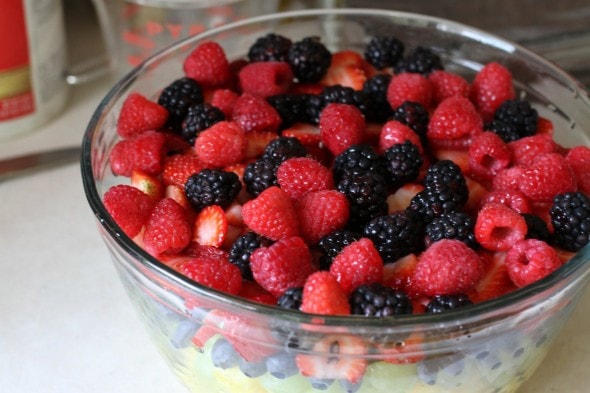 My Aldi's berry selection varies, but luckily, the week I hosted the shower, they had raspberries, blackberries, strawberries and blueberries!
Plus I included grapes and fresh pineapple.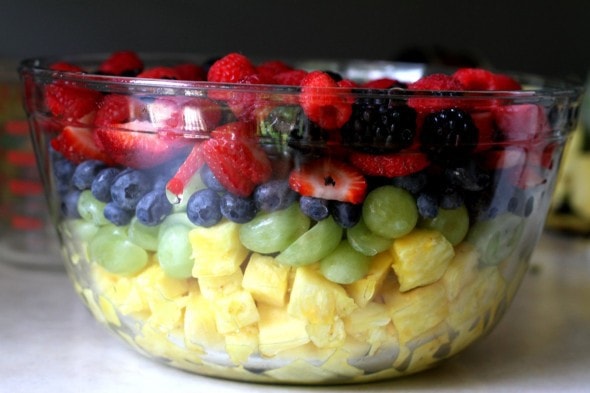 For one of my desserts, I made my brownie recipe, but I cut them into little bite-sized pieces.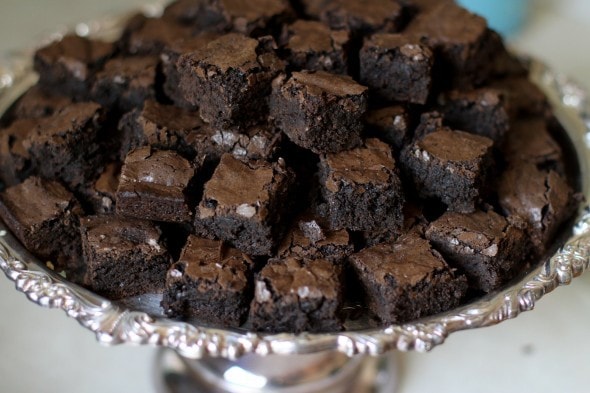 My friend is having a boy, so at first I was going to try making mustache cookies. But as I poked around online, it seemed like you had to be pretty good at frosting cookies to make the mustaches recognizable.
So I ordered a necktie cookie cutter instead.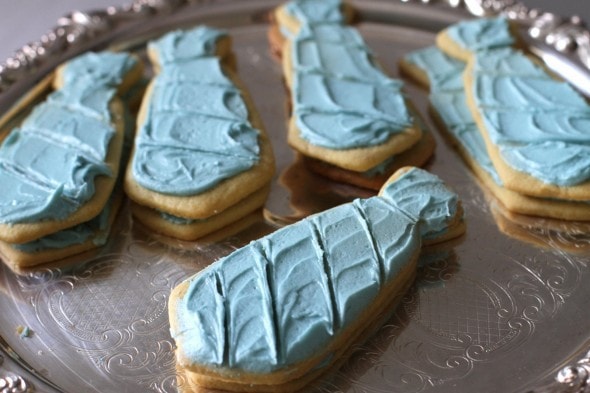 I used the cut-out sugar cookie recipe we make for Christmas cookies and I just frosted them with buttercream. There are some awfully impressive tie-cookie frosting jobs out there, involving royal icing and such, but I decided not to let that bother me.
Mine aren't Pinterest-worthy, but I did not have to spend hours frosting them, so there's that. 😉
Oh, and I made chocolate covered strawberries too. So easy, and so lovely.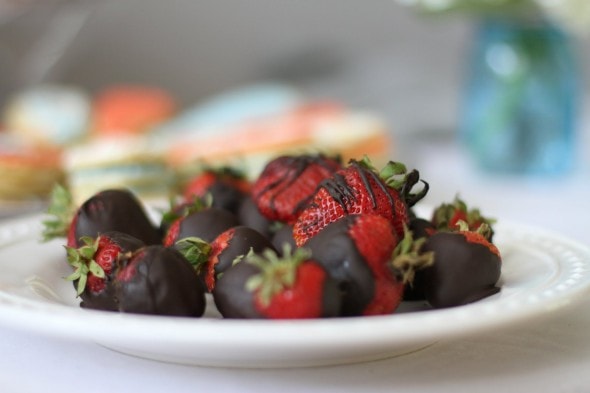 I cannot take any credit for the crock-pot of meatballs on the table…a friend brought those.
It's a good thing too, because my jade-green, vine-covered 1997 Crockpot would have looked sort of awful on the table. 😉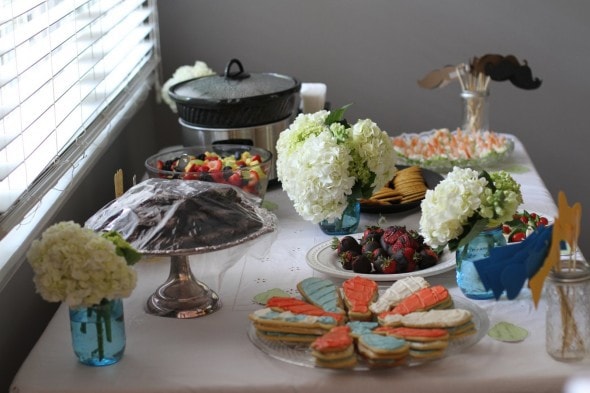 Doesn't the table look so beautiful with the flowers? My decorating friends brought the mason jars and filled them with hydrangeas. Simple, but lovely.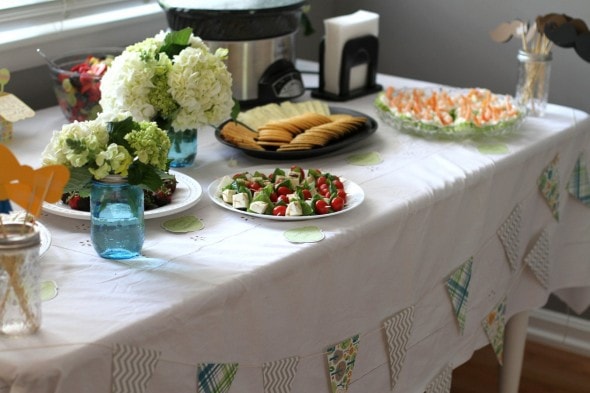 I only own one tablecloth (I'm fancy like that.), but fortunately it's a fairly plain white one, so it works for pretty much any occasion where a tablecloth is necessary.
Since I don't entertain large groups much, I don't have a matching set of serving platters. Which meant that I had sort of a random thing happening….there's glass, silver, white and black.
And the caprese bites and chocolate-covered strawberries are hanging out on regular old dinner plates.
But hey, it doesn't have to be perfect to bless someone else. And I'm pretty sure no cared that my serving plates weren't matching. 😉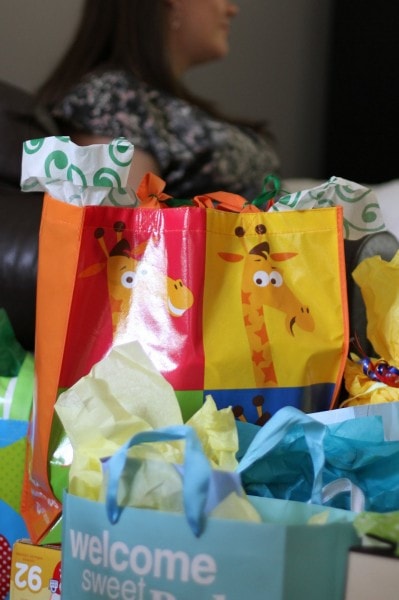 Disclosure: Aldi sent me some gift certificates to help cover the cost of the food, but this post was not sponsored in any other way. And I'd have shopped at Aldi for the party food either way because Aldi does a fantastic job of making party-throwing affordable.