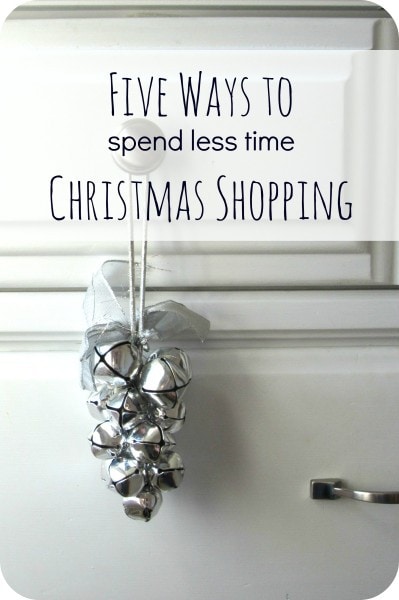 I've talked quite a bit in this series about having less of a focus on stuff and spending less time shopping. But you might be wondering, "How exactly do I go about that??"
Here are four ways you can move your Christmas celebration away from the shopping end of the continuum.
1. Draw names/organize a limited gift exchange.
This is the route my adult siblings and I have chosen, and I highly recommend it. Each of us is assigned one person (so each couple shops for another couple), which means that we have the fun of exchanging gifts without a crazy amount of stress. Because we only need to give gifts to one couple, I can pour a lot more thought and energy into picking out/making a gift than I would otherwise be able to.
I feel like this arrangement has all of the fun and none of the stress that normally can accompany family-wide gift giving.
2. Don't give gifts to everyone.
I'm not exactly sure when in history this came about, but our current culture seems to expect us to give gifts to a ridiculously large number of people. I read a Real Simple magazine a few years back that talked about all the tipping/giving that we should be doing at Christmastime, and it was a little overwhelming (which is kind of funny, given that the magazine has the word simple in the title.)
Giving gifts is lovely and all, but when our gift-giving begins to cost us sanity and financial peace, something has gone wrong.
For instance, giving gifts to all of our nieces and nephews would start to be ridiculous. On my side alone, there will soon be 11 nieces and nephews (that's not counting our kids!). So, my siblings and I have agreed that this is not something we want to do. Not only do we want to avoid the stress, we all feel like our kids get plenty of presents anyway.
I'm not suggesting that you cut out all gifts to your children or anything like that, but maybe you don't need to give something to your mailman, hairdresser, dog groomer, and all of your children's teachers.
3. Give fewer gifts.
In the past, Christmases haven't always been as present-heavy as they are now, and somehow, people still managed to have happy Christmases. So, I think it's pretty likely we can too.
An earlier post has a lot of my thoughts about giving children fewer presents, but I also think the adults could stand to have fewer gifts, especially if those gifts are putting a strain on people's finances.
Paring back on the adult gift-giving should be easier because adults should be able to be a bit more reasonable about it than kids (theoretically speaking).
If you're going to make a big change in this arena, though, I do think talking to the people you exchange gifts with is a good idea. Who knows? Maybe they would be relieved to have the freedom to spend less as well. And maybe they'd even agree to a price cap.
4. Give experiential/service gifts.
These kinds of gifts obviously help to reduce the focus on stuff, since they're not tangible. And they don't require a whole bunch of shopping, either.
Gifts of this sort could be a park or zoo pass, a membership to a club/museum/etc, tickets to a concert or play, or a gift certificate to a restaurant.
Or if someone on your gift list has children, giving the gift of babysitting (with maybe a restaurant gift card attached!) is an awesome idea. I haven't ever really met a set of parents who wouldn't welcome that gift (as long as the giver was someone they trusted with their children).
5. Start ahead of time.
Saving your shopping for the last-minute is an almost sure-fire way to increase your shopping hours. Crowds and traffic get pretty awful in the stores when we get deep into December, so you can spend a whole lot less time shopping if you do it early.
You can also choose to do a lot of your shopping online, but again, that's only going to be practical if you start ahead of time (shopping online at the last minute is going to cost you a pretty penny in shipping charges!)
______________________________
I'm sure there are more than five ways to cut back on shopping time, so add your ideas to mine!

_____________________________
Previous posts in this series:
Think more about serving and less about impressing.
It's ok to have an imperfect Christmas. And it's ok to say no.
3 ways to lower children's Christmas present expectations
______________________________
Joshua's 365 post: Cricetinae