This giveaway is now closed-congrats to Shana, the winner of the cookbook!
Because I have a brandy-spankin' new cookbook to give away to you!
Before we get to that, let me tell you a little bit about the book.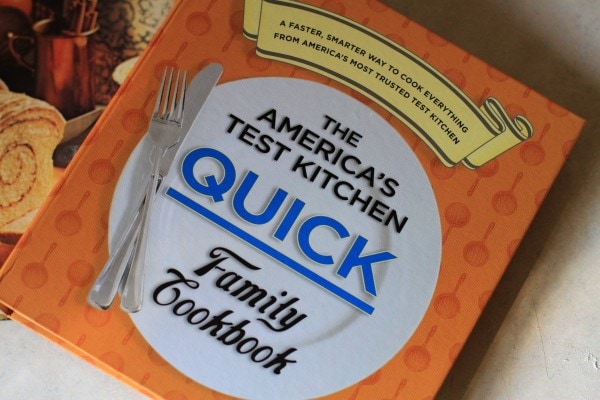 As you know, America's Test Kitchen (Cook's Illustrated's relative) is all about producing thoroughly tested recipes that normal people in normal home kitchens can use.
As part of that effort, they've recently put together a cookbook full of quick recipes
. They can all be made in 45 minutes or less, and they range from appetizers to meats to vegetarian entrees to desserts.
The book is a 3-ring binder, and it's got lots of full-color photos (which I love, of course.)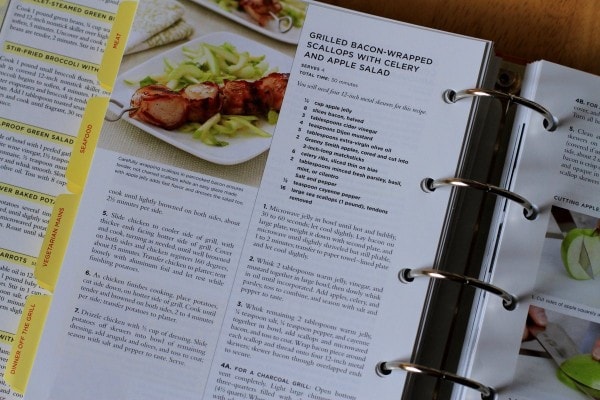 Because of the 45-minutes-per-recipe time constraint, these recipes do use more convenience products that you'd typically see in an ATK cookbook. For instance, the pizza recipe calls for refrigerated dough, the pies use refrigerated pie crust, and so on. However, there are still way more unprocessed ingredients than you'd find in a typical quick cookbook. And unlike some quick cookbooks, this one doesn't have anything like those soup "recipes" that call for dumping several cans of soup together and adding a few spices.
Plus, when ATK calls for a prepared ingredient, they almost always tell you which one is the best choice (for instance, they share what the best prepared broth is, or what company makes the best puff pastry.)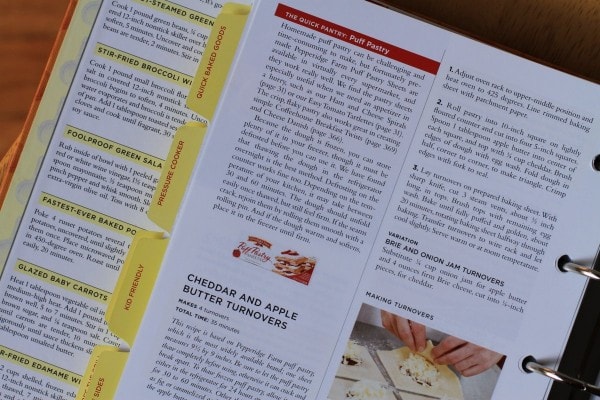 And even if you don't like using some prepared ingredients, there's nothing to prevent you from subbing from-scratch ingredients in some of the recipes. If you've got extra time, you can always make your own pie dough, pizza dough, or polenta, for example.
In addition to recipes, there are pages devoted to cooking basics, like this one about grilling.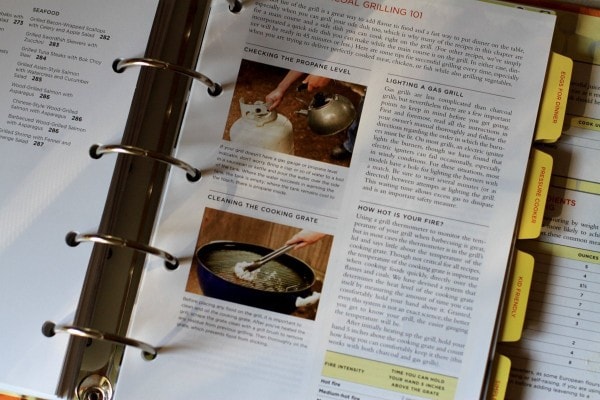 And sprinkled throughout are pages like this one, which show you multiple ways to use a convenient ingredient.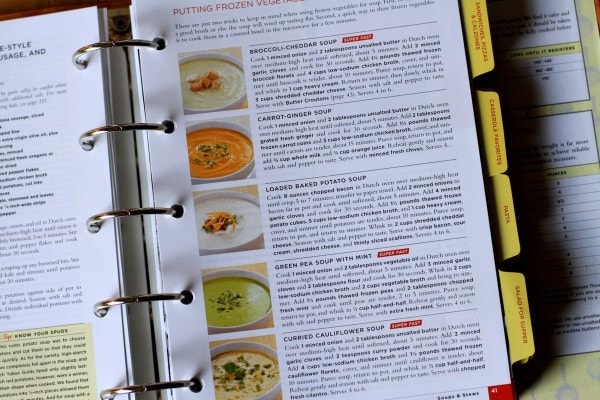 ATK has come up with some pretty interesting ways to speed up some common recipes. For instance, they have a recipe for pizza that calls for starting the crust in a skillet and then popping the whole thing into the oven to melt and brown the cheese.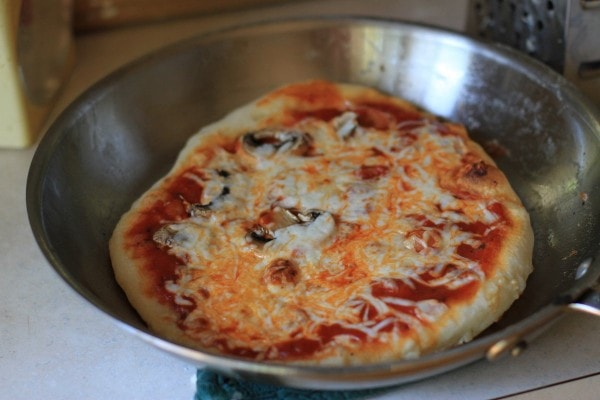 That way you don't have to wait a whole hour for a pizza stone to heat up in the oven. And this worked pretty darn well, except for the fact that I let my skillet get a little too hot when I made the first pizza.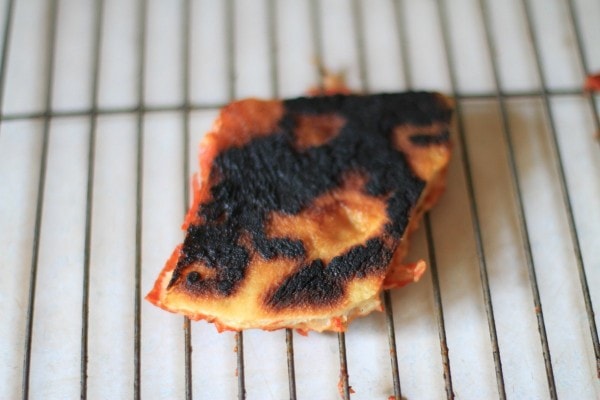 Oops.
I did much better with the second and third pizzas, fortunately.
I've also made mustard-glazed chicken, smoky chicken kabobs with a cilantro dipping sauce, a cajun corn chowder, a super-fast cornbread recipe, and there are many more recipes I'm anxious to try. In short, this cookbook isn't going to collect dust in my cabinet.
Since the recipes are all quick, you can use them on days when you might normally resort to takeout. And since ATK's Quick Cookbook retails for $21 at Amazon right now
, if the book saves you from ordering takeout only a few times, it will totally have paid for itself.
Who should buy this cookbook?
If you're looking for quick recipes that are fairly unprocessed and that still taste great, you'll really enjoy this cookbook.
If recipes from Cook's Illustrated or ATK usually seem overwhelming to you, you'll find this book to be refreshingly easy.
If you mostly want to cut back on hands-on time, the other ATK/CI cookbooks might serve you better (the 45-minute limit in this book eliminates time-intensive but not labor-intensive things like marinades or slow simmering). Then again, I fall into this category, and I'm still really enjoying this book.
________________________________
I have a copy of this cookbook to give away to one of you (woo!)
To enter, just leave me a comment with a quick cooking tip. Or if you're fresh out of quick cooking tips, saying you want the book will also suffice. 😉
EMAIL SUBSCRIBERS!!! You cannot hit "reply" to enter this giveaway. You need to click on the blue post title (the one that starts with "Love America's Test Kitchen?", and that will take you to the blog, where you can leave a comment (or you can just click here to be taken to the blog). Emails sent to me cannot be tracked and counted in the giveaway.
This giveaway will end at midnight EST on Sunday, October 21st.
One entry per person, please.
Entries limited to those residing in the continental U.S. (apologies to international readers!)
disclosure: I was sent a complimentary cookbook but was not otherwise compensated for this review or giveaway. All opinions are my own. I've been a Cook's Illustrated/ATK fangirl for eons, so no one needs to talk me into writing glowing reviews. 😉