Kristen,
I've noticed that your kiddos receive gifts from their siblings for both Christmas and their birthdays. At what age did you start this? Do they pay for the gifts out of their own money or do you help them pay? Do you have any other related thoughts/advice? My kiddos are still baby/toddler/preschool age and we haven't done anything like this, but I would love to do so in the future.
-Brooke
I'm trying to remember when we started this with our kids! I think it sort of gradually happened as each of them reached early grade school age, and if I recall correctly, it's not something that we instigated. They just like giving presents to each other.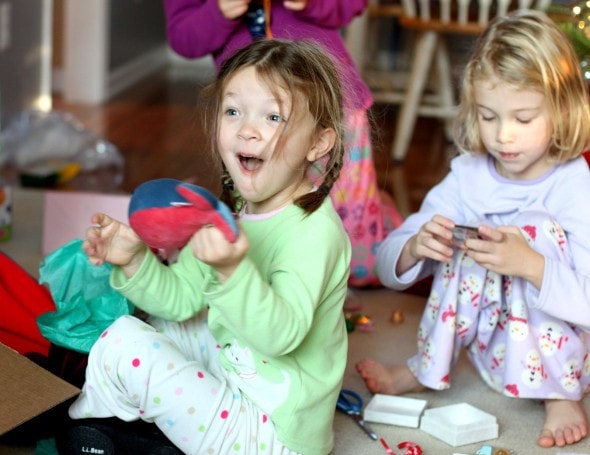 On Christmas morning, Mr. FG and I are always so encouraged to see how excited they are to give their gifts to each other…it's always the first thing they want to do. They enjoy receiving gifts, of course, but giving gifts to each other is a definite highlight.
They do mostly pay for the gifts with their own money, which is why this started in grade school. Preschoolers are generally not flush with cash. 😉
Sometimes, if a kid really wants to get a more expensive item for someone, several of them will go in together and buy a group gift. Or if that doesn't work out, Mr. FG and I sometimes help them, making it a joint gift from them and us.
The amount they spend on each other varies with their income level. Joshua and Lisey have more income than Zoe and Sonia do, so they tend to spend more. This disparity hasn't seemed to bother my kids at all…they understand that not everyone has equal resources to use.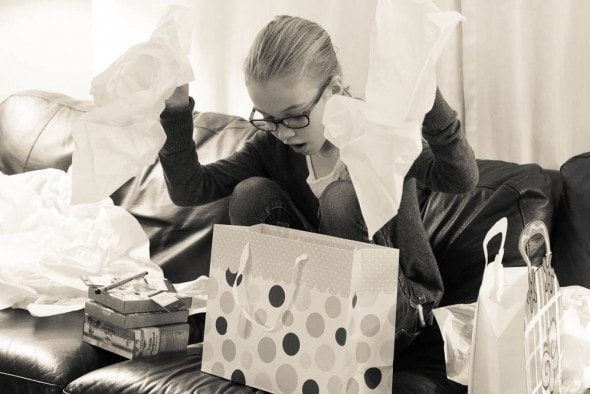 A few random thoughts on this topic:
If you have a kid who is short on cash for gift-giving, come up with some paid work for them to do around the house.
Use gift-giving as an opportunity to help them learn about planning for future expenses. If Sonia wants to buy something for herself in November, we talk about whether she'll still have enough money left to buy Christmas presents.
Help them learn frugal shopping habits as they buy gifts. We shop around, pull up coupons on our phones, look for discount codes online, and so on. You can afford to give more if you know how to stretch your dollars!
Homemade gifts are great options, especially for younger kids. Presents don't necessarily have to be bought.
Gifts don't have to be big or expensive. When my kids were littler, the presents they bought often cost just a couple of dollars (candy, Japanese erasers, a small craft item)
I don't think that siblings necessarily need to give each other gifts, but it's been a fun tradition at our house, and I like that the process provides so many organic learning opportunities in areas like generosity, planning, and smart shopping.
________________
Readers, if you've got thoughts/advice on sibling gift-giving, share in the comments!