This week, I tried a recipe for carnitas from my ATK Best Mexican Recipes cookbook.
I've never made or eaten carnitas, so this was new on several fronts!
ATK's recipe called for braising chunks of pork butt in a citrusy broth for several hours.
Once the pork is fall-apart tender, you reduce the braising liquid to a syrupy consistency, toss it with the pork, and broil until the pork is a little bit crusty and browned.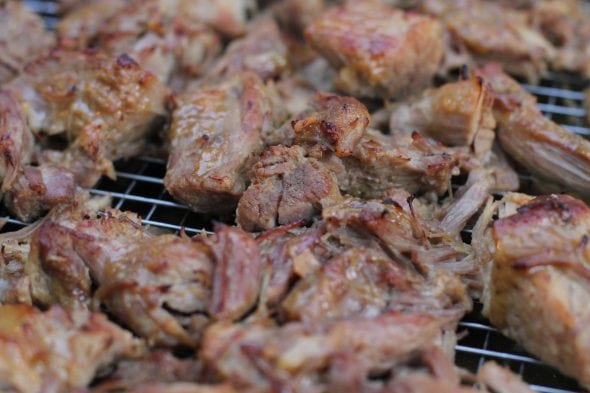 And then you serve it in tortillas with fixings (and I have no picture of that part. Sorry!)
I was a little unsure of how I'd feel about the orange juice and lime juice flavors, but they were surprisingly good with the pork.
Even Joshua, who usually isn't a fan of fruity flavors mixed with savory flavors, was a fan.
So, yay!
Now, having not ever had real carnitas, I have no idea how completely authentic this was.  But since we all liked it, I'm not too fussed about authenticity.
Here's a blog that has the whole recipe typed out for you.
Next Week's Recipe
I poked through my ATK Mexican cookbook some more and am vacillating between a tequila-grilled chicken salad or Sinaloa-style grill-roasted chicken (halved, butterflied, marinated chicken cooked on the grill.)
Decisions, decisions…
I think I'm leaning slightly more toward the chicken because I've never cooked whole chicken on the grill; only pieces.
How about you?
What new thing did you cook this week?  And did you decide on something for next week?
(Deciding on a new thing ahead of time is key for me! Otherwise I will totally put the decision off and not get around to it.)