(I thought about labeling this "before and after" but then I thought you all might think I'd gone and actually made my laundry room beautiful by turning it into a finished room. But nope. I just cleaned it. And I doubt we will ever make this into one of those beautiful laundry rooms one sees on home design sites. So, clean and neat is as good as it will get!)
I actually got this job crossed off of my list last week, but haven't gotten around to posting the pictures until now.
You may remember that I got my laundry room all neat and tidy a few years ago.
But somehow over the course of the years, this room had descended into a really super not-awesome state.
And I REALLY mean that.
I know sometimes bloggers are all, "OH. MY. SOUL. My house is a WRECK."
Then you see the photo and there are, like, 5 things on the floor.
You guys, I had way more than five things on the floor.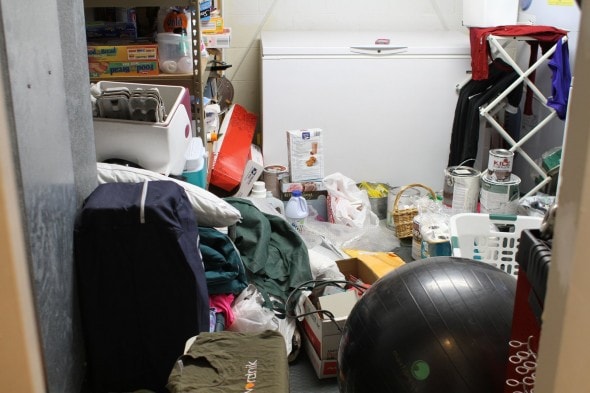 As you may imagine, actually getting in there to do laundry was becoming a bit of a challenge.
My "pantry" shelf was so disorganized, I had no room for anything, so when I bought stuff, I had to put it on the floor.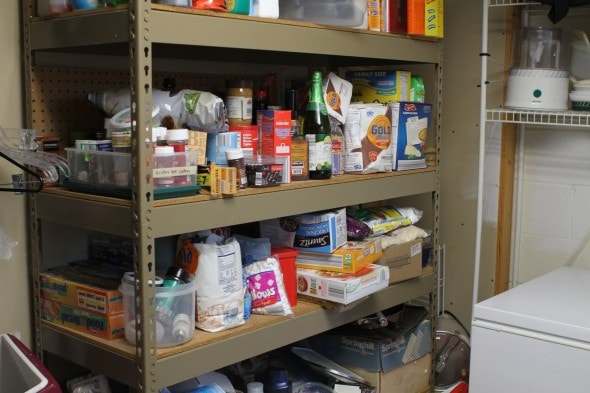 Once I started working on decluttering/cleaning, the view actually got worse for a while.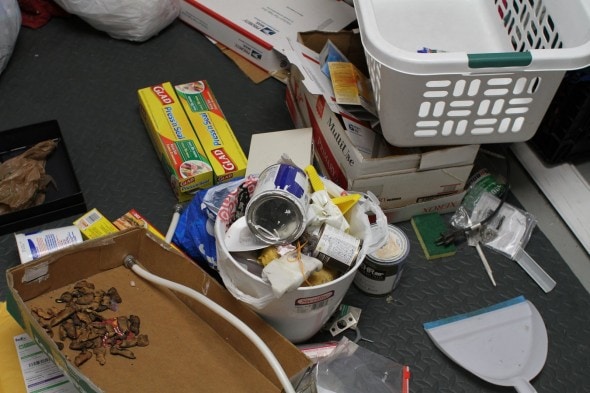 This is the point where I usually want to quit.
But I did eventually find the floor after much sorting, recycling, freecycling, trashing, and organizing.
Problem is, once I found the floor, the worn floor paint (and the part of the floor that never got painted because the old freezer was larger) began to bother me.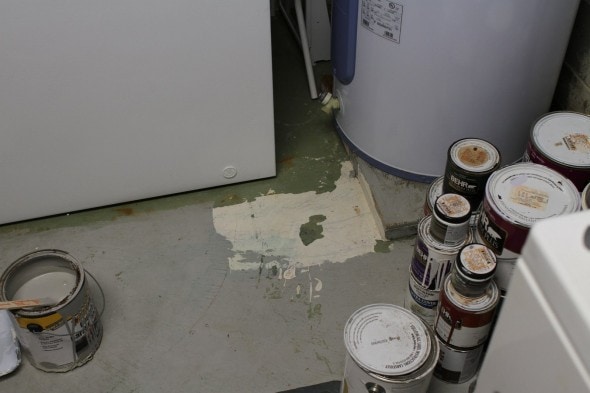 Plus, I'd just found the bucket of floor paint while I was organizing all my paint cans.
So, in an uncharacteristic move, I decided to paint the floor on the spur of the moment. I'm pretty much the opposite of a perfectionist, so I'm sort of surprised I did this.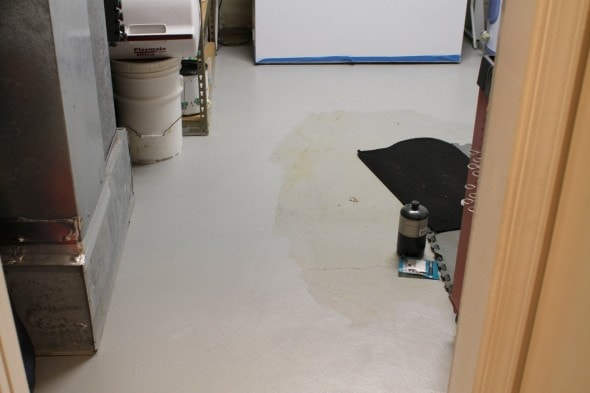 However, my non-perfectionism came out in the fact that I did not paint the part of the floor that is normally covered by the gray mat. 😉
I am SO happy I decided to repaint the floor. It makes the whole room seem fresh and clean.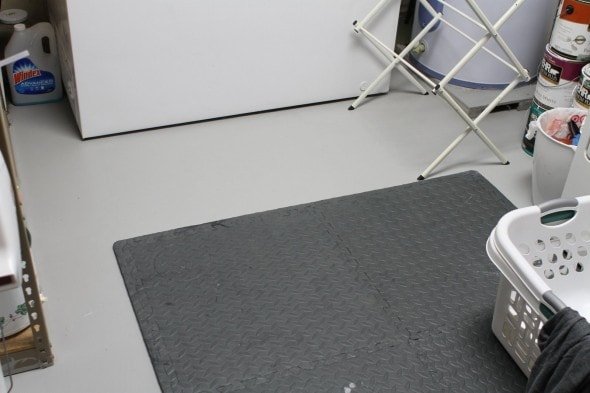 Episodes of Brilliant Business Moms kept me company during this whole project, by the way. 😉
I got rid of some paint we no longer need (like the old color from before Joshua's room re-do).
Also, I corralled all of my painting supplies into one box.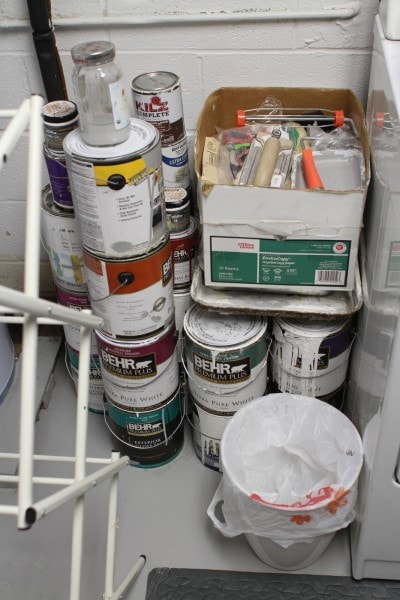 I never actually put them away properly after we finished Joshua's bed and room, so this was a little overdue. Ha.
My shelving unit doesn't actually look impressively neat, but it is way more organized than it was before and there are no bags of groceries on the floor.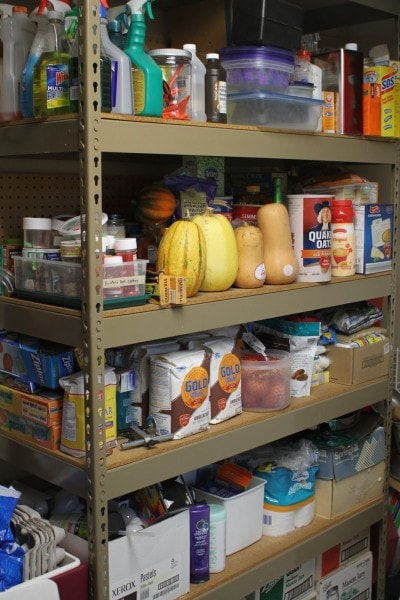 I have no pantry in my kitchen, so this shelf serves as my ugly and somewhat inconvenient pantry. But it is way better than nothing!
There are still some areas in the laundry room that could use some purging and organizing…like these shelves.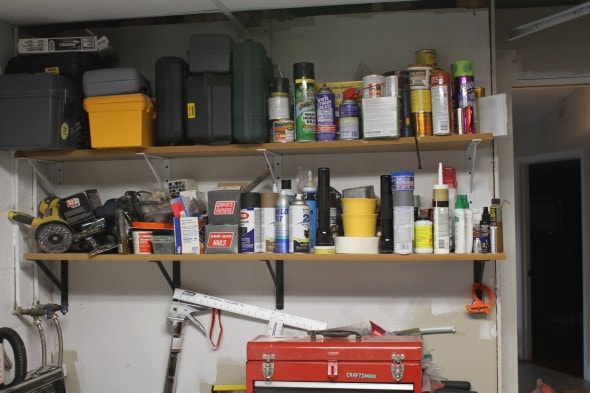 And this toolbox area.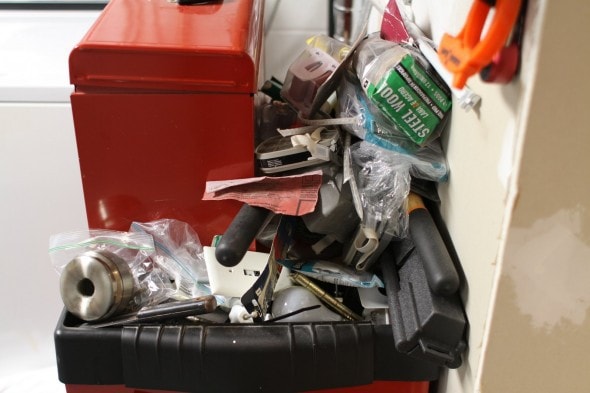 But I'm pretty sure I need to collaborate with Mr. FG on that, and besides, this mess wasn't keeping me from getting to the washer and dryer. 😉
It can wait.
So, here's the view from before.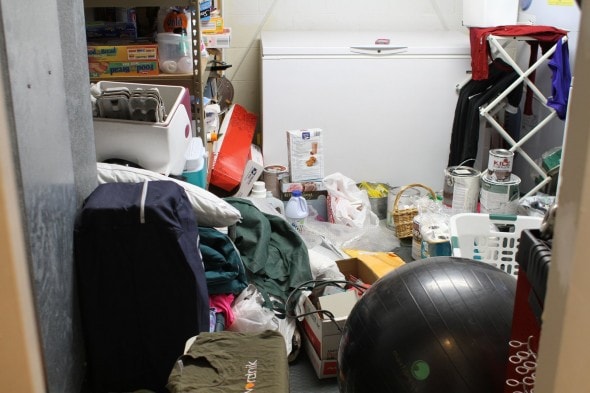 And here's the view now.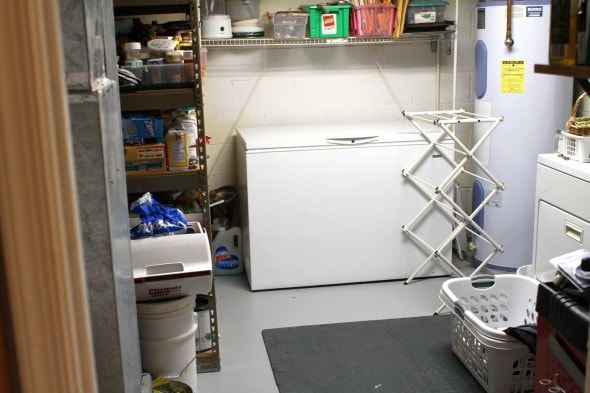 It's been over a week since I finished this, and still, whenever I walk in there, I'm all, "What in the world is this?? A clear floor??"
Hopefully I will do a good job of maintaining this. I usually do awesome for a while, but then things slowly pile up.
The problem, I think, is with letting a few things pile up.
If I keep a surface clear, then it feels wrong to clutter it up.
But once a bunch of clutter is there already, then it seems sensible to just keep piling things up. 😉
(Tell me I'm not the only one!!)
So, here's to not letting that first thing sit on the floor.