On Tuesdays and Thursdays, I post a picture and just a few words.
Recently, we were shopping online in an effort to procure some winter boots for Lisey. Finding decent quality women's boots that are actually warm is a Sisyphean task, it seems.
(Practical boots for boys and men abound. But heaven forbid someone manufacture warm, waterproof, durable, tall boots for girls and women.)
Eventually, we ended up at REI.com, where we found a nice pair of boots and they were on clearance, which made it even better.
Unfortunately, the clearance price put us about $5 below the $50 free shipping threshold.
So, since I was going to have to fork over the $5 anyway, I browsed through the clearance section to find something as close to the $5 mark as possible and came up with these, um, colorful socks, which bumped me right up into free shipping territory.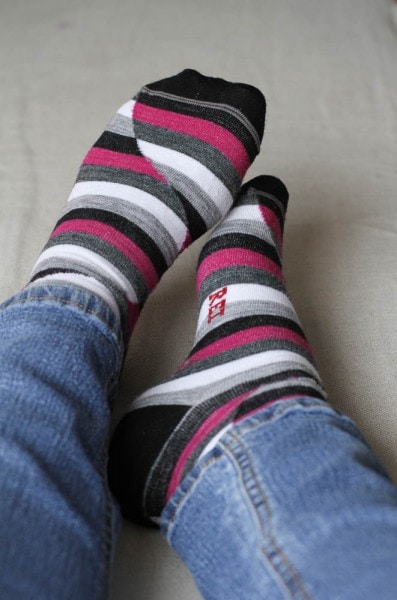 Hey, I'd rather pay for a pair of socks than pay for shipping. 😉
I don't normally buy patterned anything for myself, but I figure they were basically free, and no one really sees my socks all that much anyway.
(Except when I blog about them, I guess. Hmmm.)