What I Spent
First, wanna see a super random lunch I had?
I frequently make breakfast or lunch by opening my fridge, peering around, and grabbing whatever needs to be used up. Sometimes this results in a cohesive-looking meal.
Other times…it doesn't. Here's an example!
I sliced up some cabbage (I have half a head leftover from a previous recipe) and I mixed it with some leftover tzatziki sauce.
I sliced and broiled a zucchini with oil, salt, pepper, and Parmesan, an idea I got from a previous Dinnerly recipe.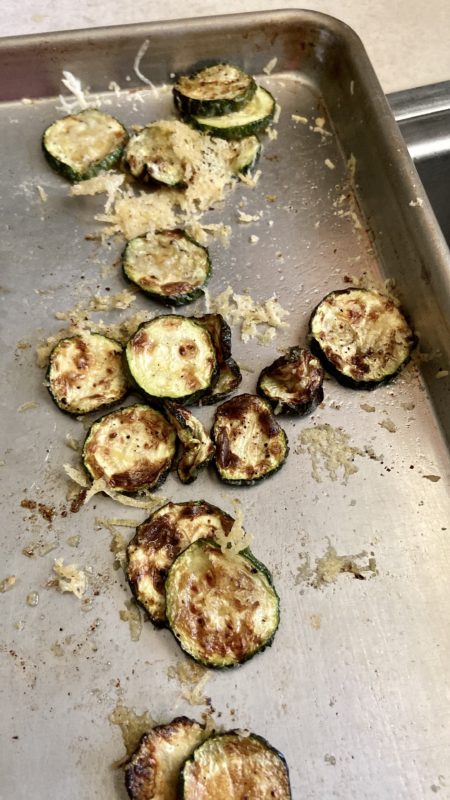 I fried two eggs (because of course.)
And I sliced up a couple of peaches.
No chef would put a meal like this together, but I used up some odds and ends, ate plenty of produce, and also got some protein in with the eggs and the tzatziki sauce (the base is Greek yogurt).
None of it took very long to throw together, and hey, I figure my body really only cares about nutritional value, not the cohesiveness of a meal. 🙂
I spent:
$20 on peaches
$60 at Aldi
Soooo, $80.
What We Ate
Saturday
Zoe and I both were out with friends. 🙂
Sunday
I made some ground beef tacos (bonus points for me because I found the ground beef during some freezer spelunking!) and we ate them on corn tortillas from my kitchen freezer.
Slowly but surely, I'm workin' through my stash of tortillas.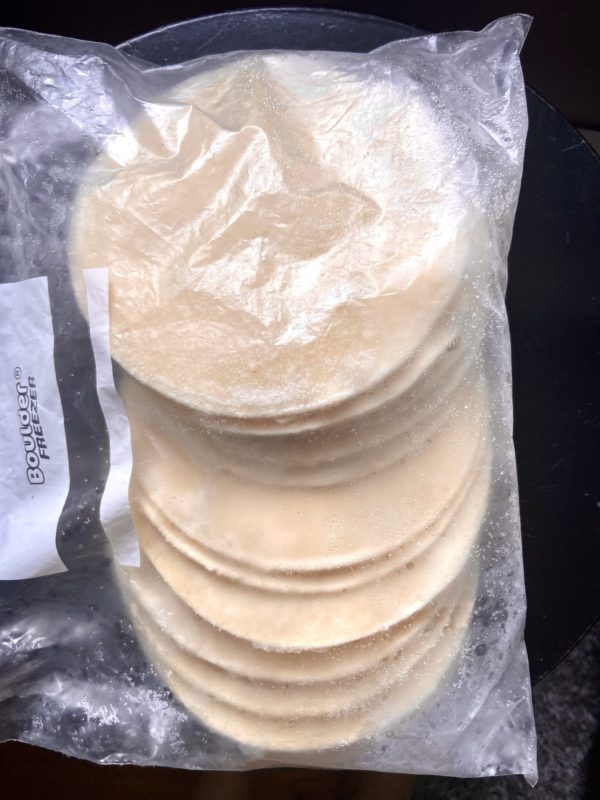 Monday
I made a teriyaki noodle dish with ground beef.
Verdict: good, but could have used more teriyaki sauce. 😉
We know I always think things need more sauce.
Tuesday
Gyros!
I made a recipe with grilled chicken and broiled veggies; I'd say it was good, but that I prefer raw veggies in my gyros.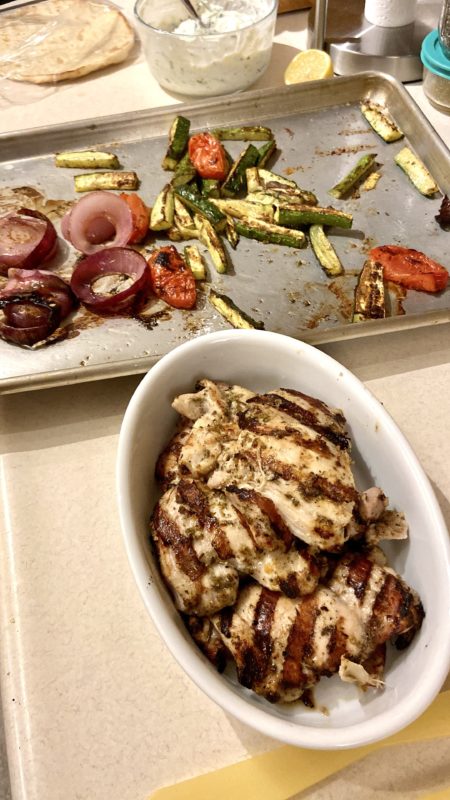 I did lightly brush the pitas with oil and then heat them in my toaster oven, using the air fryer setting…total thumbs up to that!
Wednesday
Leftover gyros, but this time I put raw veggies in with the chicken and it was 1000% better that way.
Thursday
I made some mashed potatoes and stirred in the last of the jar of sun-dried tomatoes. I topped the potatoes with browned Italian sausage and some shredded Parmesan.
On the side, more shredded cabbage with tzatziki sauce.
I have concluded that I need to buy very small heads of cabbage from here on out.
WHY IS THIS CABBAGE SO BIG.
Friday
I think Zoe's gonna be at an event with a friend where pizza is involved. Seems like a good time for me to have a random-things-from-the-fridge dinner. 😉
What did you have for dinner this week?