What I Spent
It's been such a weird week as far as dinners go; Zoe was here a lot less than usual, and I ate out several times to use birthday coupons.
The result is that my spending is unnaturally low!
$5 for my Tuesday meal
$6.80 for my Wednesday meal
$7 at Safeway
So, I've spent $18.80 on food this week.
Expect a higher bill next week!
What We Ate
Saturday
I got back from my trip with Sonia, and Zoe was out with a friend. So, I ate a peanut butter and honey sandwich on whole wheat bread. 😉
Sunday
Just me here again for dinner so I made a grilled cheese sandwich.
Monday
Zoe was here for dinner, and I boiled some tortellini, topped it with tomato sauce and Parmesan, and stirred some heavy cream into mine.
(I like pink sauce but Zoe doesn't!)
We had some fresh produce on the side.
Tuesday
Zoe was not here at dinnertime and I don't remember why! I remembered that I had some more birthday coupons that expire at the end of June, though, so I went out and used one.
I got a shrimp salad sandwich on a croissant, and I read my CPR manual while I ate. 🙂
My meal was free, but I left a tip for 30% of the value of the meal.
Wednesday
Zoe got a sandwich with a friend, and lucky me, I had another birthday coupon to use, this one for takeout at an Italian restaurant.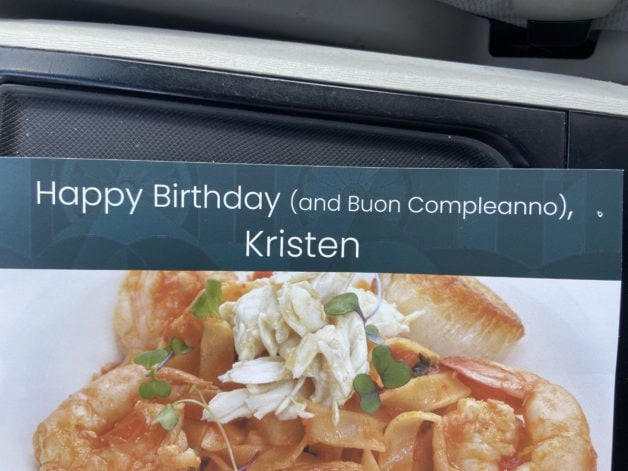 I got two soups: cream of crab, and pasta fagiole. I was delighted to discover that the soups came with some really good crusty focaccia bread and some herbed dipping oil. SWEET.
I ate the crab soup that night, and I have the pasta soup in my fridge still. 🙂
Thursday
I hung out with my sister-in-law (the treasure house one!) and we made a big salad with greens, shrimp, strawberries, goat cheese, and pecans, with a mustard vinaigrette. So good.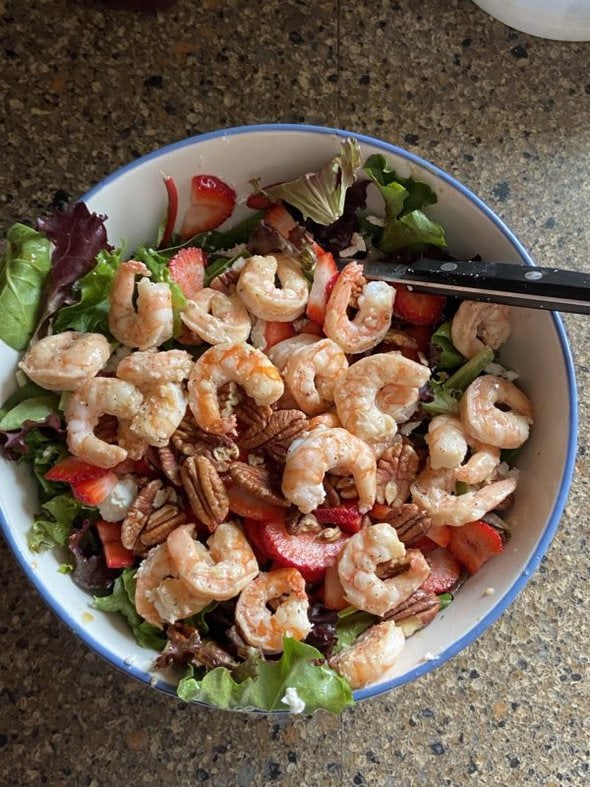 Friday
I might make something easy for Zoe and then I can eat my other takeout soup. 🙂
I think this is the actual, factual end of my birthday freebies for the year; I'll have to wait until next April to start living large again!
What did you have for dinner this week?