(Psst! If you like podcasts, check this one out. I've never done one before, but I was interviewed for The Brilliant Business Moms podcast and it's now live. I chatted with Beth Anne and Sarah about all things blogging, and it was a lot of fun.
I hope you enjoy giving it a listen, and I hope the sound of my voice won't be too jolting…every time I do an audio/video clip, people are surprised at the sound of my voice, so apparently I talk differently than I type! 😉 )
________________________________________
Here's a quick peek at what's been in my library bag of late.
Make the Bread, Buy the Butter
You guys, this book was really entertaining. I love me some non-fiction, as you well know, but I usually expect it to be more informational than hilarious.
Somehow, Jennifer Reese has a way of making her kitchen adventures funny, in a somewhat dry, understated way.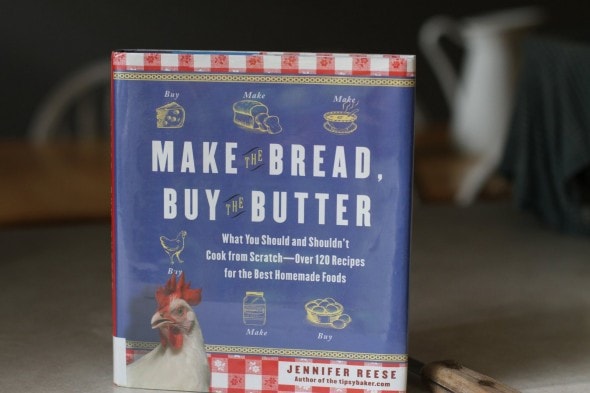 A few years back, she set off on a mission to figure out what you should cook from scratch and what you should leave to the experts. Her recommendation comes from considering both monetary cost AND the hassle involved, which I appreciate.
(Spending three hours to make a condiment from scratch when you can buy a decent one from the store for a few dollars does not make sense to me.)
The food she made runs the gamut from hummus (make at home) to onion rings (buy them) to bread (make at home) to hot dogs.
(Yes. She made her own hot dogs. She recommends you buy them instead. 😉 )
She includes recipes for almost every food she covers, but even if you never intend to use the recipes, the book is a great read.
Organizing Solutions for People With ADD
I don't remember where I read about this book, but whoever brought it to my attention pointed out that this is not just a book for people with ADD.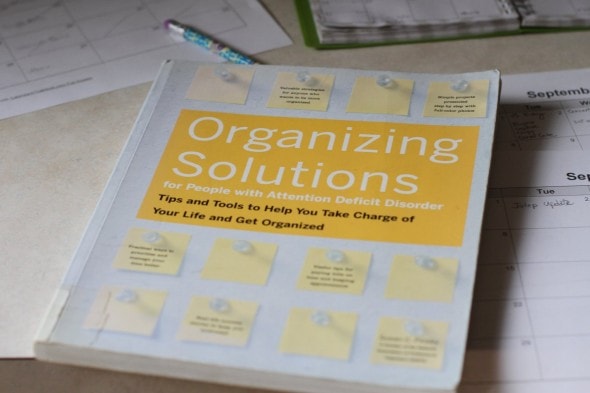 Organizing kind of blows my hair back, and even though I know how to organize, I still just like to read books about organizing. They inspire me to go do what I already know how to do.
A lot of stuff in this book felt a little obvious to me but if you have trouble knowing where to start with organizing, you'd probably find everything to be very helpful.
A major theme of this book is that you shouldn't just focus on organizing stuff, you should focus on having less stuff TO organize.
She says this is especially important for people with ADD, but I think it's quite essential for most anyone!
Also, the author is very, very big on simple, easy-to-use storage solutions because complicated storage systems are tough for anyone to keep up on. For example, give your kids unlidded bins for their toys, not boxes that stack. And she suggests using open shelving rather than drawers.
Home Comforts
I read a quote from this book on the GirlTalk blog, and was intrigued enough to check this tome out from the library.
People, this book is huge!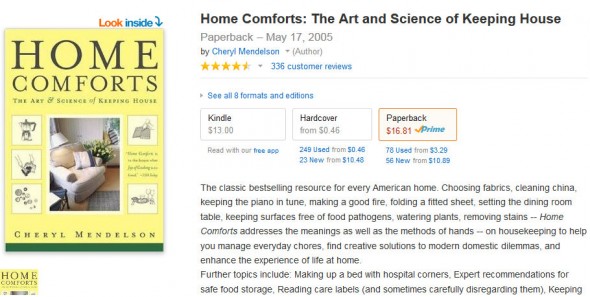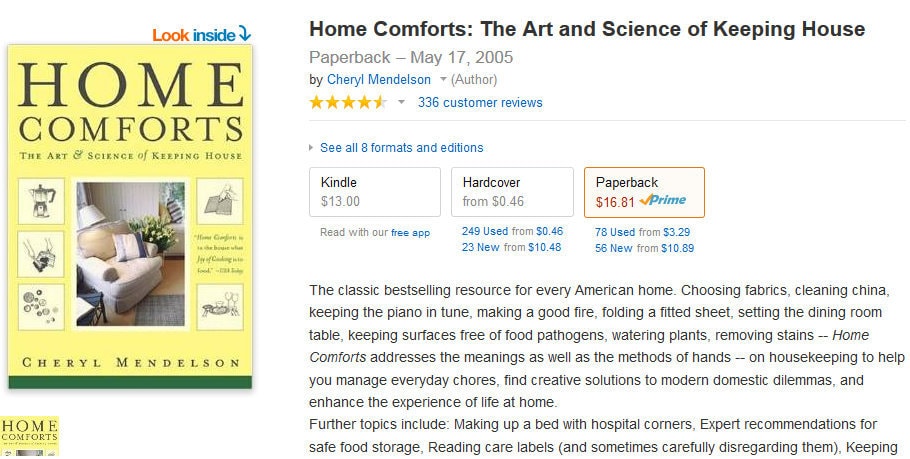 A lot of the material in the book wasn't new to me because my mom is a good housekeeper and she taught me and my siblings how to clean and cook and such. So I have never wondered how in the world to fold a fitted sheet or how to clean a kitchen.
But if no one ever taught you how to take care of your home, I think you'd find this book to be really helpful, as long as you don't get overwhelmed by the size.
Caveat the first: I thought she was a little too uptight about some things. For instance, she never washes her hands in the kitchen sink unless she's in the middle of cooking, for fear of contaminating the sink. Instead, she washes her hands in the bathroom before she starts cooking. I will never, ever have the patience to be that careful.
Caveat the second: Since I prefer to keep my possessions to a minimum, I disagreed with some of her advice. For instance, I don't keep extra sets of sheets around, I only own one tablecloth, and we each have one bath towel (with a few extras for guests).
Caveat the third: Cheryl has only one child, so I had to remind myself that she faces fewer challenges than me when it comes to housekeeping. It is not realistic to expect myself to live up to her standards in a household of six.
Caveats notwithstanding, I enjoyed reading through this book (I did skim some sections!) and the author's enthusiasm for the home is kind of inspiring.
The Simple Living Handbook
I happened across this book at the library and snatched it up because I recognized the author (She's a blogger and I contributed to her ebook about homeschooling!)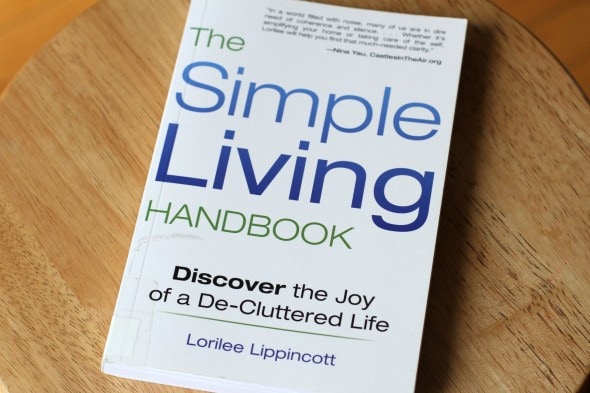 I like simplifying as much as I love decluttering (hint: a lot) but I still find simplifying books to be helpful. They give me fresh inspiration and push me a little farther than I'd push myself.
Lorilee and her family live far more sparsely than I ever will (she got rid of her table and chairs early on, while Mr. FG and I just ordered a larger dining set to replace our $300 set from 1997.), but her seriously pared-down lifestyle inspires me to take a fresh look at everything in our house.
So, this turned out to be a great book to read while I knocked out some decluttering at the end of the summer.
_______________________
Have you read anything awesome of late? Or not awesome? Do share!
(Also: Do you enjoy reading book reviews? I'm totally happy to share what I've been reading if you find it to be helpful, but if you all feel like it's yawnsville, I do want to know.)