Every Wednesday (ok, most Wednesdays!) I share a baking recipe. And lots of pictures of said baking recipe. I don't call this Wednesday Baking because I bake solely on Wednesdays…no, my oven gets a workout much more frequently than once a week! Wednesday just happens to be the day I share baking recipes with you. All the past baking posts are archived in the Wednesday Baking category, which can also be found in a tab underneath my blog header.
Dear readers,
Do you know how much I love you? So much that even though I felt quite under the weather yesterday afternoon (stupid cold!), I still mixed up a batch of this bread to share with you.
Love,
Me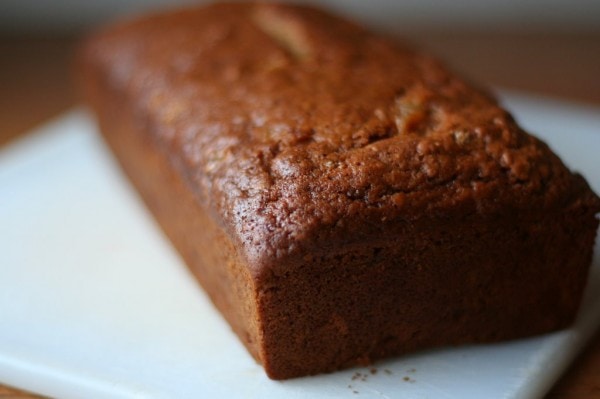 When I posted my recipe for cranberry bread, a couple of you asked for some other quick bread recipes that would be suitable for gift-giving, and I thought of this recipe. It does call for apricots, which aren't the cheapest dried fruit out there. Still, the rest of the bread ingredients are quite inexpensive, and 6 ounces of apricots aren't going to cost an arm and a let, especially if you buy store-brand apricots at Aldi and at other grocery stores. Also, dried fruits tend to go on sale at this time of year, as do all baking ingredients, so you might be able to snag an apricot deal for yourself.
This recipe comes from my mom's side of the family. I think it was maybe her grandmother's recipe or something.One of the ways you can tell it's a family recipe is that it calls for things like a pinch of salt, 2 scant teaspoons of baking soda, and it also directs us to measure the apricots by counting (20 apricot halves), instead of by weight. Give the disparity in size of these little orange beauties, I'm inclined to think that counting apricots isn't terribly accurate.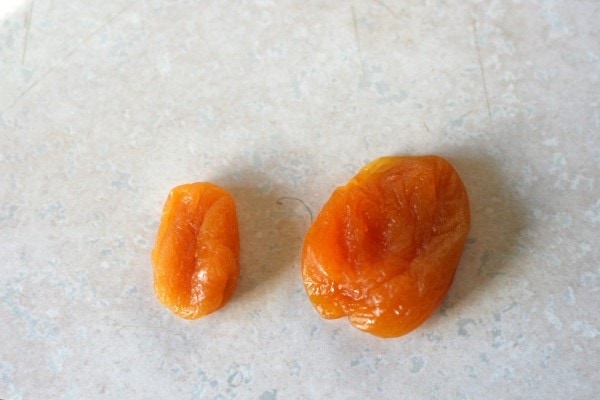 Thus, I weighed mine. I used 20 whole apricots, which weighed about 6 ounces. So, you don't have to count apricots…you can just weigh yours!
You'll need to chop the apricots for this recipe, and a food processor is most convenient for this task. You can chop them by hand, though, if you don' t have a food processor. If you go that route, you may want to grease your knife a bit to reduce sticking.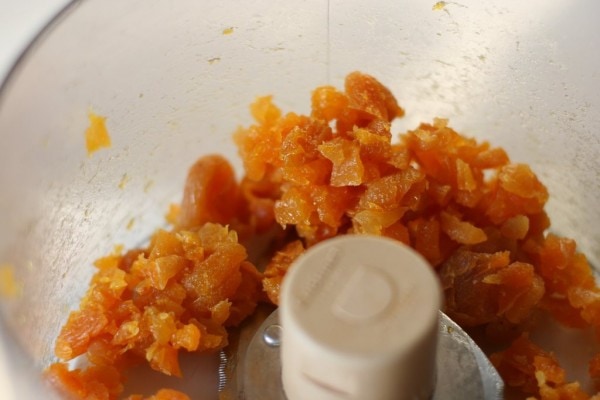 Boil 1 1/2 cups of water, pour it over the apricots (I dumped my apricots into my boiling water!), and let the mixture cool.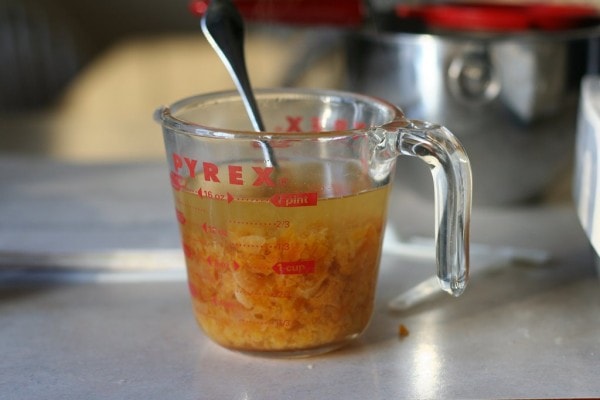 Meanwhile, cream the butter and sugar, and then beat in the egg and vanilla. This recipe has a tablespoon of vanilla in every loaf, which gives it a very strong vanilla flavor. I love that, but if you don't adore vanilla the way I do, feel free to cut it back to 1-2 teaspoons.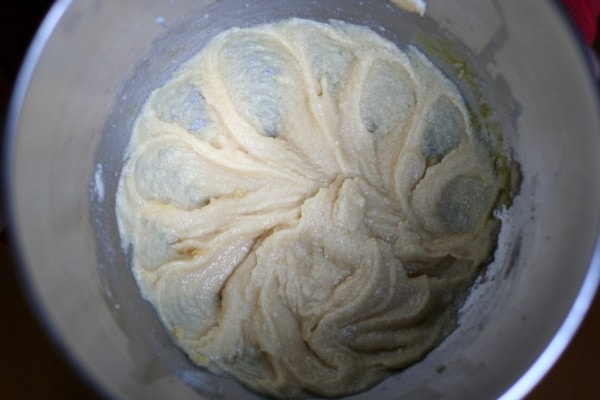 Mix the dry ingredients together in a separate bowl.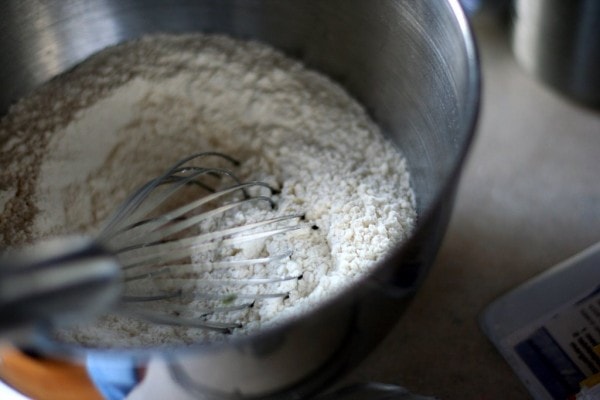 Add the apricot mixture to the creamed butter mixture. This will make a really soupy mixture, so don't worry that you've done something wrong.
Add the flour and stir just until the dry/wet ingredients are combined. I did this by hand because it's so easy to overmix quick bread batters in the mixer.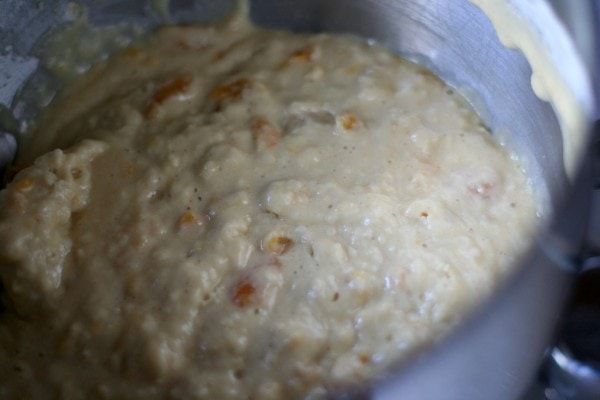 Pour the batter into a greased 9×5 inch loaf pan.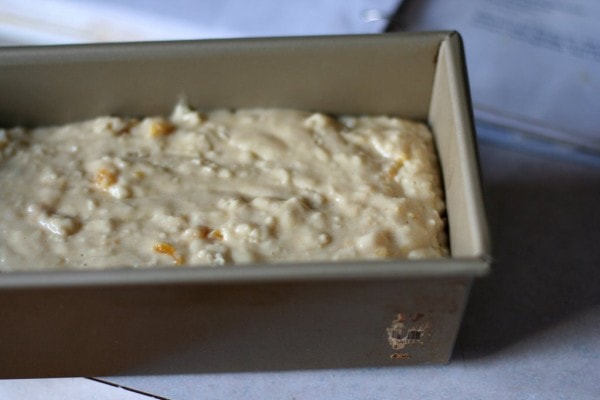 Bake in a preheated 350 ° F oven for 50-60 minutes or until a toothpick inserted into the center comes out clean.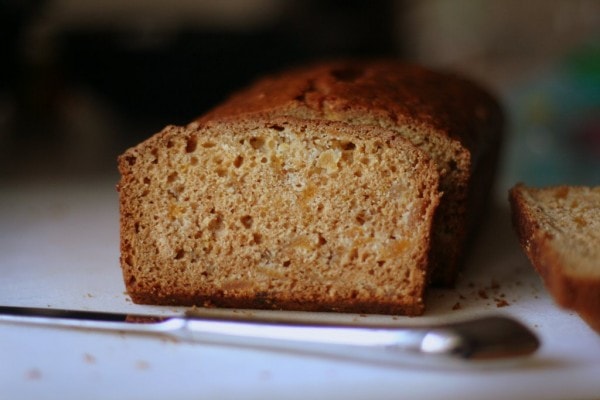 Remove the loaf from the pan and let it cool completely on a wire rack before serving it. Better yet, place it in a (re-used) plastic bag and let it sit overnight. Quick breads are much easier to slice when they've had a little time to age. 😉
Apricot Bread-makes 1 loaf
Printable Apricot Bread Recipe
6 ounces dried apricots, chopped
1 1/2 cups boiling water
4 tablespoons butter, at room temperature
1 cup sugar
1 egg
1 tablespoon vanilla
2 3/4 cups flour
1/8 teaspoon salt
2 teaspoons baking soda
1/2 teaspoon baking powder
1/4 cup nuts (optional)
Preheat oven to 350 ° F. Pour boiling water over chopped apricots; let cool.
In a mixing bowl, cream butter and sugar. Add egg and vanilla. Stir in apricots and water.
In a separate bowl, mix flour, salt, baking soda, and baking powder (and nuts, if using). Gently stir dry ingredients into apricot/butter mixture.
Pour batter into a greased 9×5 inch loaf pan. Bake for 50-60 minutes, or until a toothpick inserted into center of loaf comes out clean. Remove loaf from pan and let cool on a wire rack.
Today's 365 post: I really fail at this white balance thing