After posting about potato rolls last week, I was inspired to dig up my old potato bread recipe (because my box of instant potatoes is still pretty full!). Like a lot of my bread recipes, this one comes from my 1970s Better Homes and Gardens bread book.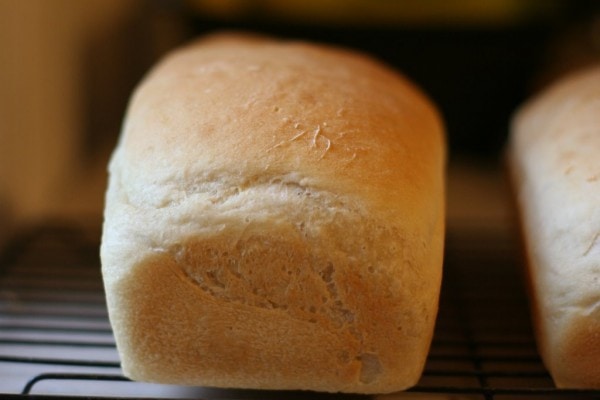 My version is fairly modified from the one in the book (somehow the potato cooking method in the recipe never yielded enough potato for me), but the bones of the recipe are still the same.
I made two batches in a single day, one with fresh potatoes and one with instant potatoes. The resulting breads were quite similar, though the dough made with fresh potato was a little stickier and more difficult to handle. Also, I didn't get the lumps completely out of my fresh potatoes, which meant that the fresh potato loaves had small bits of potato in them (this wasn't really noticeable in the finished product).
So, I can recommend going either way with the potatoes…use whatever you happen to have on hand, and if you're looking to make things easier, use the instant potatoes because they're faster and produce a more manageable dough.
This potato bread doesn't look a lot like the very yellow commercial versions, but like those breads, it's very soft. And unlike a lot of homemade breads, these loaves stay soft for a surprising number of days. The loaf I'm squishing in this photo is 2-3 days old.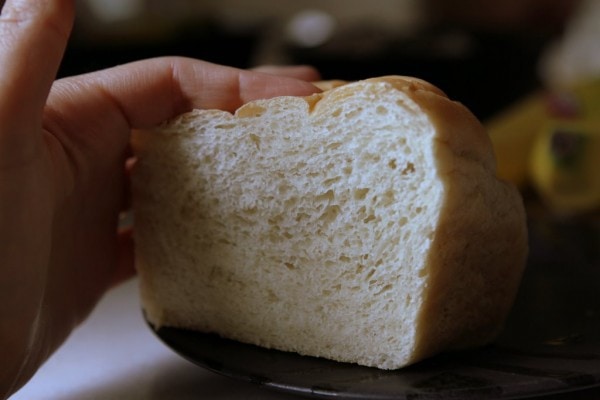 It's amazing what a little potato will do.
My whole family loves this bread, and I'm now inspired to try a whole wheat version of it. After all, I still have a pile of instant potatoes to use.
If you have leftover mashed potatoes, this is definitely a great time to use them. But you can also mix up a plain batch of mashed potatoes by peeling, cubing, and boiling them until they're tender. Then just mash them up without bothering to add the normal mashed potato ingredients, like salt, butter, or milk.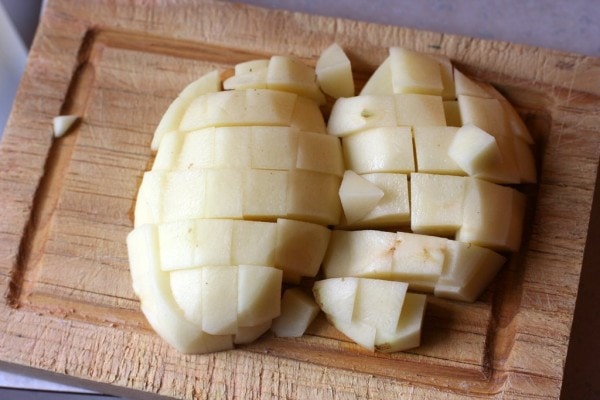 Or you can cook up a little batch of the instant potatoes. So long as you end up with a cup of mashed potato, you're good.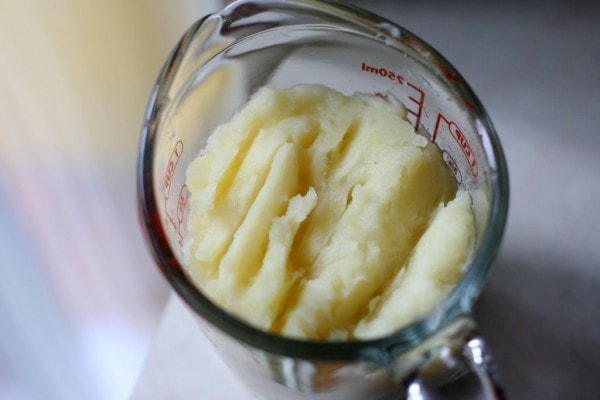 Somehow, I have very few pictures from the early stages of making this dough. I must have forgotten to grab my camera. It's nothing like rocket science, though…for this dough, you first combine yeast and warm water. If you cooked fresh potatoes, you can use the cooled cooking water (it should be around 110 ° F).
Then you simply stir in the potatoes, sugar, butter and salt. Once that's thoroughly mixed up, just add enough all purpose flour to make a soft dough. Depending on the consistency of your mashed potatoes, the amount of flour you'll need could vary greatly. My fresh potato batch needed significantly more flour than my instant potato batch did, so definitely go by feel. You might need 4 1/2 cups, or you could need an amount closer to six cups, so don't get hung up on measuring the flour.
Anyhow, your dough should look something like this when you turn it out onto the counter.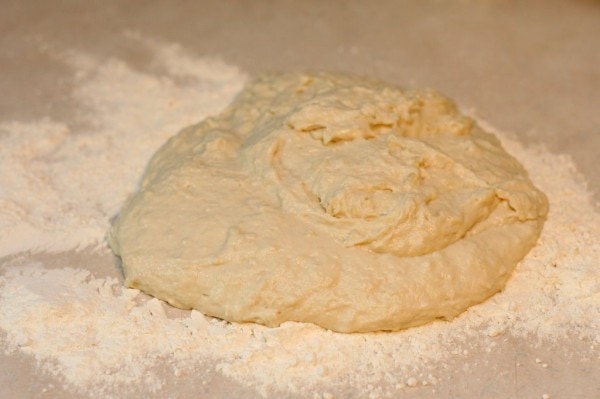 And after you knead the dough, it should look like this.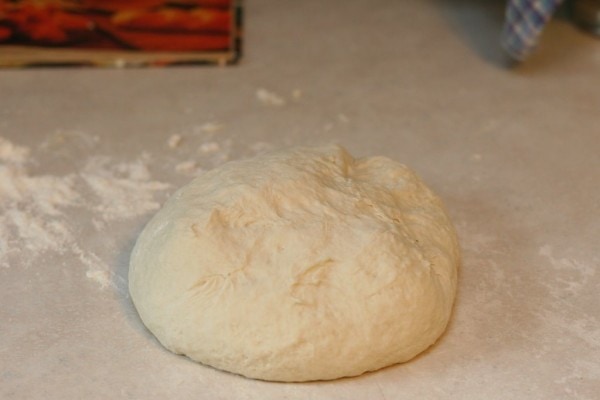 Place the dough back into the mixing bowl (I don't even wipe mine out. Saves time!), cover with a wet tea towel, and let it rise in a warm place for an hour.
Punch the dough down, turn it out onto your floured counter, and divide it into two pieces. When I shape my dough into loaves, I like to roll it out into an oblong shape and then roll it up, starting from the short side. This produces a loaf with a cleaner appearance inside and out.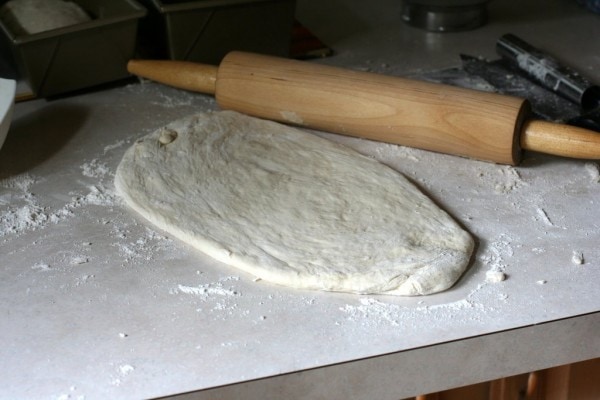 Cover the loaves and let them rise for 30-45 minutes, or until they're puffy looking and doubled in size.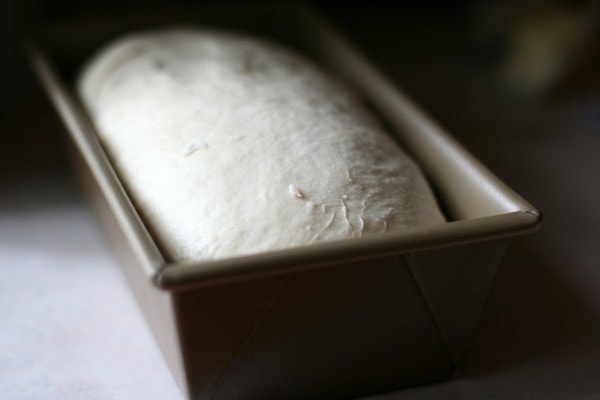 Bake in a preheated 350 ° oven for 30-35 minutes, or until the loaves are lightly browned.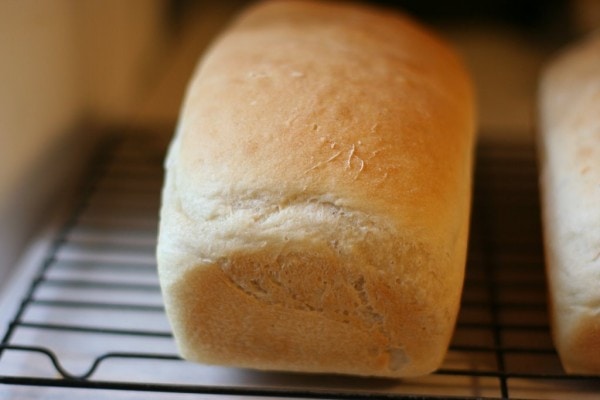 Cool the loaves on a wire rack. Once they're completely cooled, you can store the bread in a plastic bag at room temperature for several days. For longer storage, freeze it in a sealed plastic bag.
We go through loaves of bread pretty quickly around here, but if you have a small household, you may want to slice the bread before freezing it. This way you can easily thaw as many slices as you need without having to defrost the entire loaf.
Potato Bread-makes 2 loaves
Printable Potato Bread Recipe
1 1/2 cups warm water (can use potato cooking water)
2 packages active dry yeast (2 1/4 teaspoons each)
1 cup mashed potato, made with fresh potato or with instant potatoes
2 tablespoons sugar
2 tablespoons melted, cooled butter or oil
1 tablespoon salt
4.5-6 cups all purpose flour
In a mixing bowl, combine warm water and yeast; let stand for several minutes. Stir in potato, sugar, butter, and salt; mix well. Stir in enough flour to make a soft dough.
Turn dough out onto a floured surface and knead 5-8 minutes, or until dough is smooth and elastic, adding flour as needed.
Place dough in bowl, cover, and let rise 1 hour. Punch dough down, divide in half, and shape each half into a loaf. Place in 4×8 inch loaf pans, cover, and let rise 30-45 minutes, or until doubled.
Bake in a preheated 350 ° oven for 30-35 minutes, or until lightly browned. Cool on wire rack.