This week, I bought a 20 pound box of New Jersey blueberries (which are sort of local…just a few states away!), which means I have blueberries on the brain. We've been eating them by the handful, on yogurt, on cereal, and in fruit salad, but I do like to do some baking when I have fresh blueberries. Of course, you can bake all year long with frozen blueberries, but they're not quite as nice to use…even straight from the freezer, they almost always bleed and turn the batter/dough an unappealing green shade in spots.
I found this recipe in a Pillsbury cookbook when I was a teenager and I used to make it for my family, as my parents have a number of blueberry bushes along the side of their house. I haven't made it as often since I got married, as cheap blueberries are harder to come by now! But with 20 pounds on my hands, I thought a loaf of two of this bread was appropriate (I'm going to be making some blueberry streusel muffins too, of course).
This is a quick bread(it rises with baking soda and baking powder, not with yeast), which is good news for those of you who quake in your boots at the mere mention of yeast or kneading. If you can operate a mixing spoon, you can totally make this.
Before you start, turn the oven on to 350 F. That way it'll be hot when you're ready to bake your bread.
First, you'll need to mix all the dry ingredients together. A whisk is GREAT for this.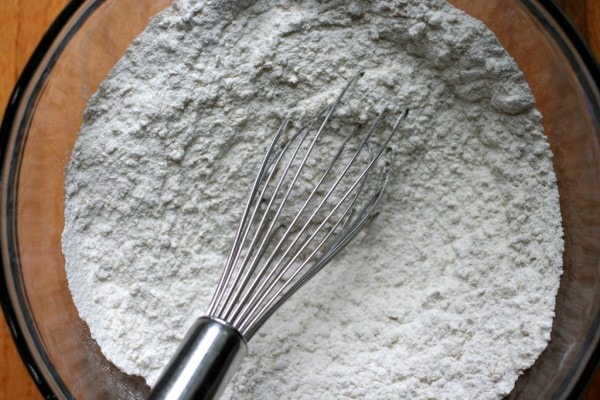 Second, mix up the milk, oil, eggs, and vanilla (and lemon peel if you want).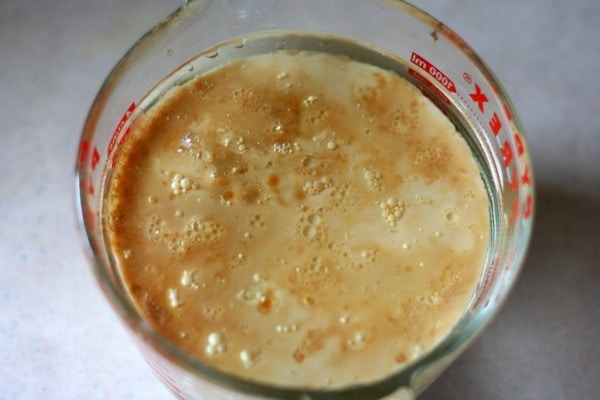 (when I first combine these ingredients, the milk bubbles caused by the oil were much larger. Zoe peered into the measuring cup and asked me why I put rocks in!)
Gently stir the wet ingredients into the dry ingredients along with the blueberries (if you're using frozen blueberries, mix the batter first and then fold in the berries).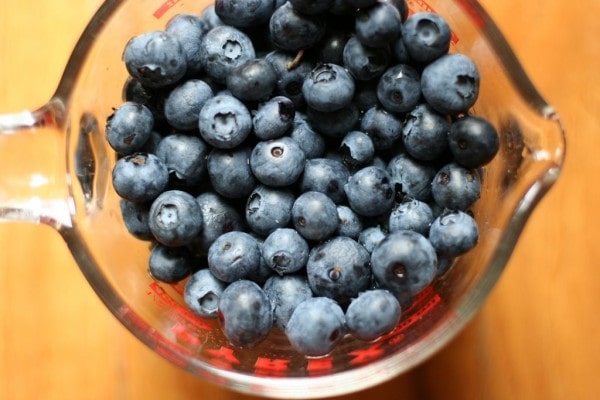 Don't overstir your batter…if you do, you'll develop the gluten in the flour, and your bread will be tough. Pour the batter into greased 9×5 inch loaf pans (I think you could use 4×6 pans as well…you'd just want to maybe bake them a little longer).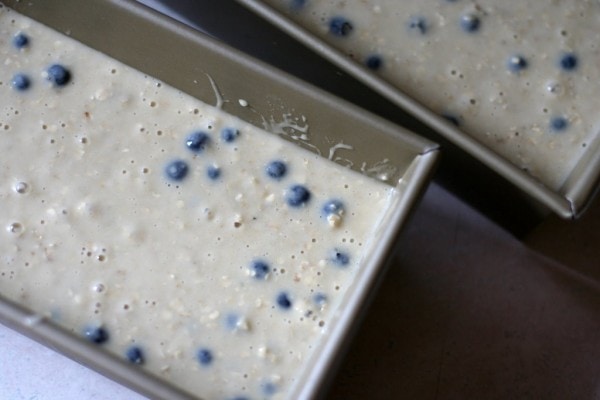 Bake for 40-50 minutes, or until a toothpick inserted into the center comes out clean.
Cool on a wire rack. Quick breads can be beaten while they're warm, but they're a bit easier to slice if you let them cool completely.
Blueberry Oatmeal Bread-makes 1 loaf
Printable Blueberry Oatmeal Bread Recipe
2 cups all-purpose flour
1 cup quick cooking rolled oats
3/4 cup sugar
2 teaspoons baking powder
1/2 teaspoon baking soda
1/2 teaspoon salt
1 1/4 cups milk
1/3 cup oil
2 teaspoons vanilla
1 teaspoon grated lemon peel
2 eggs
1 cup fresh or frozen blueberries (do not thaw)
Heat oven to 350 F. In a large bowl, combine flour, oats, sugar, baking powder, baking soda, and salt; mix well. In a small bowl (or a measuring cup), combine milk, oil, vanilla, lemon peel and eggs; blend well. Add to dry ingredients all at once; stir just until dry ingredients are moistened. Gently fold in blueberries.
Pour batter into greased 9×5 inch loaf pan. Bake at 350 F for 40-50 minutes, or until a toothpick inserted into the center comes out clean. Cool 10 minutes; remove from pan. Cool completely on wire rack.