I get an awful lot of pitches in my email inbox, and sometimes, the constant barrage is a little exhausting.
But every now and then, I get an email letting me know about a product/shop/service that I end up really, really loving.
I can safely say that Schoola falls into that category.
(You can read more about Schoola in my first post about 'em.)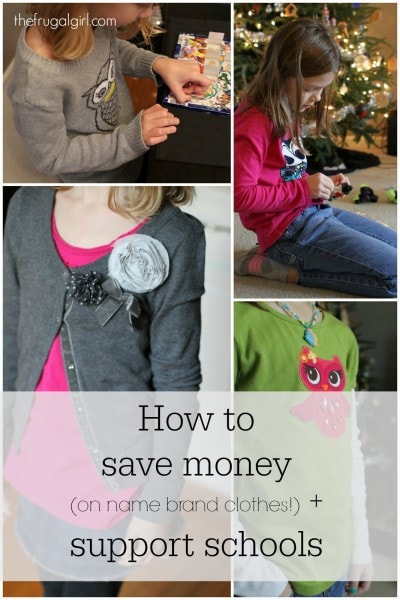 Why do I love Schoola?
Well, they have great second-hand clothes at totally affordable prices, and not only that, 40% of the purchase price goes right back to the school that donated each item.
It's kind of like shopping at a really nice Goodwill, all from the comfort of your home.
My girls are also quite enthusiastic about Schoola because really, who doesn't do a happy dance when boxes of clothes arrive in the mail??
Sonia and Zoe liked our first order so much, I hopped on Schoola again and ordered another box of clothes (and this time I found some for Lisey too!).
I haven't managed to catch all of the clothes with my camera yet, so this post is a mish-mash of just a few items from our two orders.
(I'll show you the rest of our Schoola goodies in a future post, once I photograph them!)
______________________
First up, here's Zoe in a Gymboree shirt ($5.69) with an Old Navy skirt ($4.20).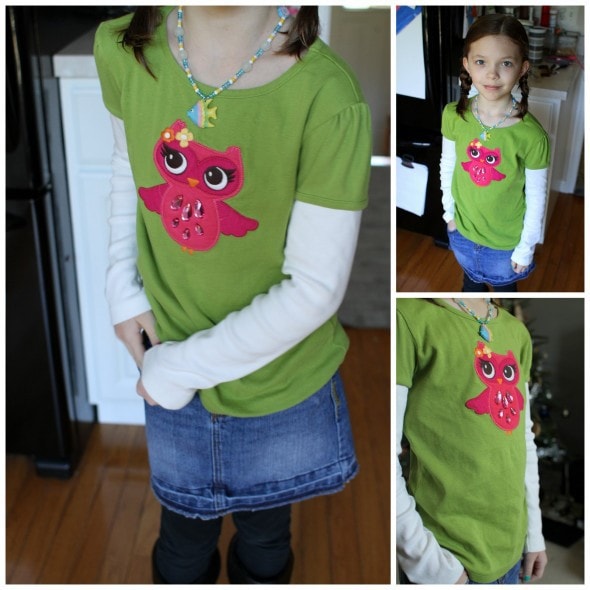 (Please don't mind the cluttered counter behind Zoe in the upper right. Unfortunately, we live in a house, not a photo studio. So, you know…real life. Also: distracted photographer. Ha.)
Both items were in brand new shape. In fact, I don't think the skirt had even been washed, because the bottom edges frayed in the wash just like a brand new skirt does the first time you wash it.
Sonia put together a similar outfit…a $4.50 Old Navy skirt (again, in brand new shape!), an already-owned Children's Place shirt (got it on clearance a few years ago), and an Abercrombie sweater ($8.88 after coupon code).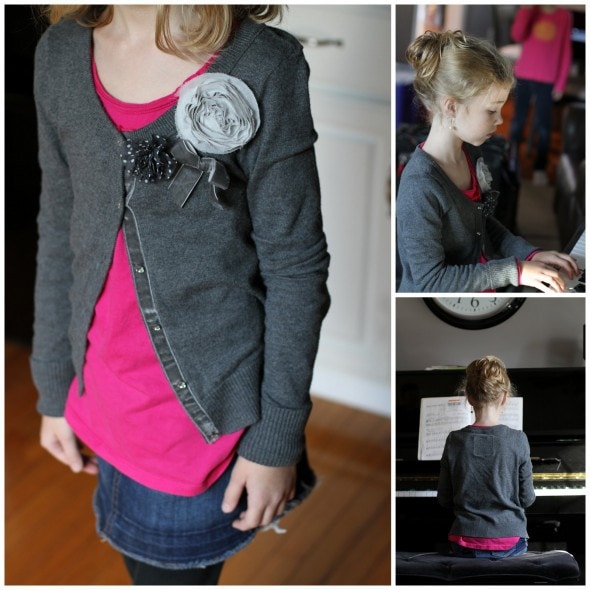 If I bought that cardigan for Lisey, it would never see the light of day, but it SCREAMS Sonia and she wears it allll the time.
I've never actually shopped at Abercrombie for my kiddos, but I'm pretty positive their clothing would normally be out of my price range.
(I don't exactly want to give my money to Abercrombie anyway, so this is perfect. Cute sweater, and my money went to a school.)
Speaking of slightly expensive brands, Zoe's rockin' a Mini Boden shirt here. ($5.90 after coupon code))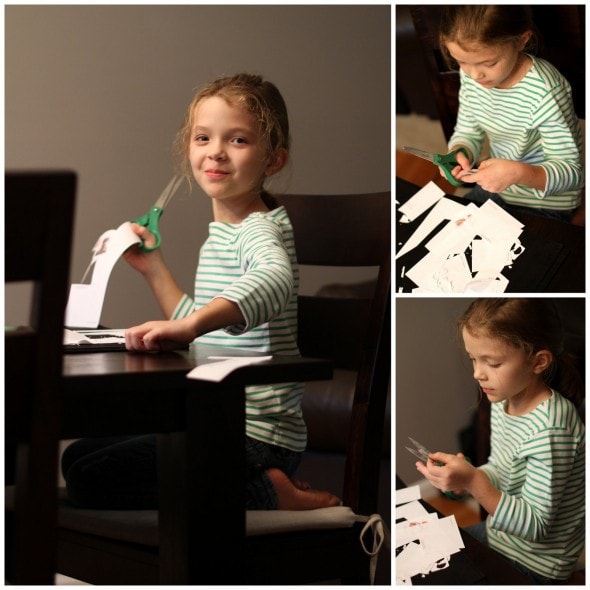 I just noticed that her shirt coordinates with her scissors. Nice.
This owl sweater ($4.48 after coupon code) was a much-coveted item from the time it arrived in our first Schoola box. And handily enough, it fits both Sonia and Zoe, who like to wear it with black leggings.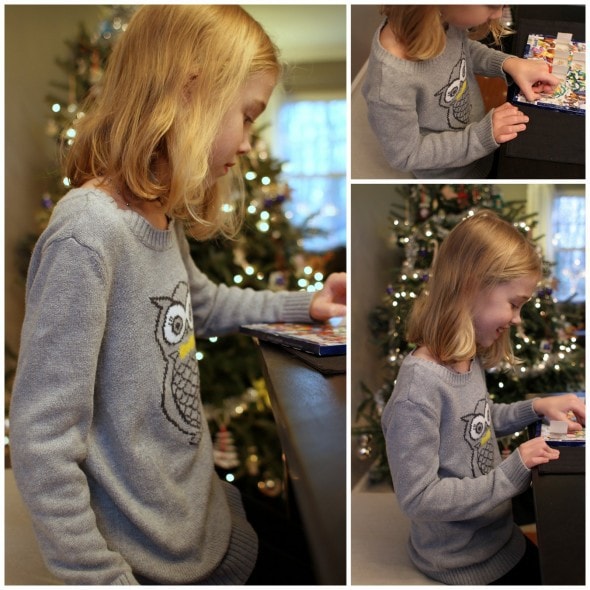 Because the owl sweater was so loved, when I placed my second Schoola order, I purposely looked for owls. That's how I found the Gymboree tee at the top of this post, and also how I came across this Children's Place shirt for $3.88.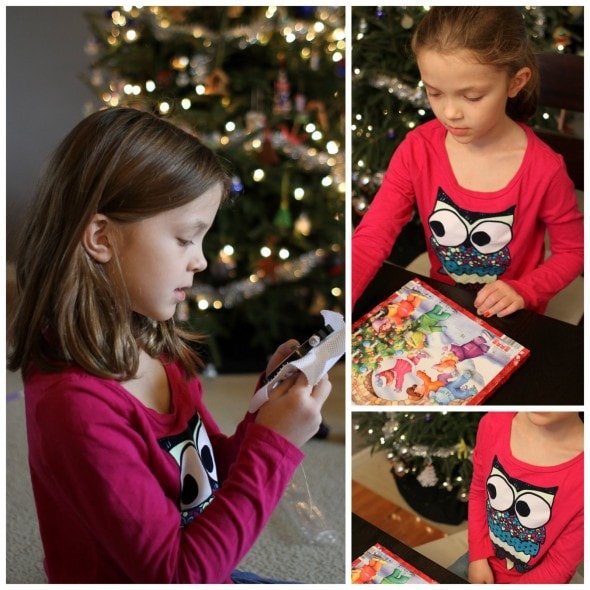 So the girls are quite set in the owl department now.
Get 30% off (and support schools)!
When I placed my first order, I used a 25% off code for new customers, but I've got something even better for you today! I got an email from Schoola this week with a 30% coupon code just for Frugal Girl readers.
Yay!
Visit Schoola, hunt down some goodies, and then use code TFGHOLIDAY to get 30% off your order. This is only good through 12/19, so don't put it off.
Oh! And Schoola is also offering free shipping right now.
They made me a handy-dandy graphic, which I'll put over in my sidebar from now until the 19th so you don't forget to use the code.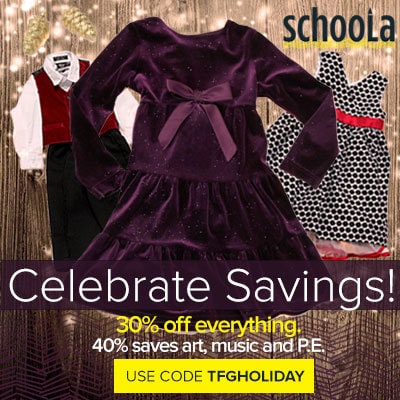 Even with the 30% coupon, 40% of your purchase price goes right back to the school that donated the clothes, so every purchase helps support schools.
(Which is unarguably awesome.)
Disclosure: This post is not sponsored by Schoola. I paid for my two Schoola orders out of my own pocket. Schoola links in this post are my affiliate links, which means if you purchase through these links, you'll help to enable my Schoola habit. Ahem.
Please know that my enthusiasm for Schoola is 100% authentic, though, and I'm sharing about the site because I really am a big fan! I love that you can shop second hand and save money while supporting schools.