Hey there, frugal peoples!I have two little projects to show you today, because Cabot contacted me to see if I'd like to try out their new water-based stain and because I am terribly addicted to refinishing old, ugly things.I'm generally a little bit afraid of stain because it's stinky and messy and I hate having to clean up oil-based finishes. But this seemed not-scary to me, so I decided to give it a try. Also, this stain comes in all sorts of colors, and not just shades of brown.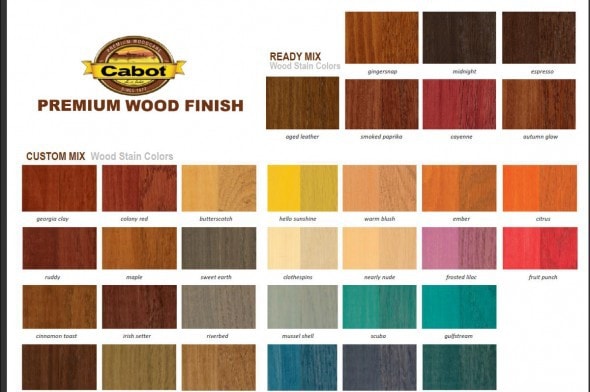 A number of years ago, I bought this mirror from Goodwill for $2. (What is it with me and buying mirrors only to let them sit??)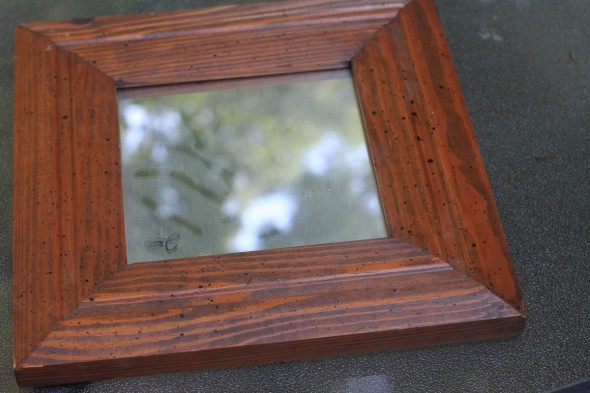 I know. The 1980s called. They want their mirror back.
This had to have come in a set, and they probably all hung on the wall at an angle like this (there's a hook on the back especially for this purpose.)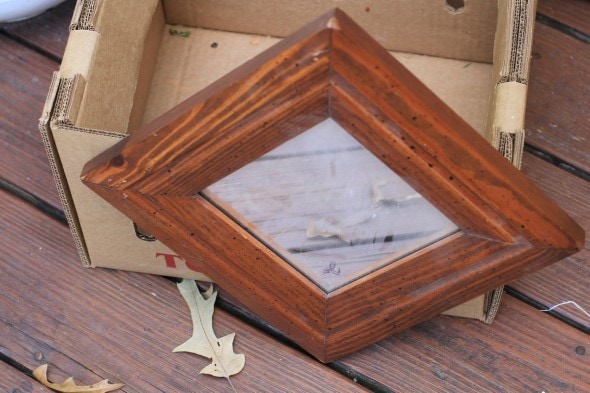 Shudder.
I don't know why, but a whole bunch of furniture from that era has these weird dark speckles on it.
It sort of looks like someone was painting the ceiling black and forgot to put a drop cloth down or something.
Anyway, I meant to paint this and hang in up in one of the girls' rooms, but obviously, I didn't get around to it for, oh, about 3 years or so.
Oops.
This worked out kind of great, though, because when Cabot contacted me, I knew exactly what I wanted to use the stain on.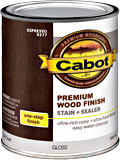 Now, normally I paint All Of The Things, and when you're painting, you don't have to get every bit of the finish off. But since I was going to be staining this, I decided to try out a paint/stain stripper.
So, I painstakingly taped the mirror and applied the stripper.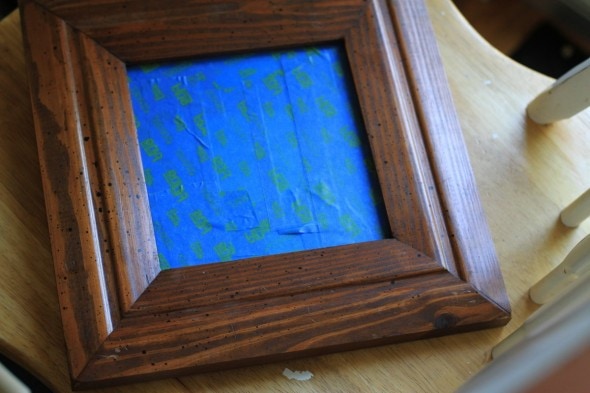 I thought the stripper would leave me with pretty much bare wood, but it didn't. It did take all of the gloss and a lot of the color off, but I still did end up needing to sand to get down to almost bare wood.
Also, I decided it was worth it to tear the paper off the back and remove the mirror. It's just so much easier to get a nice clean edge that way.
But it was a horrible waste of tape.
Oh well.
I used my orbital sander on the flat edges of the frame, and I used a combo of sandpaper and steel wool on the front.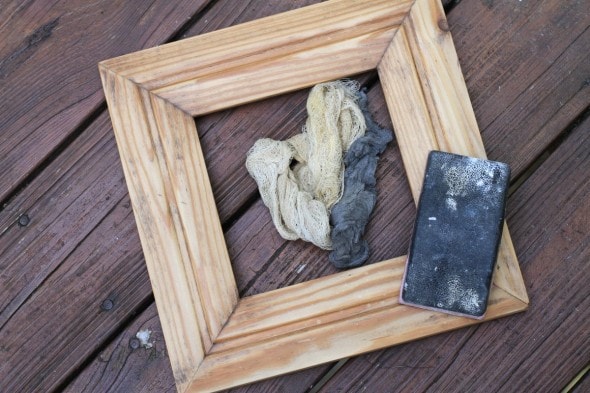 As you can see, I took off almost all of the finish…just a few dark spots remain.
It looks better already, doesn't it??
So, then I opened up my can of stain.
I've only stained one thing in my life before, and I remember it being a smelly, messy process. I'm pleased to tell you, though, that this stain has barely a smell at all, and since it cleans up with water, it's not nearly so messy.
You brush this on (you're actually NOT supposed to rub in it like you would with regular stain) and just like with paint, you're supposed to do thin coats and then lightly sand in between coats (I used steel wool for the sanding in between coats.)
Here it is after one coat: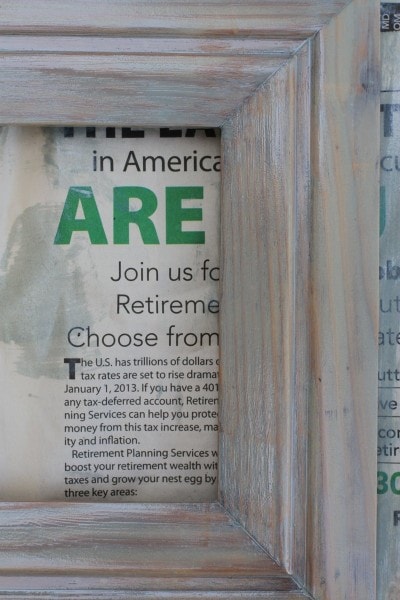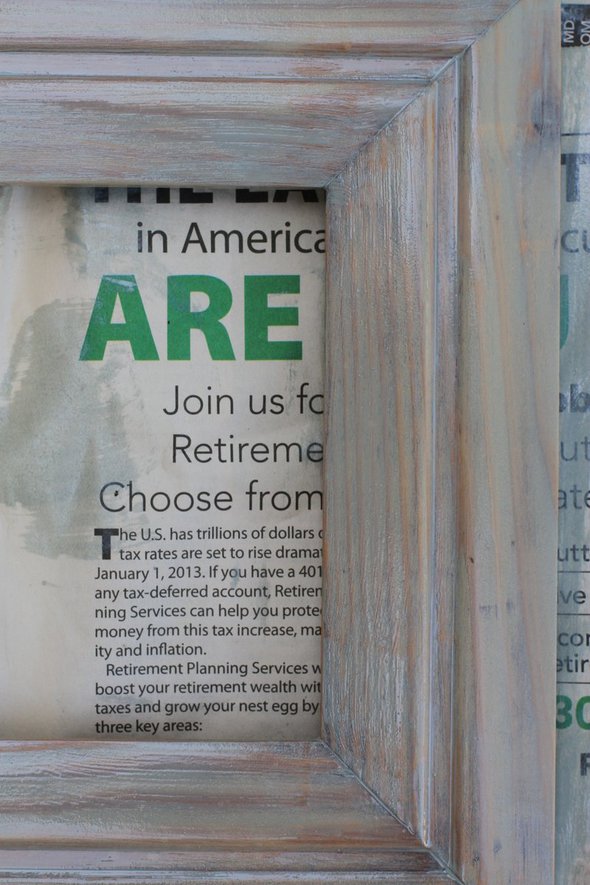 And here's what it looks like now, after three coats: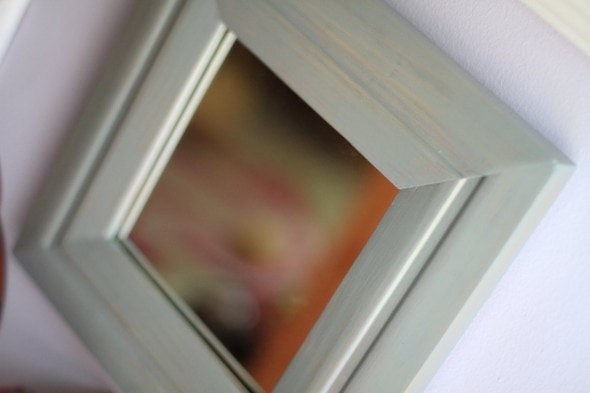 1980s no more! Doesn't it look so much better without those horrible speckles?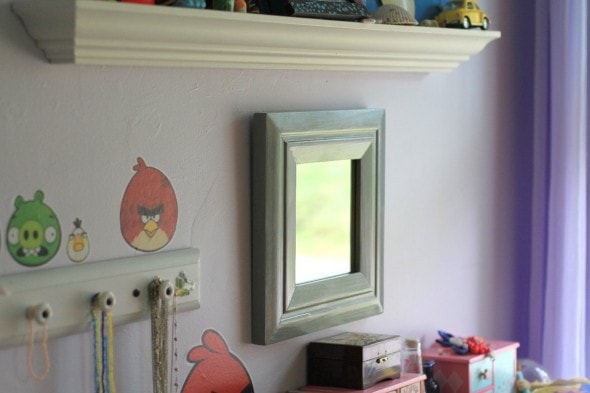 In fact, I even think it might not be offensive hung on an angle (not that that's my plan!)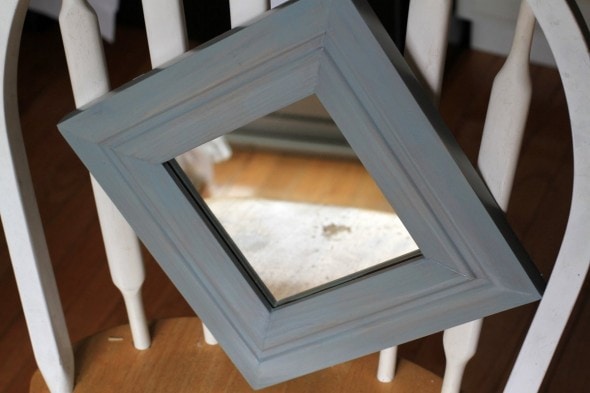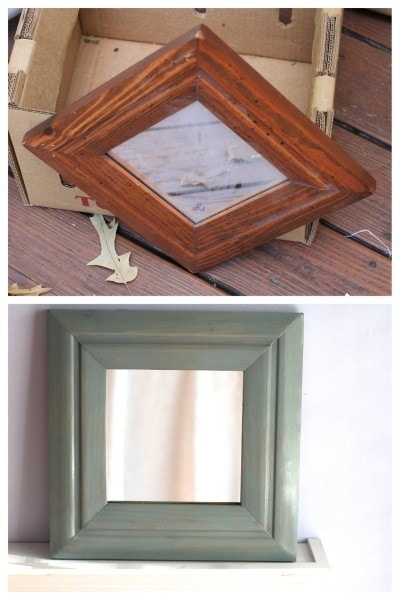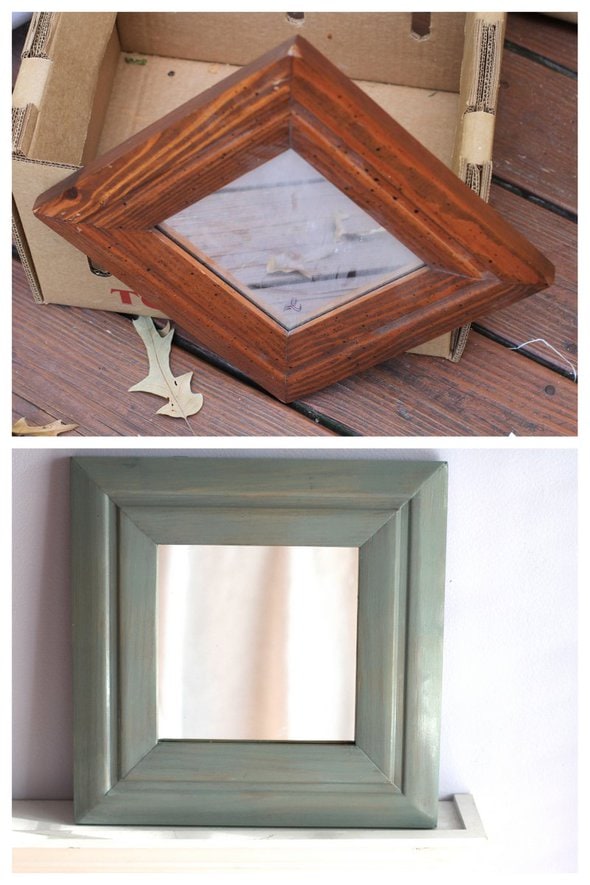 What did I think of working with this stain?
Well, there are a number of things I liked.
This stuff doesn't smell like regular polyurethane…it has a much milder odor.
You can clean it up with water (which means you don't need paint thinner to clean your brush)
It lets the grain show through the finish, unlike a lot of paint.
Since it's so thin, it's easy to get a smooth, professional-looking finish with no brush marks.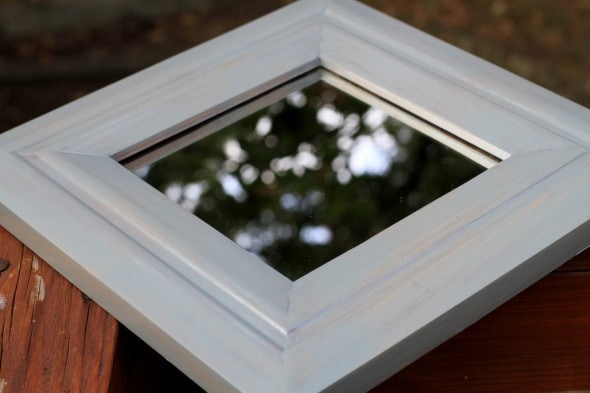 So, here's what it looked like before.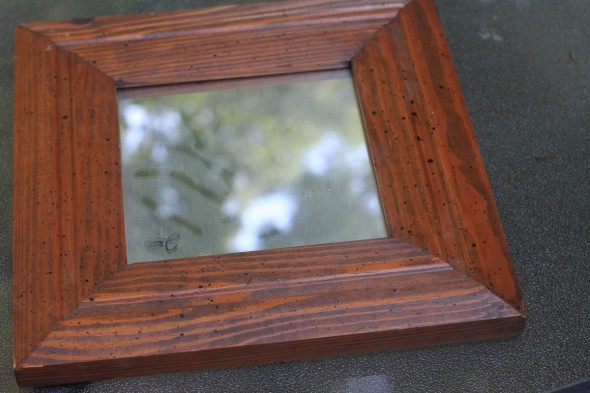 And what it looks like now: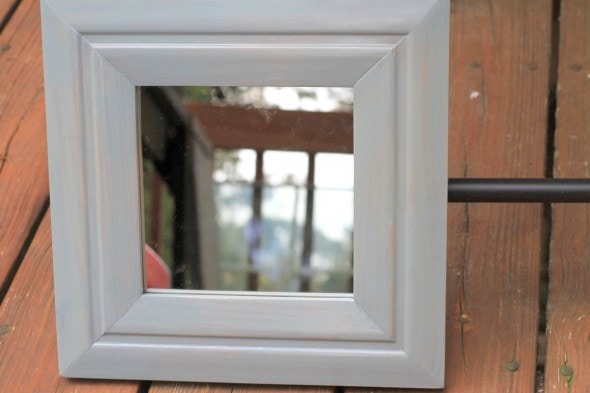 Like painting, staining is sort of addicting, and so I decided to try out the stain on one other thing…a toy bunkbed from my childhood.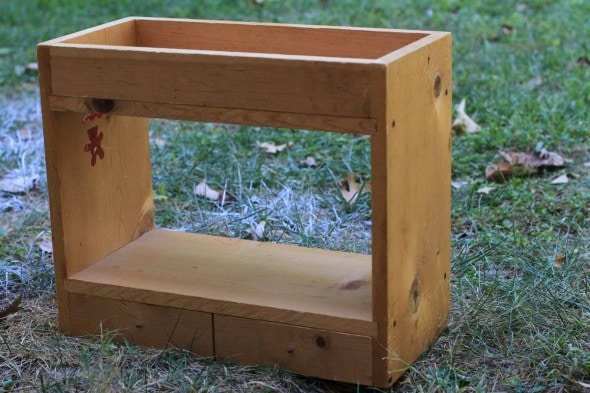 My dad made this for me when I was a kid, and I think he used lumber he'd salvaged from an old building. It's really sturdy, but it had never had a finish on it, and it was a little beat up from years of play.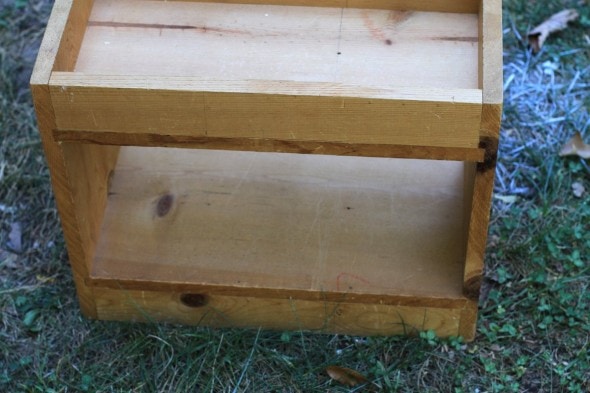 So, I sanded it down, and it immediately looked a lot better.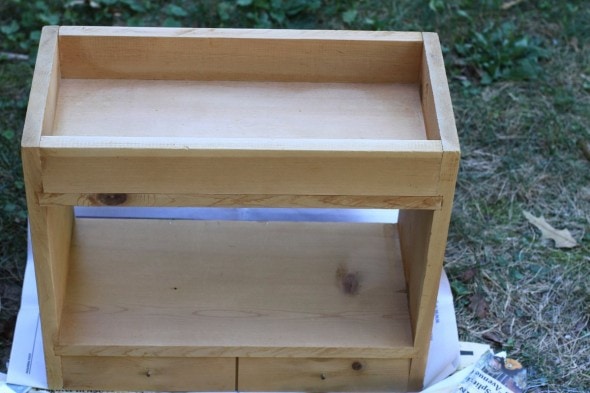 For this project, I had Mr. FG pick me up a different color of stain…this one is called espresso. I vacillated something fierce between midnight and espresso, but ended up choosing espresso because I tend to always choose black, and I wanted to branch out a bit.
I still need to sand and recoat this one more time, but you can at least get an idea of what it looks like now.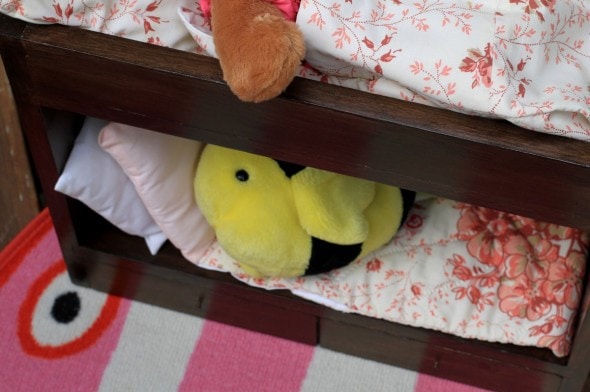 When I put the first thin coat on, I was all, "Oh no. I'm making this look retro, in a very, very bad way." But that was just because the color isn't represented properly after the first coat.
Phew.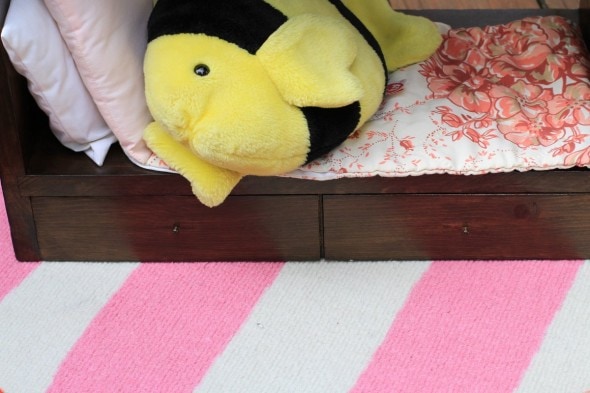 Even though it still needs one more coat, the girls are very wowed by the bed now. And their stuffed animals are SO excited to sleep in it.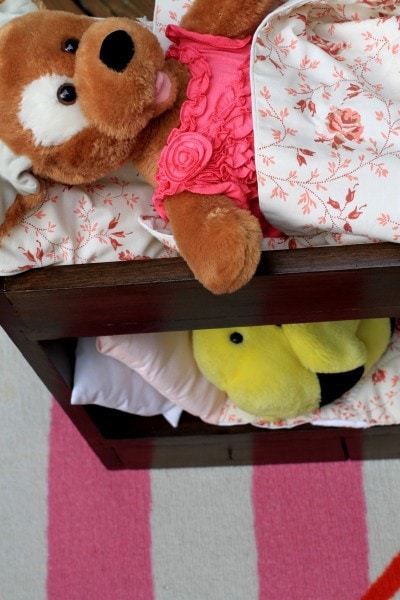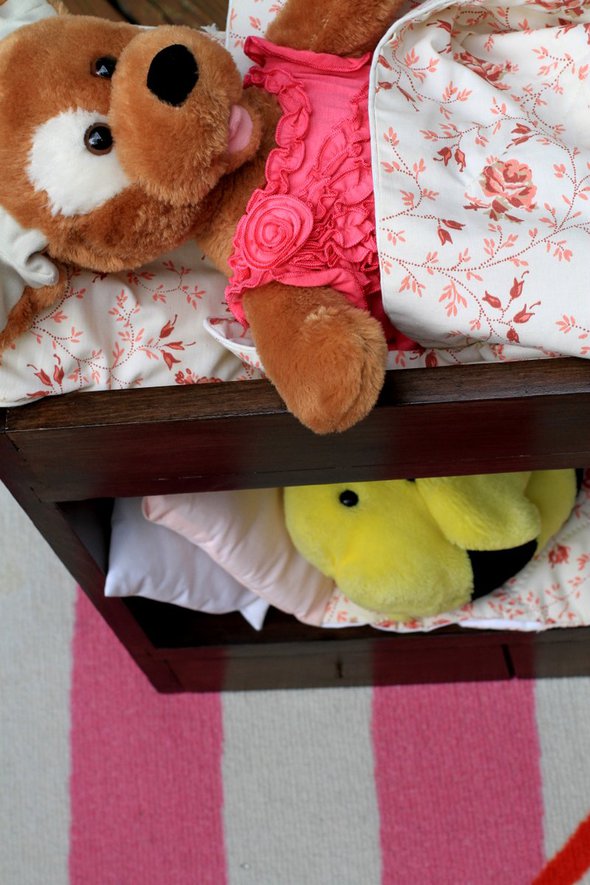 Also, they're all, "Uh, Mommy? We have this toy wooden picnic table here and we were thinking it would look nice if you stained it too."
And I'm probably going to say yes to that, especially since I still have plenty of stain left (the little jars really go a long way.)
I'm really glad I chose two small things as my first staining projects…the process wasn't overwhelming this way, and I now feel like I have enough experience to try this on a larger piece.
Also, working with old pieces is great when you're learning a new skill. If I'd been trying this out on a brand new bed or mirror, I'd have felt a lot more pressure to make sure it was perfect. But since I was working with something old (and in the case of the mirror, something super ugly), I knew that even if my stain job wasn't perfect, it would still be a huge improvement.
So, would I choose paint or stain for another project?
That depends. The Cabot stain was just as easy to use as paint, but the only downside to using stain is that you have to be very thorough when you remove the old finish on a piece.
For the mirror and the bunkbed, this was no problem…the bunkbed had no finish, and the mirror didn't have a ton of fussy detail work, so it was pretty easy to take the finish almost completely off.
So, for a very ornate piece, or one with lots of small parts I'd be inclined to choose paint.
For simple, easy-to-sand pieces, though, the Cabot stain is a great choice, especially if you're concerned about brush marks (it's seriously easy to get a smooth finish with this stain) or if you really want the grain of the wood to show through.
P.S. As far as I know, this product is available exclusively at Lowe's.
_______________________
Have you stained anything before, or are you more of a paint kind of person? If you have staining experience (especially regarding removing old finish thoroughly), share your wisdom with this staining newbie!