I'm currently giving Stitch Fix a try, using their "The cheaper, the better" option as a price point.And every month, I'm un-professionally modeling what Stitch Fix sends me. Stitch Fix has not sponsored these posts, and I'm not working with them. Links are the same referral links every Stitch Fix customer gets.

My second box from Stitch Fix arrived this week!
Getting a box of clothes in the mail IS pretty enjoyable, I have to say. So fun to see what shows up!
Want to see what I got?
(Of course you do. Otherwise you would have clicked away by now. 😉 )
First up is this gray top ($38).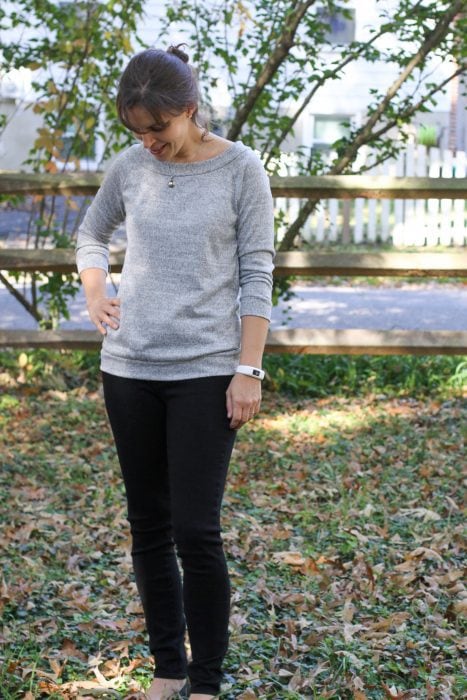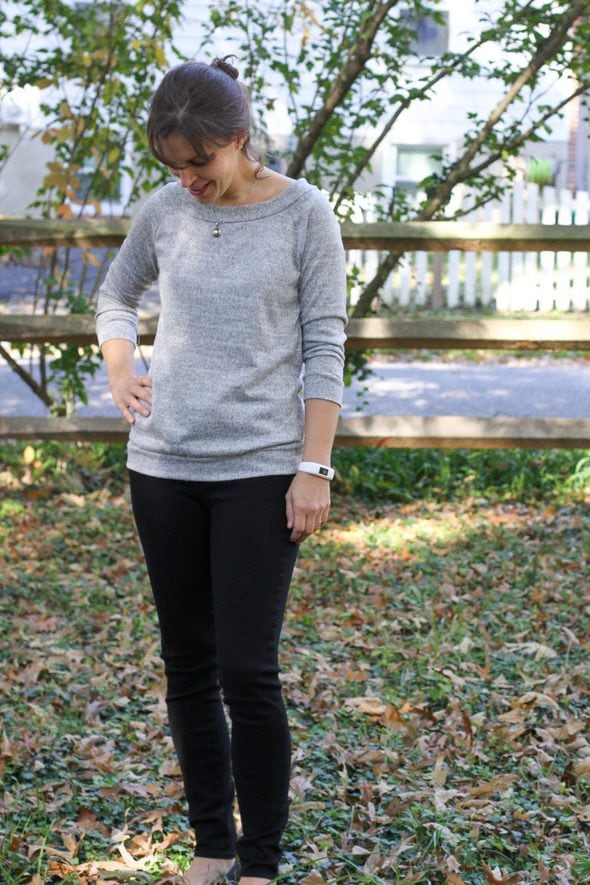 This is my favorite thing from the whole fix. I love the boat-ish neck, and I like that the top is kind of like a sweatshirt, but a little bit more dressed up.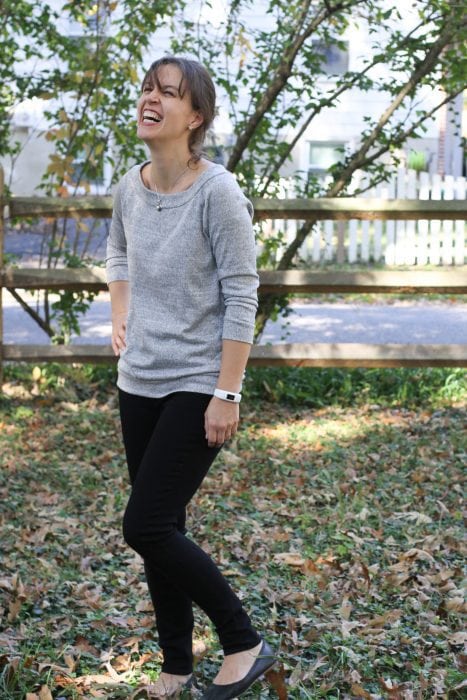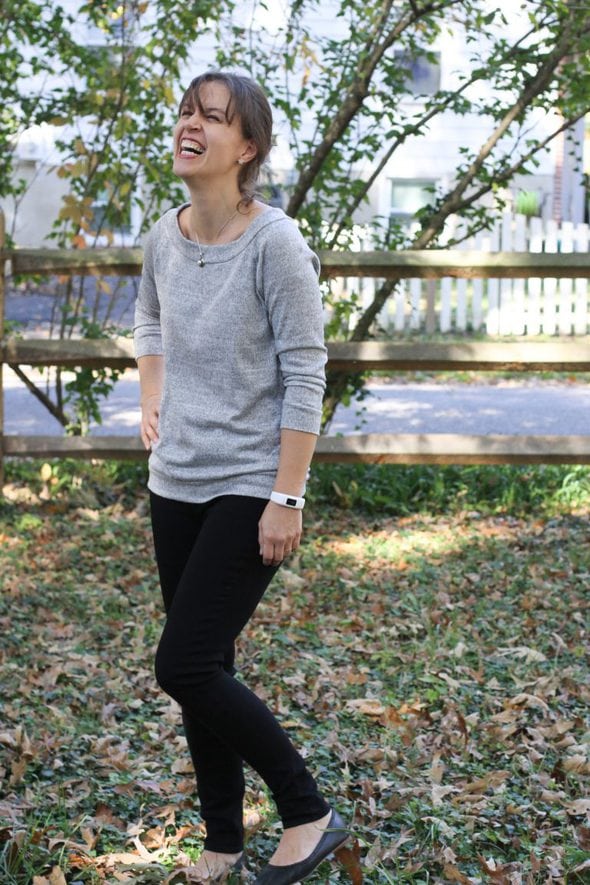 So, I'm gonna keep this one.
This next top ($34) is pretty cute, and I like the v-neck.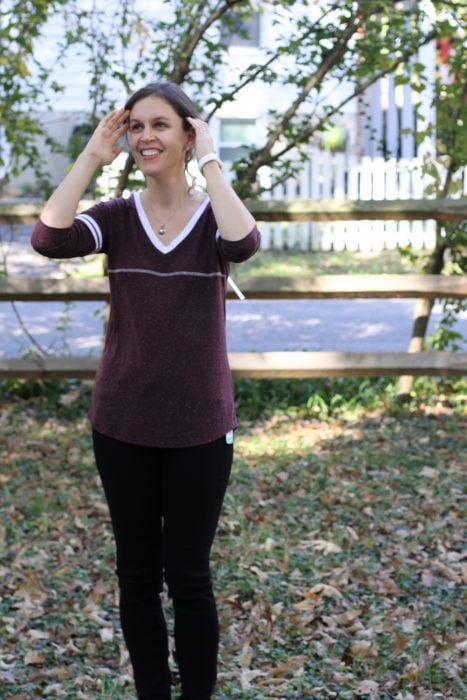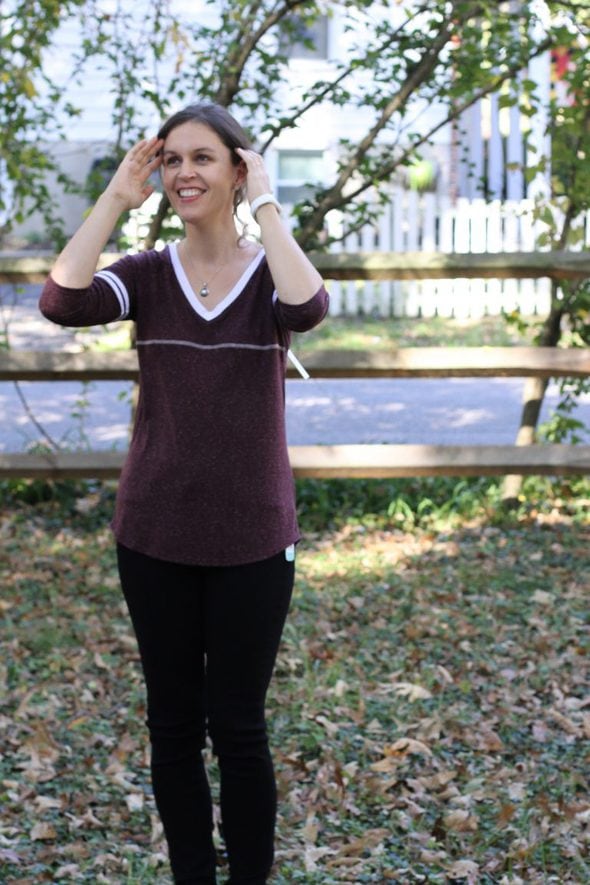 But, I feel like it's just a little too wide in the torso area…I think I could have gone down a size.
Also, it's a 3/4 sleeve shirt, and while I love the way those look, I find them to be rather impractical. The weather is almost always too hot or too cold for those sleeves, and it's super annoying to try to put a jacket or sweater on over 3/4 sleeves.
So, this one is going back.
This olive striped sweater ($54) was comfy, and a fairly good fit.
The arms were a little tight, though.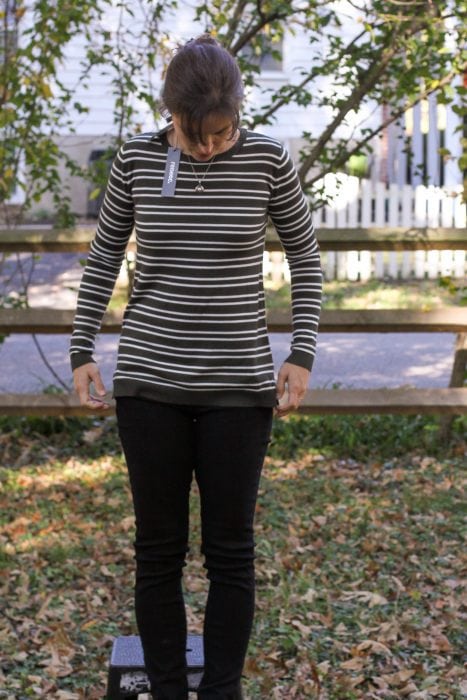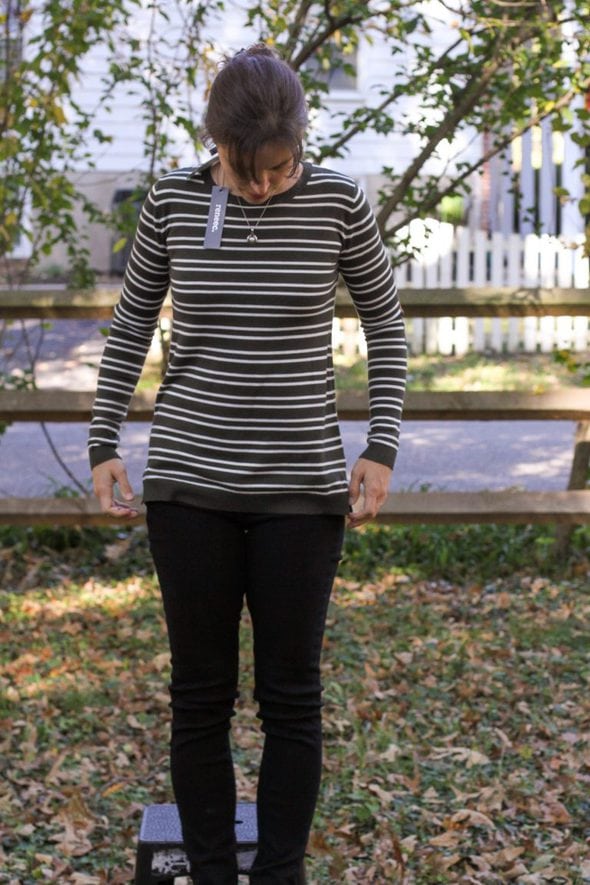 And I'm not sure about the elbow patches.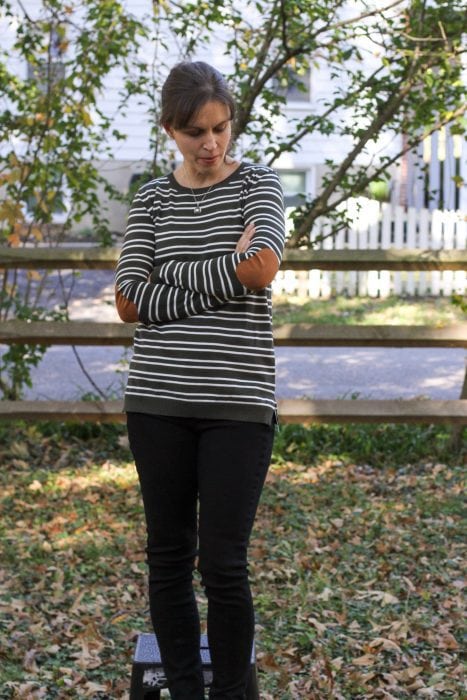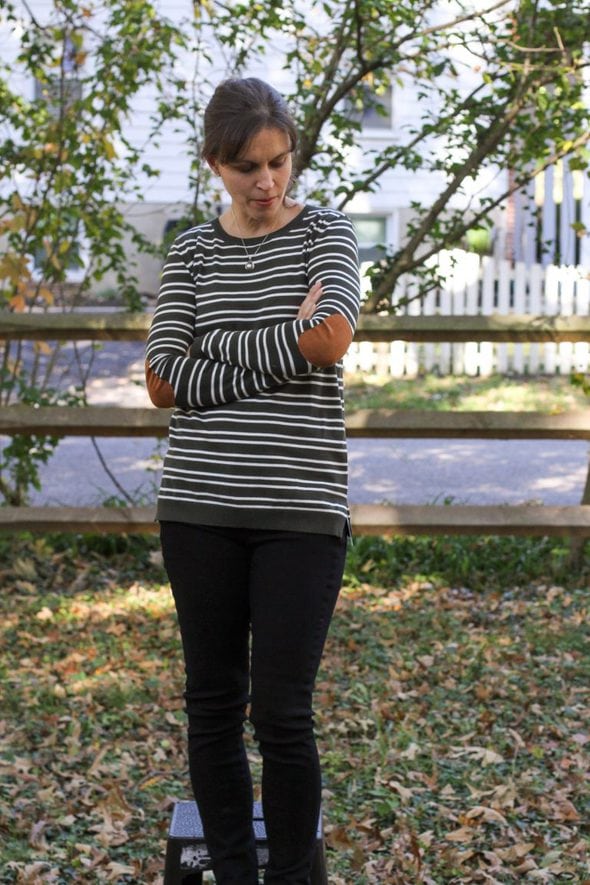 Plus, I really, really do not think I look that good in crew necks. V-necks, boat necks, scoop necks, yes.
Crew necks, not so much.
So, I'm sending this back.
My last top is a Stitch Fix exclusive ($54).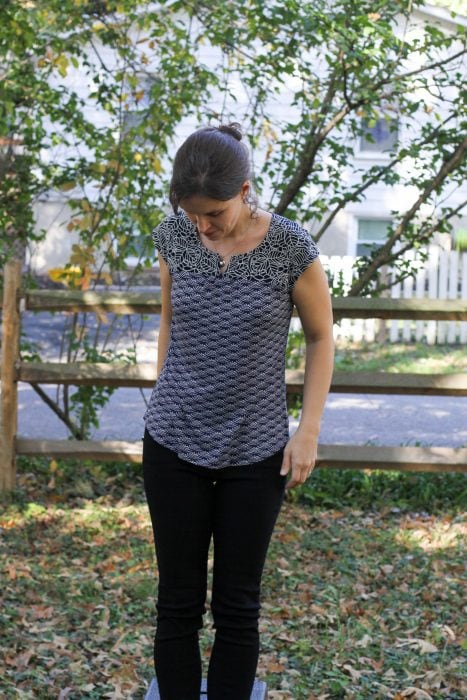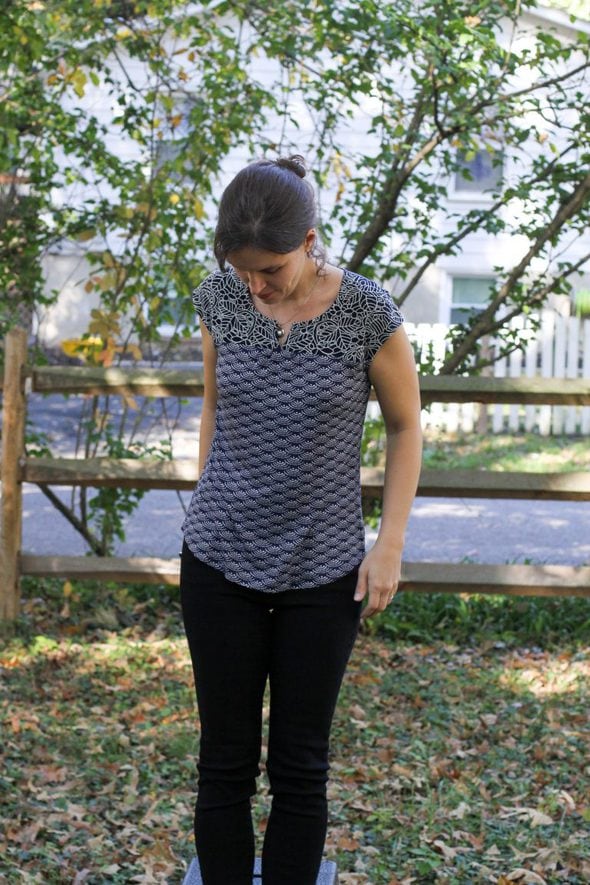 I like the neckline of this top, but that is it. I feel like the yoke and the body of the shirt don't match, and I'm not a fan of the patterns to begin with.
The reactions of my family members were similarly unenthusiastic.
Mr. FG: "I don't think you're allowed to be married to me if you wear that. It looks like a maternity shirt."
Joshua: "I'm going to leave home if you keep that shirt."
Lisey: "Mom, no. And why is it two colors?"
Tell me how you really feel, guys!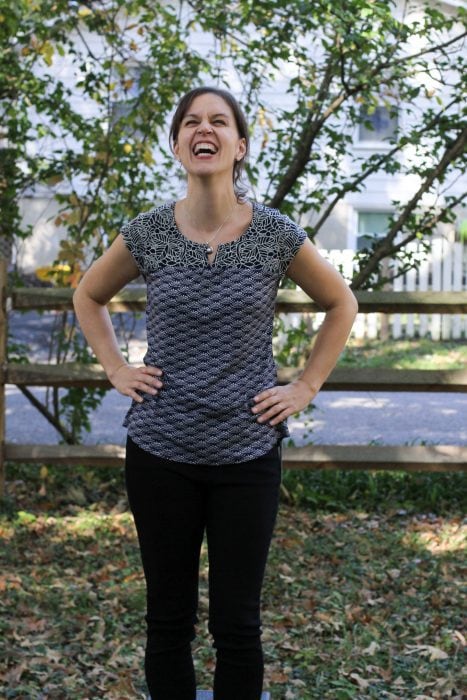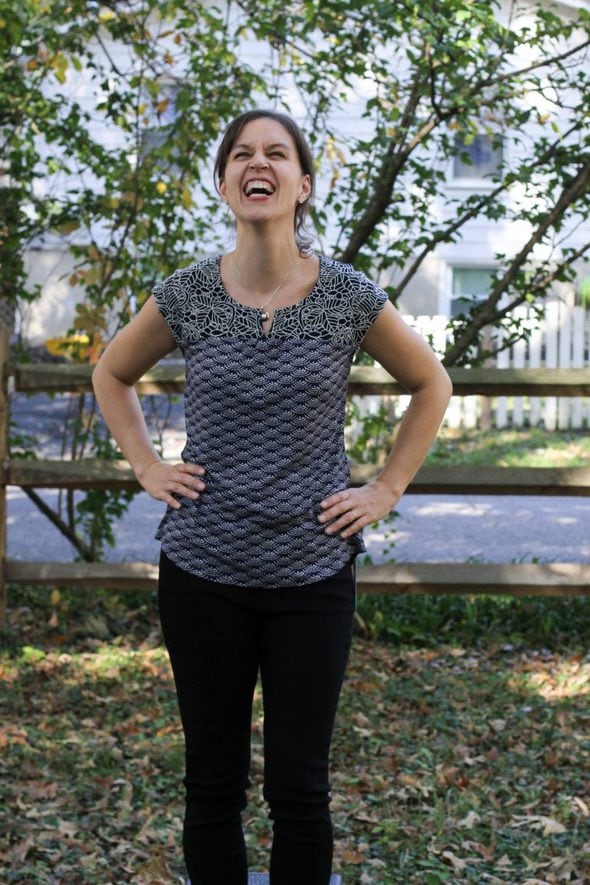 Spoiler alert: I am not keeping this one.
Lastly, I got a pair of black skinny jeans ($78).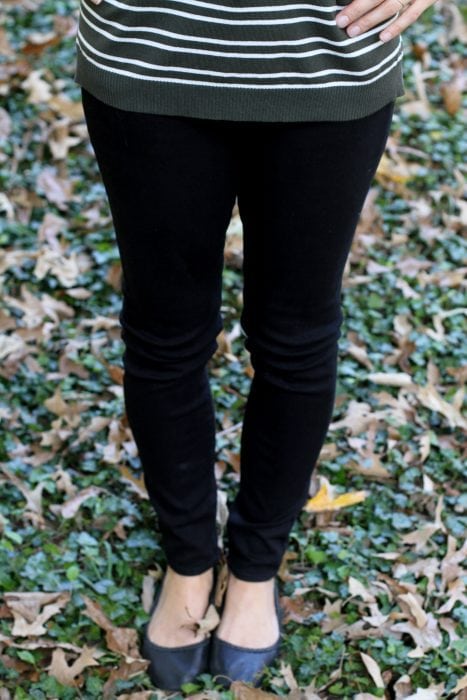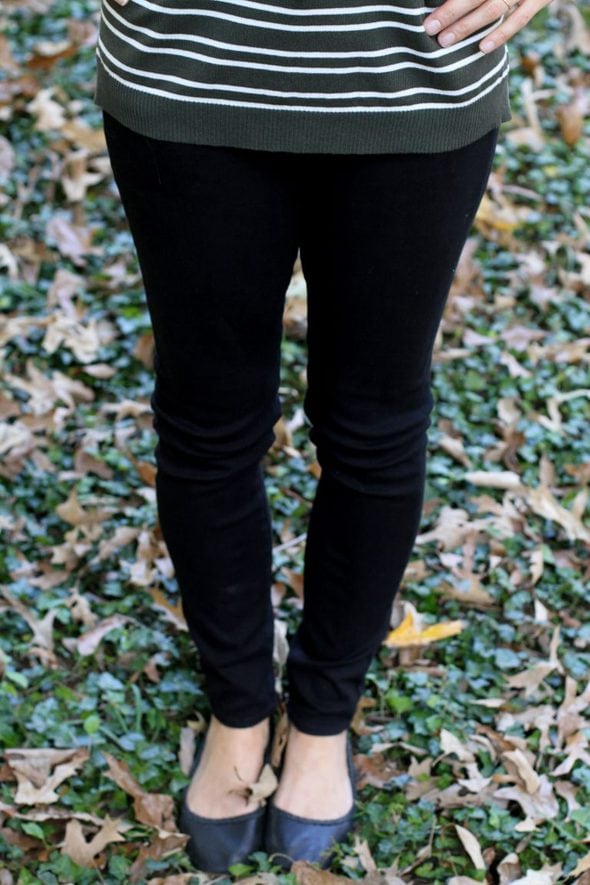 As you may recall, last month I kept a pair of similarly priced jeggings, and I have to say, I can definitely see a big difference between them and my cheaper skinny jeans/jeggings.
I can't tell about the longevity yet, of course (which will be very relevant in determining whether the higher price is worth it), but the fabric on these more expensive jeans is a lot thicker and also much more stretchy.
Like, when I sit down in them, they don't pull at the waist, and it's also way easier to bend my knees.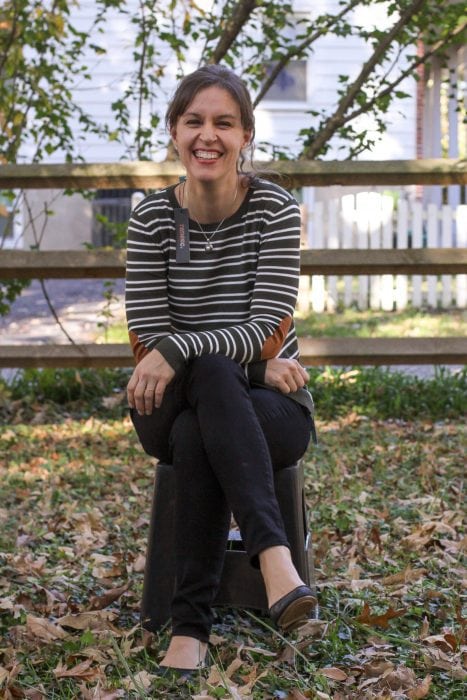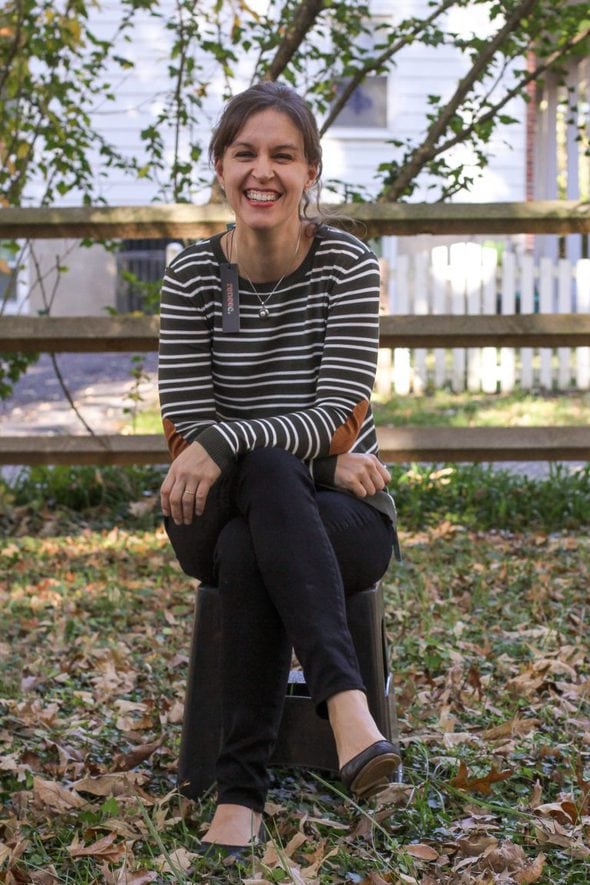 So, the higher price point is giving me a more comfortable wearing experience, which is worth something even aside from the longevity possibilities, and I find myself reaching for the comfy, stretchy, more expensive jeans instead of my cheaper jeans.
I didn't think I'd ever be a person who pays more than $25-$30 for a pair of jeans, but boy, I sure do find these more expensive jeans to be a whole different experience.
________
So. I'm definitely keeping the gray top, and, um, I think I'm going to keep the black jeans too. Then I'll have a stretchy blue pair and a stretchy black pair, which means I won't have to wear my less-fabulous jeans all that often. 😉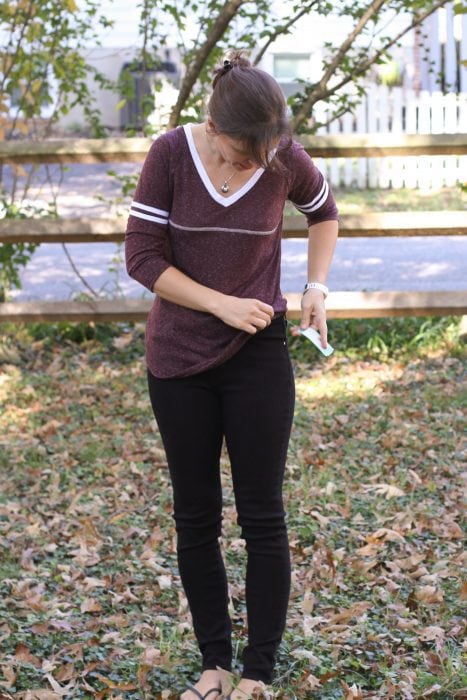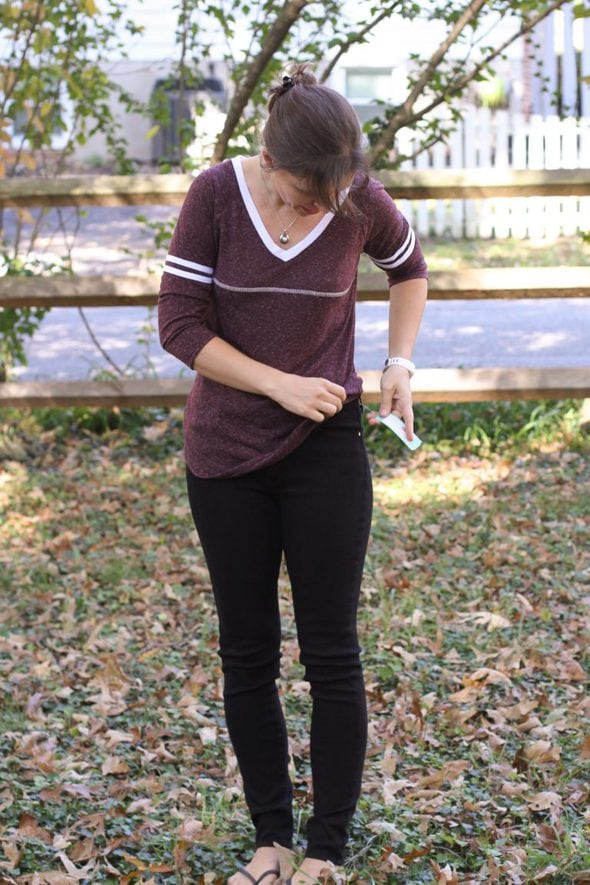 The total for the whole fix this time if I bought all five pieces would have been $173 ($34.70 per item), which is definitely less than my last fix.
And $34.70 per item is really not an insanely high price (unless you're used to clearance/Goodwill shopping. Ha.)
If you'd like to try Stitch Fix, here's my referral link. I think maybe you get a complimentary styling fee or something like that (let me know!).
What do you think of this fix? Would you have made the same decisions I did?
Thanks to Joshua for snapping photos of me for this post.
Save