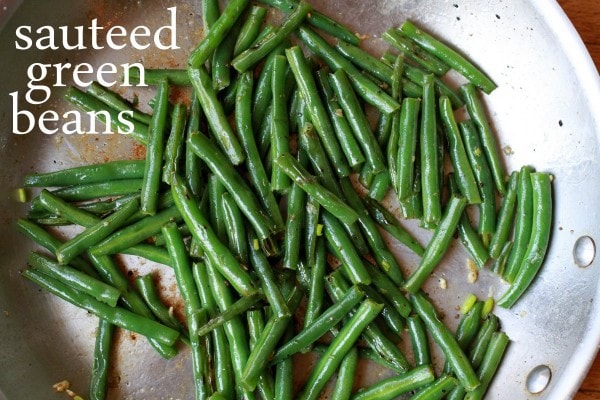 We've been eating green beans around here for a long time…the steamed sort, topped with butter, salt, and freshly-ground black pepper.
They're good, but nothing extraordinary. Just a standard veggie side-dish.
I've been looking for ways to spice up my vegetable preparation, though, so I flipped through my Cook's Illustrated Cookbook
and happened across this recipe.
You guys, these beans are really good! They're crisp-tender, bright green, and they've got a great garlic butter flavor.
I normally eat beans at least partially out of a sense of duty, but I might be tempted to eat these even if I thought they were bad for me.
Plus, the process is quick and easy, and only one pan is dirtied. What's not to love??
The process actually moves so quickly, I didn't manage to snap step by step pictures. I'm sure you'll be fine, though.
First up, you'll need to make a little bowl of flavored butter by combining butter, garlic, and thyme. I usually just use garlic, but do whatever floats your boat.
Second, you'll need to heat a teaspoon of olive oil in a 12-inch frying pan. If this pan has a lid, you get bonus points, because you'll need it later.
I got an All Clad stainless steel pan
for Christmas a few years ago, and it came with a lid.
Twenty bonus points for me.
Ok, once the oil is heated, add a pound of trimmed, halved green beans, along with 1/4 teaspoon salt and 1/8 teaspoon black pepper and cook them for 4-8 minutes, or until they're looking a bit browned and spotty.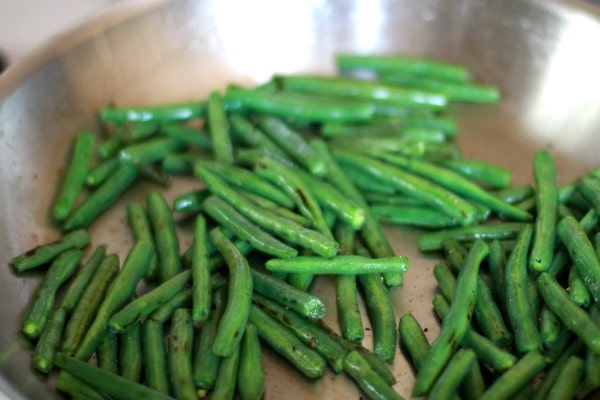 It feels really weird at first to add beans to a dry pan, but it works. Just trust Cook's Illustrated, mmkay?
Next, add 1/4 cup of water, put a lid* on the pan, and cook the beans for two minutes. Remove the lid, and let the rest of the water evaporate (that should only take 30 seconds or so.)
*If you don't have a lid for your pan, you can use a cookie sheet or something similar for a makeshift lid.
Stir the garlic butter into the beans, and cook for about one or two minutes more, until the butter mixture is melted and the beans are coated. Sprinkle with lemon juice (I just squeeze a lemon half over the beans) and toss to coat.
Serve right away because green beans tend to lose their heat pretty promptly, and I think these are much better when they're piping hot.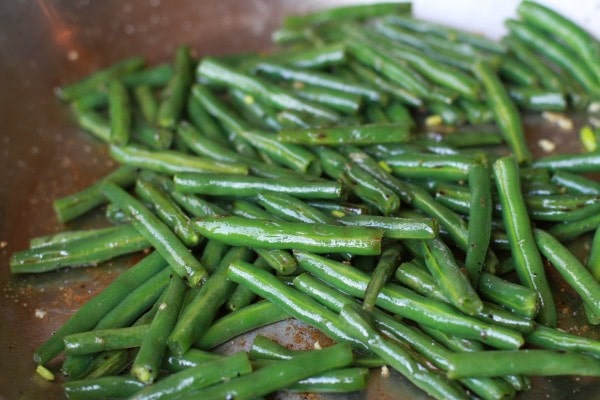 Actually, I think that about most foods, which is why Mr. FG is always a little bit scared to come to the table right when I call him. He's burned his mouth on my hot food a few too many times.
(I think my mouth has a higher temperature tolerance than his because I can eat piping hot food without burning myself.)
Where was I?
Oh, right. The delicious beans.
Make a pan of these soon, because they just might turn green beans into a treat you look forward to.
And honestly, if you haven't bought a Cook's Illustrated cookbook
or subscribed to their website, what are you waiting for? Cook's Illustrated is awesome sauce,* and their recipes will make you a better cook. It'll be money well-spent!
*Cook's Illustrated does not pay me to say that.
Sauteed Green Beans with Garlic Herb Butter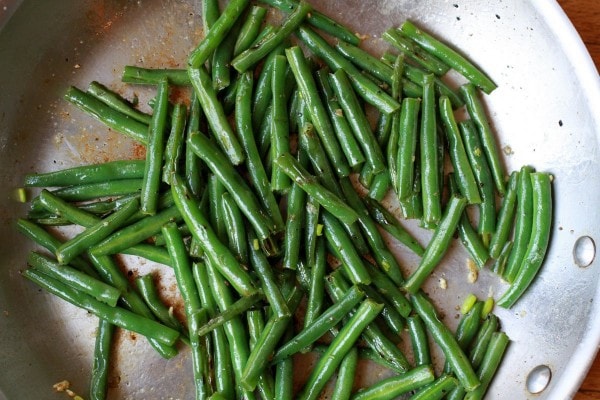 1 tablespoon butter, softened
3 medium garlic cloves, minced or pressed through garlic press (about 1 tablespoon)
1 teaspoon chopped fresh thyme leaves
1 teaspoon olive oil
1 pound green beans , stem ends snapped off, beans cut into 2-inch pieces
Salt and ground black pepper
1/4 cup water
2 teaspoons fresh lemon juice
1 tablespoon chopped fresh parsley (optional)
In a small bowl, combine butter, garlic, and thyme; set aside.
In a 12 inch skillet, heat olive oil over medium heat until it's just smoking. Add beans plus 1/4 teaspoon salt and 1/8 teaspoon black pepper; cook and stir for 4-8 minutes, or until beans are spotty brown.
Add 1/4 cup water; cover and cook for 2 minutes. Remove lid and cook until all the water has evaporated.
Stir in herb butter and cook beans for 1-3 minutes longer, or until beans are crisp-tender. Toss with lemon juice and parsley if desired; serve immediately.