Recently, I mentioned that I kind of hate grocery shopping, and shortly afterward, a reader sent me an email, sharing how she and her husband reduced their grocery spending, made some healthy changes to their diet AND figured out how to spend less time shopping (always a lovely idea, I say.) I thought her plan might be helpful to some of you too, so I asked if I could post her email here, and she said yes. Thank you, Susan!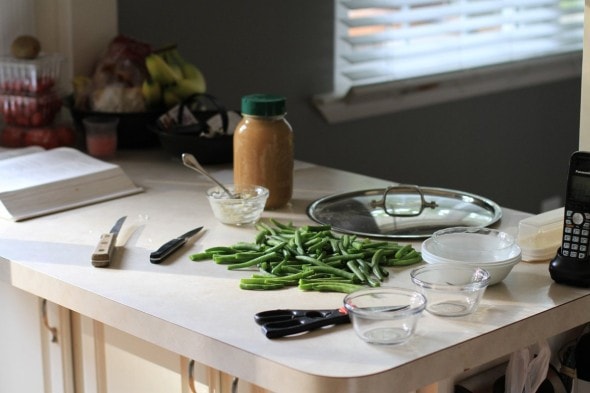 Hello, Kristen —
I so enjoy your blog, and often think to myself when I'm going through my fridge "What would Kristen do with this?"!
Being a new empty-nester, and having just moved from a job with the government to being a pastor (with the attendant huge pay cut, but huge leap in happiness), our money is tight, tight, tight.
Groceries were one area where I had problems — I'd shop every single week, spend WAY too much, and end up with cabinets full of food that wasn't very good, and often ended up being thrown out.
My husband and I sat down and decided to make a big move towards less processed food, and so what we do now is stock up on staples such as rice, pasta, dry milk, flour, sugar, etc. We only need to do this about once every three months, and we also buy our toiletries and pet supplies then.
We shop for these trips at Sam's, and I do the click and pull system to keep me out of the store and away from the temptations of all the pretty packages. Then we just shop weekly for the perishables, and we strictly limit what we spend on those, shopping sales and tweaking the menu plan according to what's on sale.
The best part is that my husband has begun to do this weekly shopping, using a list I make. This keeps me and my poor impulse control out of the store, and makes him much more aware of how much groceries cost. We're eating simpler, healthier meals, sharing more in food buying and preparation, and enjoying the whole process much more! Win all around!
I just wanted to share as I thought it might help some others that have poor impulse control in the store, or hate to grocery shop like you do.
Susan
_______________
Joshua's 365 post: Water Lily