My blog is (still) clean.
And I am still over the moon about that. I've been kind of obsessively checking it, using Sucuri's free site scanner. Every time I hit "verify", I feel slightly nervous, and then relief floods over me when I see that my blog is turning up green and not red.
I have to say, if you ever have a problem with malware, I highly recommend Sucuri. They're very reasonably priced, and all of the people that I dealt with were very polite and helpful. For $89.99/YEAR, they'll monitor a single domain and clean up malware, no matter how many times you need cleaning.
My particular brand of pesky malware needed 3-4 cleanings in a 12 hour period, so I consider this to a very well-spent $89.99.
Plus, I have the peace of mind that comes from knowing that they're scanning my site every 6 hours, even while I sleep. So, if I have any new malware show up, I should be able to identify it and fix it fast. Yay Sucuri!!
(no, I am not affiliated with them. Yet. I'm going to sign up for their affiliate program, though, because I do so love to advertise for companies I use and love.)
Free (not-fake) AntiVirus
I want to apologize 1000 times over to any of you that had virus problems as a result of visiting my site on Tuesday evening (that's when my site got infected, although over the weekend there was a problem with a network ad as well). As soon as I saw that my site truly did have malware, I hired help to fix the problem, and as I mentioned above, my blog will continue to be monitored around the clock.
I've also taken steps to further secure access to my blog and to my ftp account to prevent hackers in the future.
In short, I want my blog to be a safe place for you to visit and I'm doing everything I can to ensure that!
Of course, you can run into malware anywhere on the web, so you should have anti-virus software on your computer. The good news is that you don't have to fork over a bunch of cash for a program. In fact, you can get a program for free.
Mr. FG, who works in IT, recommends Avira (they offer a free program in addition to a paid one) and Microsoft Security Essentials.
(we're not affiliated with either of those programs…we just use them on our systems.)
And now for two frugal things, just because I need to talk about something other than malware, or I may go crazy.
I made fruit leather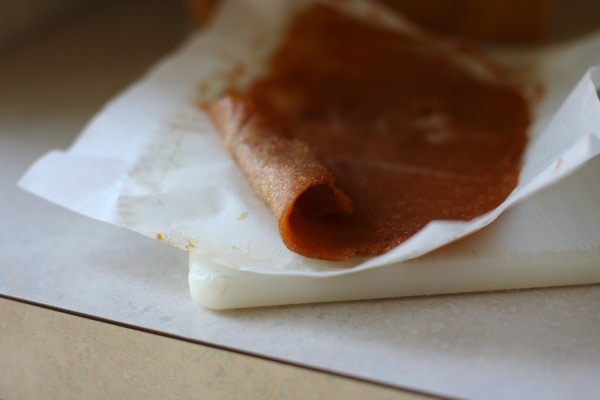 Remember the yucky pears I told you about in last week's Food Waste Friday post? Well, I peeled them, cooked them, and mashed them the same way I do when I make applesauce.
Unfortunately, the flavorless-ness of the pears was apparent (or, um, aPEARent. Hee.) in this pearsauce, so I decided to try making fruit leather.
My kids love to have fruit leather as a occasional treat, but my goodness, I hate the amount of plastic trash that this stuff produces. Because of that, I've been wanting to make my own for a while now.
I lined a two glass baking pans with parchment paper, spread the pear puree, and dried it in a low oven (200 ° F) until it looked like fruit leather. I spread mine kind of thick, so this took quite a few hours, and even so, I think I could have let it dry a little longer.
The kids liked it, though, and I'm pleased that my not-so-hot pears have now all been eaten and are not sitting in my compost bin.
I do think a food dehydrator would work a lot better than an oven, though, especially in the summer when you don't really want your oven on all day. I'd like to try making my own beef jerky too, so I'm thinking I might look into getting a dehydrator. Any thoughts/recommendations you have on that topic would be great.