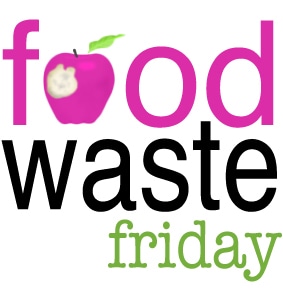 Every week, I post a picture of the food that has gone bad over the last seven days. Why do I do this? Because in March of 2008, I finally got fed up with the amount of food I was wasting, and I thought that showing my waste to other people would motivate me to use up my food instead of wasting it. Because this often embarrassing practice was so helpful for me, I invited other bloggers to join me in posting their food waste photos, and Food Waste Friday was born.
I'm going to tell you about one of my triumphs first this week. Remember how in my menu plan, I told you I made a seafood casserole?
Well, it made a 9×13 pan, which ended up being a lot for the six of us (since some of us aren't big fans of fish), and about half was leftover.
Leftover fish + me….well, let's just say we don't have a very good history.
Unless we're talking about fish cakes, in which case I am golden.
But I realized that a lot of what went into that casserole was like my clam chowder recipe, so I scraped the now-soggy cracker crumbs off the top, put the remaining casserole into a pot and added enough milk and half and half to make a soup.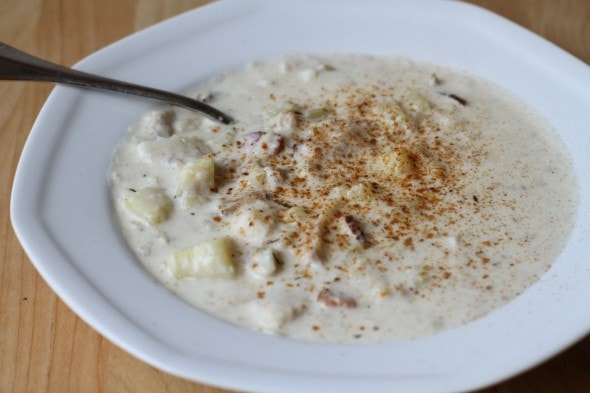 It wasn't quite as good as straight-up clam chowder, but I am pleased to say that the whole leftover portion got eaten. So, the only thing that was wasted were the soggy cracker crumbs.
Now, onto my waste for this week.
The first thing is actually still in my fridge, because I'm wondering if it's salvageable. These radishes have gotten sort of wrinkly, which just means they're getting dry, not that they're rotten. But I'm not too sure what to do with wrinkly radishes, and I'm taking suggestions.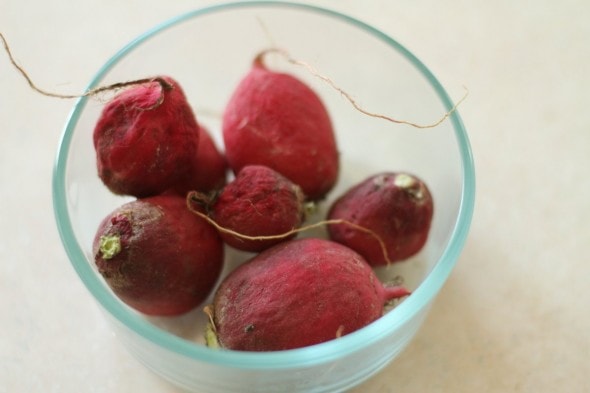 The other thing?
It's so already in the compost bin.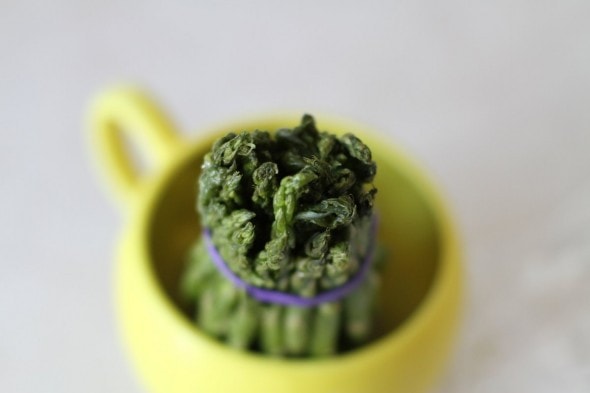 This poor bunch of asparagus got frozen in the fridge, which is partly my fault because I should have cooked it more promptly.
Anyway, not an awful week overall.
And to finish this post off, here's a photo of my fridge as a nod to Simply Being Mum, who posts her amazingly empty fridge every week.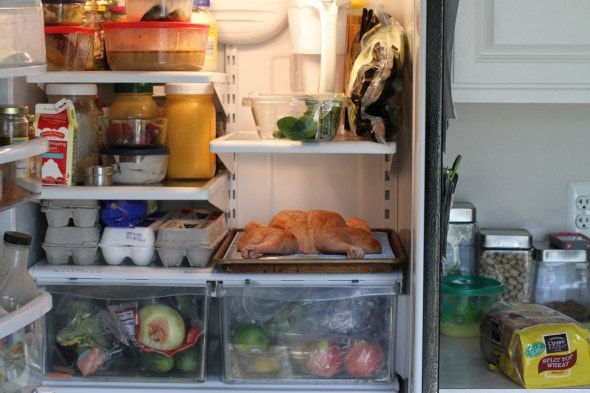 (For the eagle-eyed among you who are wondering…that's a loaf of homemade bread to the right of the fridge there. It's just in a reused bread bag from the store. 😉 )
_______________________________________________
This is really off-topic for today's post, but I saw that Groupon has My Publisher books available
.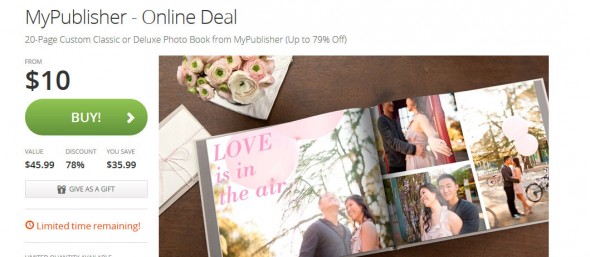 This should be a national deal, so just hop over to Groupon
and search for My Publisher.
(This is my favorite photo book service…I wrote more about it right here.)
If you don't have a Groupon account yet (Have you been living under a rock or something?? 😉 ), go get one (it's free!) and then you can snag this deal.
________________________________________________
How did you do this week? If you blogged about your food waste, link us up by entering your info into the widget below. You'll save money, reduce your trash output, and get a little publicity for your blog! And if you don't blog, you can still share about your food waste by leaving a comment.
Those of you who participate in Food Waste Friday can now grab a fancy-schmancy button to perk up your posts. If you copy and paste the following code into your Food Waste Friday post, this little graphic will appear.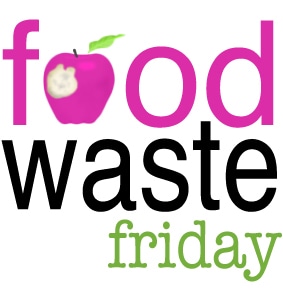 If you blog on WordPress, just make sure you're in html mode when you copy and paste the code, or it won't work properly.
This post contains affiliate links.