I know that's sort of high praise for a lowly funnel, but I really do love mine.
I use it nearly every week when I'm making yogurt, and lately, I've been using it to fill jars with applesauce.
I used to have a flimsy plastic funnel with a snipped-off end, so last Christmas, I put this funnel on my list.
(Shut up. Funnels are indeed Christmas present material, at least when they're this nice. ;))
A lovely feature of this funnel is that it works with wide-mouth or narrow-mouth jars.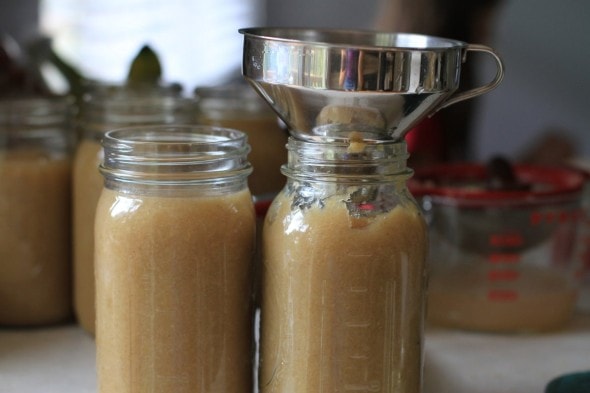 And because it comes with a removable mesh filter, it's perfect for things like straining broth or pouring milk into jars for making yogurt (it strains out any solids.)
I really, really like that it's not plastic, both because it will last longer and because I feel totally comfortable pouring hot liquids (like broth) through it. No melting worries!
The funnel is made by Kuchenprofi, and it's $22 on Amazon.
I know that seems like sort of a lot of money for a funnel, but hey, it should be the last one you need to buy, and if you find yourself pouring stuff into jars much, I think you'd love the Kuchenprofi as much as I do.
(There are other, less expensive stainless steel funnels available, like this Norpro Funnel, which costs less than $9
, but the cheaper ones tend not to come with a strainer, and some people have complained about things like the handle falling off. In the grand scheme of things, the extra $13 for the Kuchenprofi seems worth it to me.)
P.S. Speaking of stainless steel kitchen tools, while I was making applesauce, I was reminded again how very much I still love my stainless steel ladle (which happened to be the topic of an adoring post a while back. ) What can I say? Stainless steel kitchen tools make my heart go pitter-pat.