It's a three-day weekend here, but since I love you all so much, I'm still going to post today. 🙂 I've got three questions to answer, and I have a question for you at the end about a possible series of posts, so I'd love it if you'd leave some feedback!
1. Several of you asked about the loaves featured in this post, which are whole wheat. I've posted the recipe before, and you can find it here.
2. Amanda noticed that a lot of my food waste is made up of fruits or vegetables, and was wondering if I throw these things away or if I compost. I do indeed, and since I've posted about it before, you can check out my uber-cheap composting method.
3. Finally, Kari was wondering about the make and model of my camera.
I am a bit of a photography nut (you can see more of my photos over on my photo blog, if you're interested and there's a permalink to it over on my sidebar). I love, love, love to take pictures. People are my favorite subjects, but writing this blog has helped me to branch out a bit into other things like food photography, because I often need photos to illustrate my posts here.
I had a middle-of-the-road point and shoot for quite a few years, but I'm now blessed to have a digital SLR, which I got in December of 2007, from my husband and lots of other relatives. It's a Canon EOS Rebel XT, and until about 6 months ago, I was just shooting with the not-so-good lens that comes with the camera. Last Christmas, much to my delight, I got another group gift and I now own a 50mm/f 1.4 lens, which is far, far nicer than my kit lens (the lens that came with my camera). I love my camera and my lens so much.
However, I think that the biggest change in my photography is not due so much to my switch from a point and shoot to an SLR, but rather to me learning more about how to take good pictures.
To illustrate this, here's a picture of Lisey that I took in 2003, shortly after I got my camera.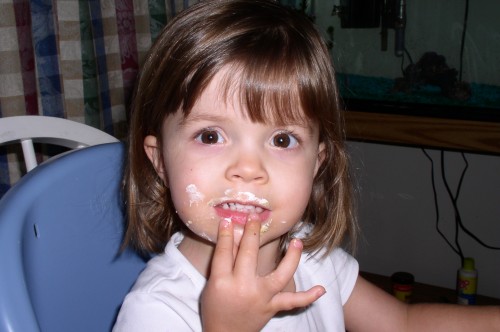 And here's a picture I took of Zoe in December of 2006 with the very same camera.
Nothing at all changed with my equipment…the change was with me. If I had gotten a nice camera back in 2003, it wouldn't really have done me any good because I didn't know very much about photography. I'd have had a great tool with almost no idea how to use it.
Now, here's my question for you. Would you be interested in an intermittent series of posts on improving your photos without spending any money on equipment and editing software? I know this isn't a photography blog (I have a separate one for that!), but this would be more about cheap/frugal/make-do-with-what-you-have photography, which is fairly on topic for The Frugal Girl.
Let me know, and if there is sufficient interest, I'll get right to work because I'd love to share what I've learned!