Just need the recipe? Click here for a printable Molasses Oatmeal Bread recipe.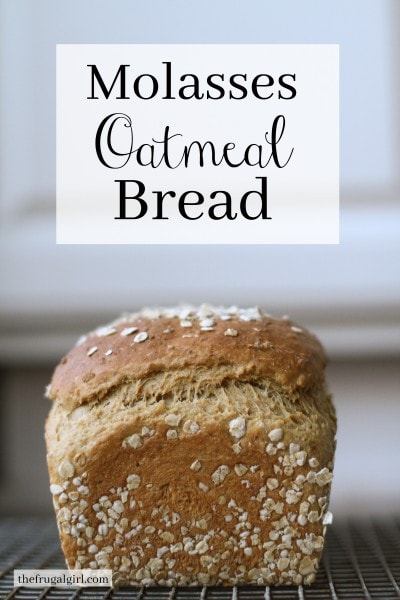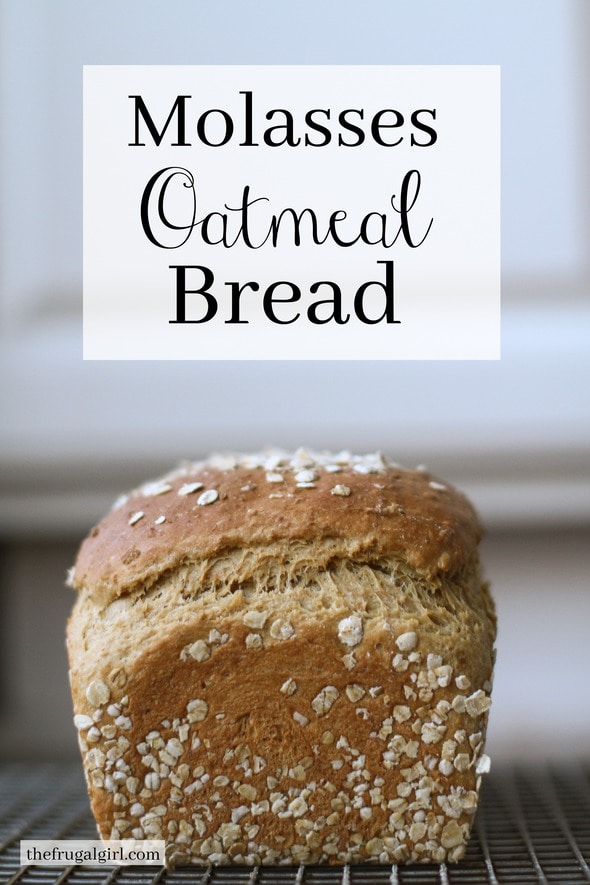 I made this bread a few times back when I was a teenager, but I'd kind of forgotten about it.
One day recently, I was needing to make some loaves of bread and I felt like I wanted to make something a little different than my usual whole wheat bread.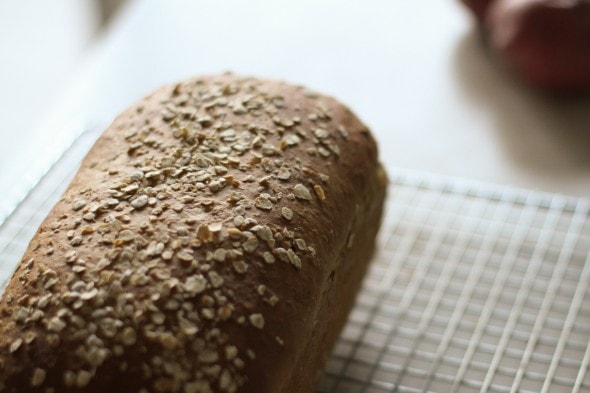 So, I flipped thru my vintage Better Homes and Gardens bread cookbook and came across this recipe. My kids all really liked it, and it was a nice change from our usual loaf.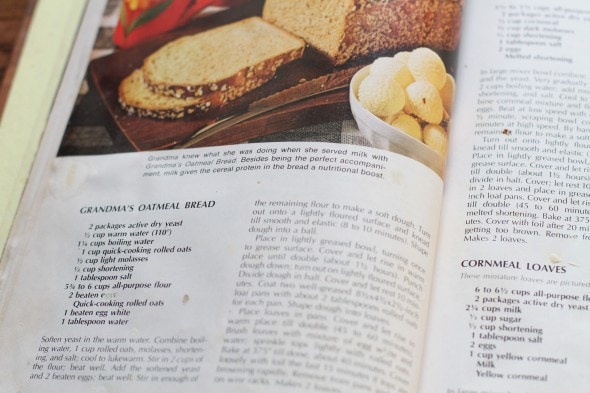 I have to admit, it's probably not quite as healthy as our usual bread because it's hasn't got nearly as high a percentage of whole grains in it. And it contains a pretty hefty amount of molasses which is just liquid sugar.
But still, it's not exactly junk food, and it IS really yummy.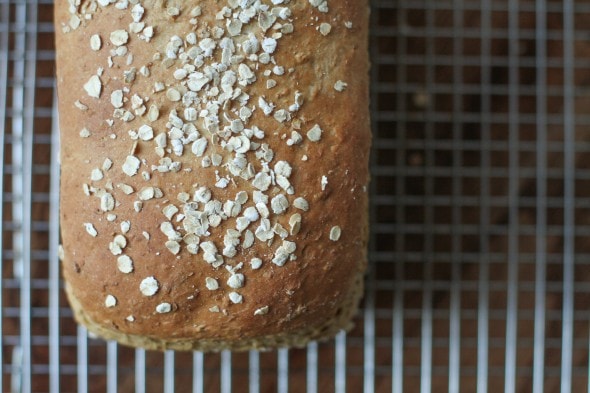 You could definitely substitute whole wheat flour for part of the white flour if you're feeling virtuous, but I'm not sure I'd go 100% whole wheat.
Oatmeal tends to make the dough a little heavy to begin with, so using at least half white flour will help your loaves to not be overly dense.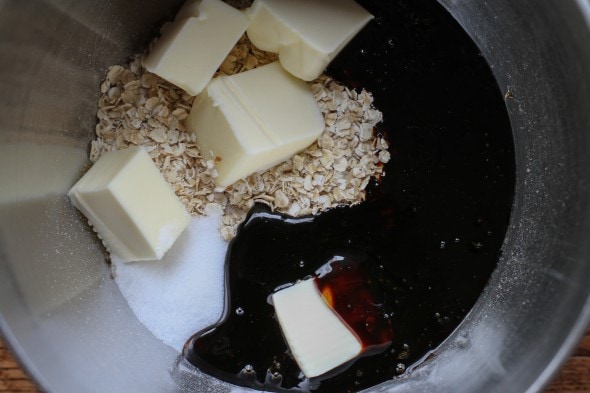 To make this bread, you combine quick-cooking oats, molasses, butter, and salt, and then add boiling water.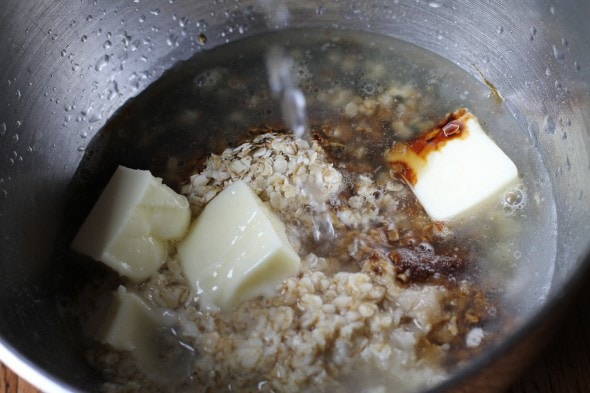 This softens the oats, which makes a lot more palatable in your bread. And it has the handy side benefit of melting your butter!
(The original recipe called for shortening, but none of us are really putting Crisco into our bread anymore, right? Butter is better. 😉 )
Stir and then let the mixture sit until it's lukewarm.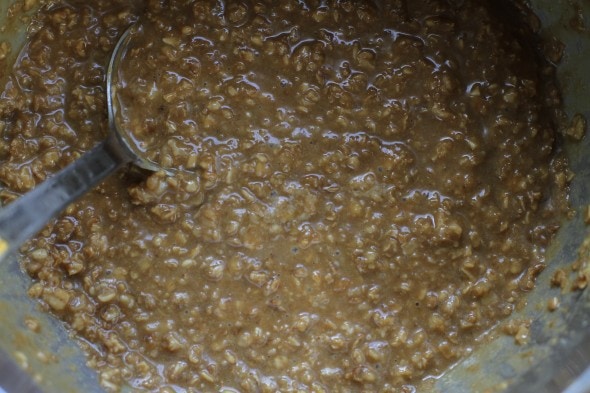 Meanwhile, in a mixer bowl, dissolve the yeast in warm water.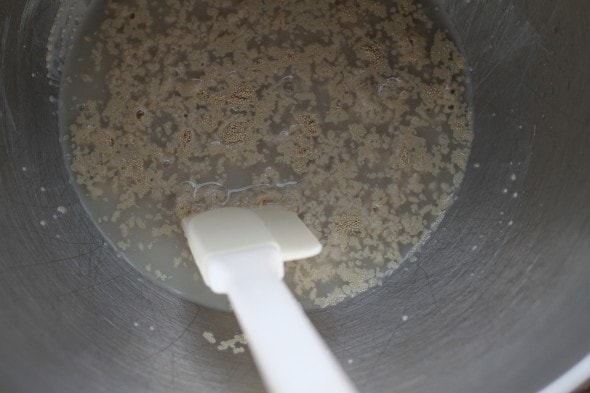 Once the oats are lukewarm, add cooled oats mixture, 2 eggs, and 2 cups of flour. Beat for 3 minutes, then stir in enough of the remaining flour to make a soft dough.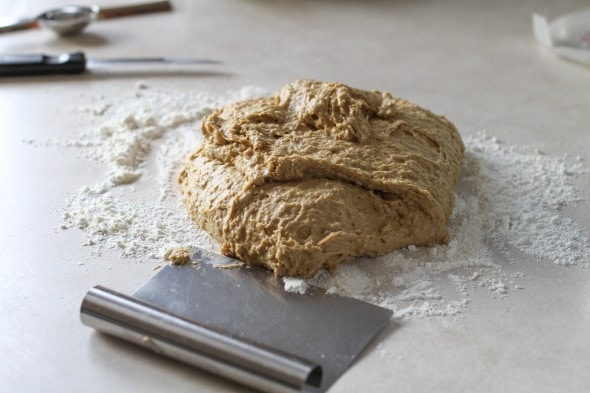 Turn the dough out onto a floured surface and knead by hand for 3 minutes, or until the dough is smooth and elastic.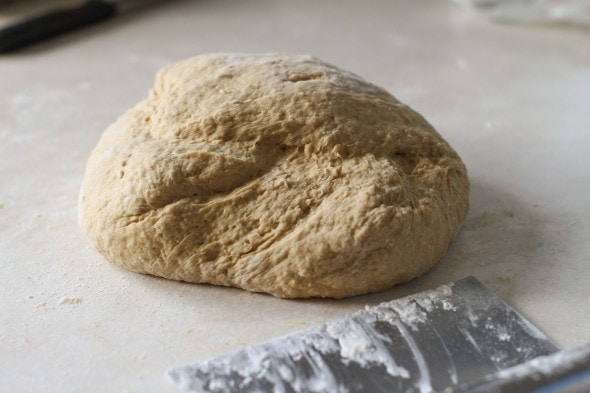 If you prefer, you can finish the kneading in your mixer. Or if you don't have a mixer, stir the dough well by hand, and then turn it out onto your counter and knead it by hand for 5-8 minutes.
The molasses makes this dough a little on the sticky side, so don't fret if your feel like your dough is more tacky than usual.
Put the dough into the mixing bowl, cover it with a wet tea towel, and let it rise for about an hour.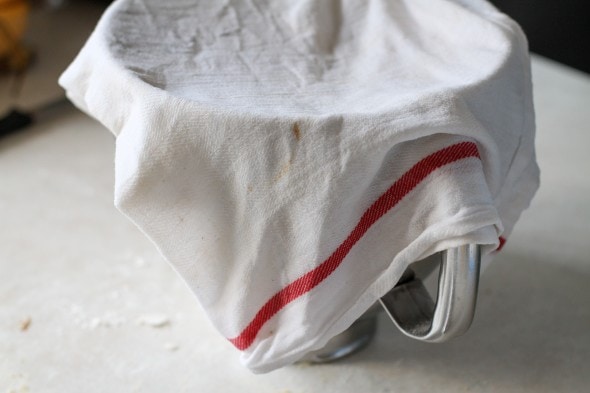 While the dough rises, grease two 1-pound or 8×4 inch loaf pans, and sprinkle each pan with oats. It's kind of like greasing and flouring a cake pan, except with oats.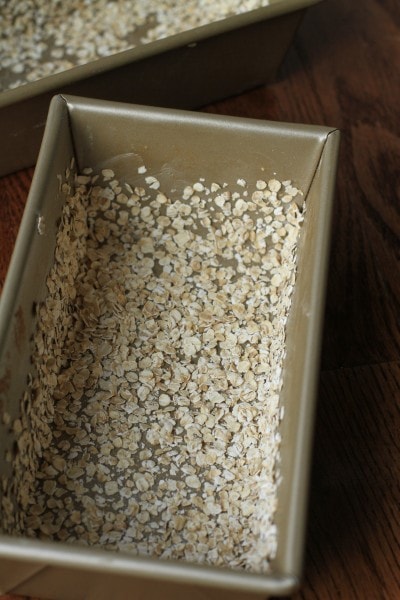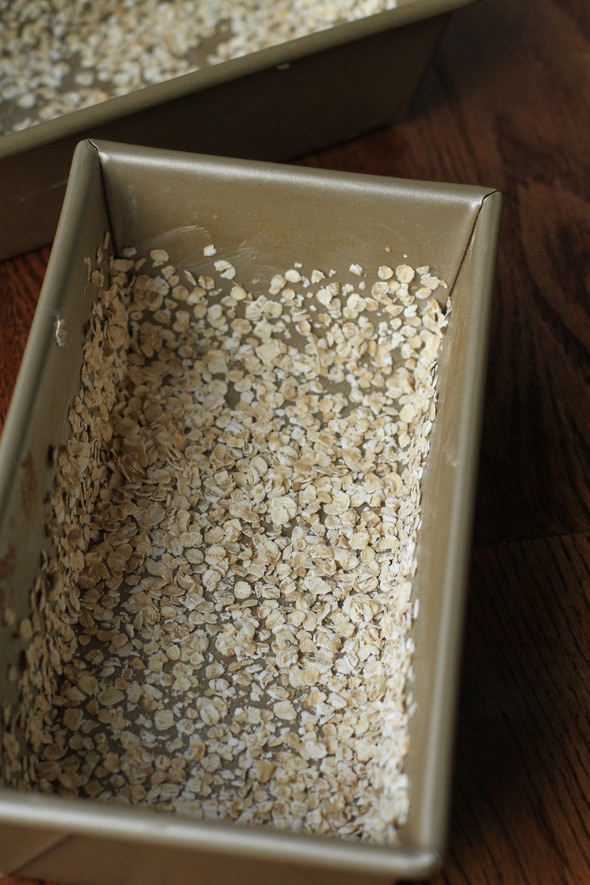 When the dough has finishing rising, dump it back out onto the counter, divide it in half, and roll each half out into a long rectangle. Starting from the short side, roll the dough up, and place the loaves in the prepared pans, seam side down.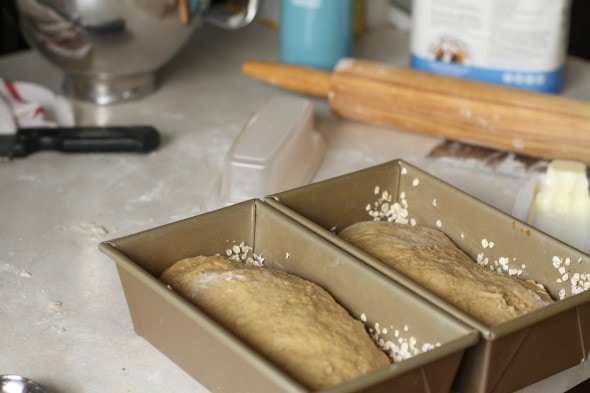 Cover 'em with a wet tea towel again, and let them rise for about 30-40 minutes, or until they're doubled in size.
Before the loaves are done rising, preheat your oven to 375 ° F so that it's hot and toasty before you put your loaves in.
Yeast bread loves a hot oven! A cold oven, not so much.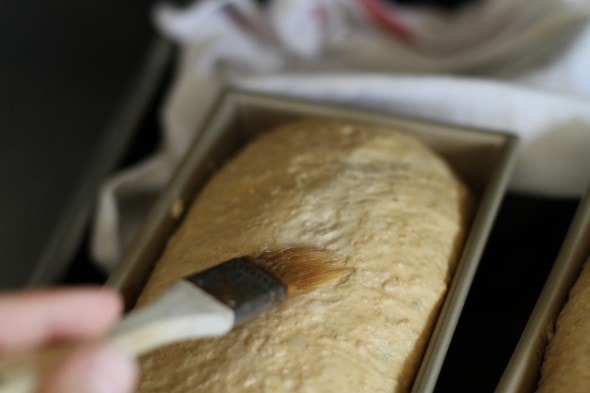 Before you bake your bread, brush a bit of water on top of the loaves and then sprinkle with more oats.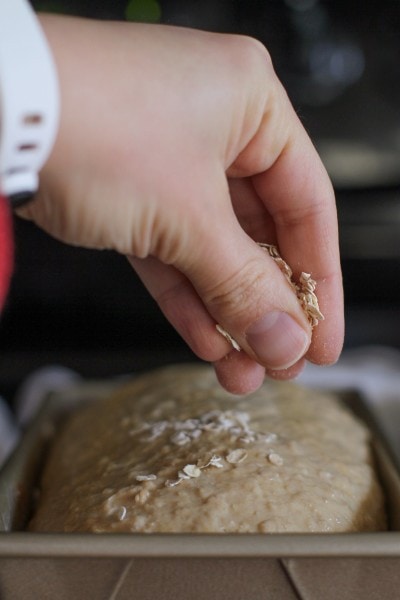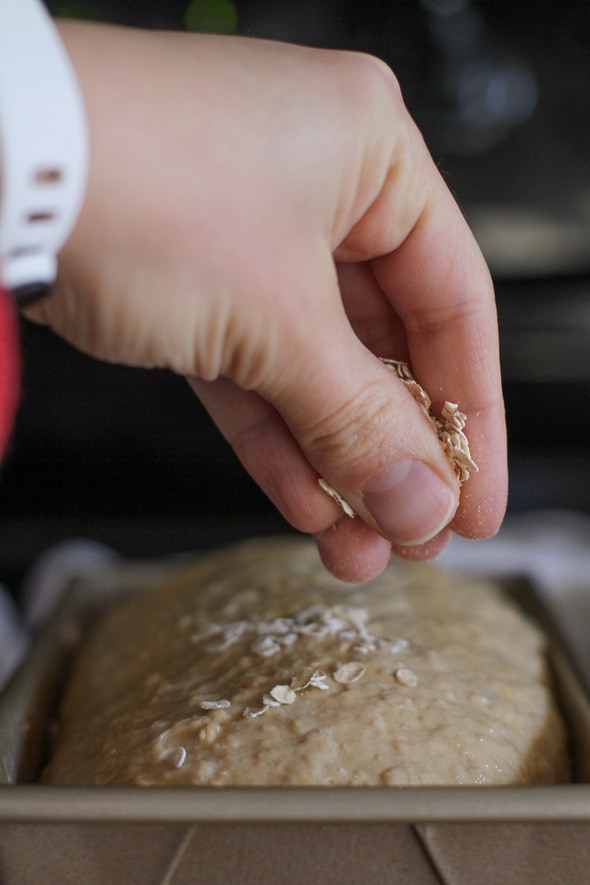 This is really just for looks, so no worries if you want to skip it.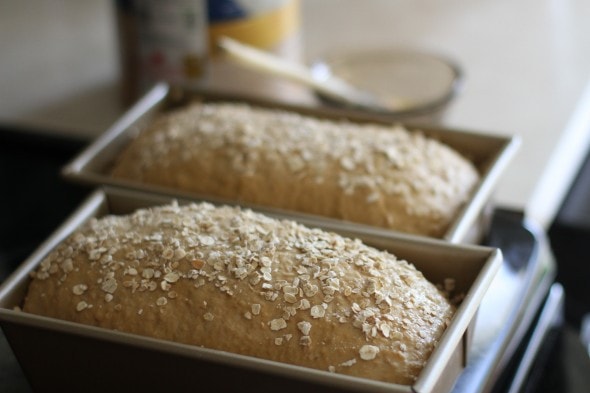 Bake your loaves for 30-35 minutes, or until they're nicely browned. Remove them from the pans and let them cool on a wire rack.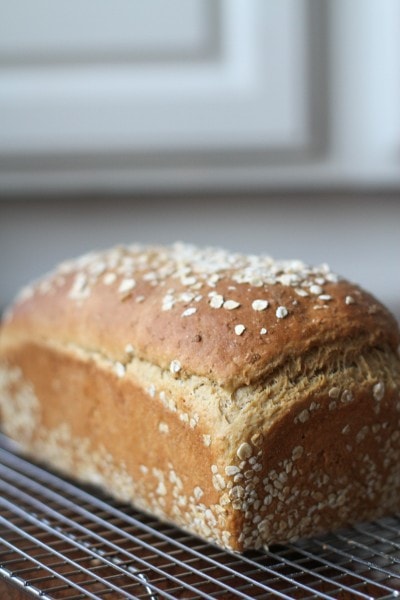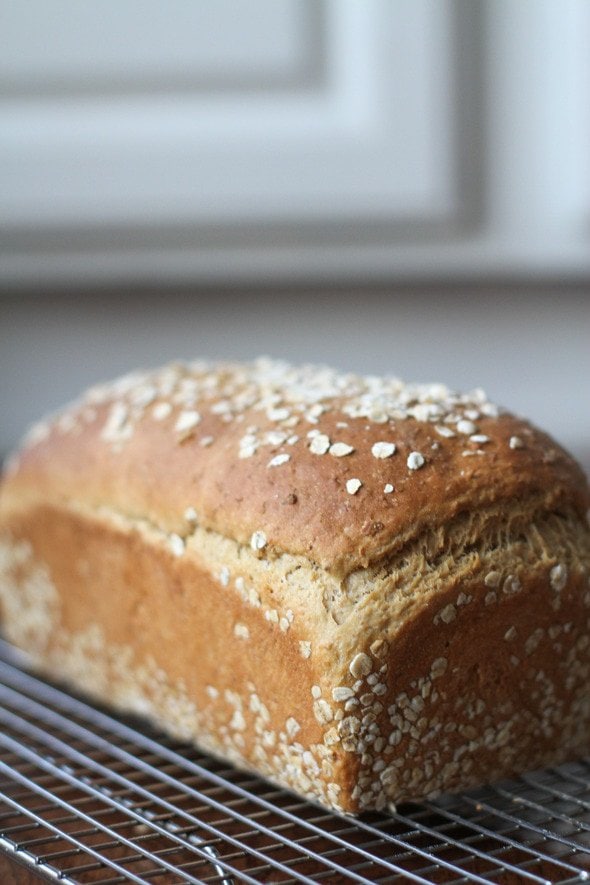 Some of the oats will fall off as you remove the bread from the pan, but most of them will stick. Just be prepared for a small mess.
This bread stays soft for several days, but you should do yourself a favor and eat a slice or two while it's still warm from the oven.
Preferably covered in butter. 😉
Molasses Oatmeal Bread
Printable Molasses Oatmeal Bread
Makes 2 loaves
1 1/4 cups boiling water
1 cup quick cooking rolled oats (I've used 1.5 cups successfully)
1/2 cup molasses
1/3 cup butter or other fat of your choice
Scant tbsp salt
4.5 teaspoons instant yeast (2 pkgs.)
1/2 cup warm water
5 3/4 to 6 cups of flour
2 beaten eggs
extra rolled oats for coating the loaves
Combine oats, molasses, butter, and salt in a bowl. Pour boiling water over oats, stir to combine, and let mixture cool to lukewarm.
In a mixer bowl, combine warm water and yeast. Let sit for a few minutes, then add lukewarm oat mixture, 2 cups of flour, and 2 eggs. Mix until combine, then beat for 3 minutes.
Add enough remaining flour to make a soft dough, then turn out onto floured surface. Knead 3-5 minutes, or until smooth and elastic.
Place dough in bowl, cover with wet tea towel, and let rise in a warm place until doubled, about an hour.
Grease two 1-pound (or 4×8 inch) bread pans; sprinkle with oats and tip pan to cover sides and bottom.
Turn risen dough out onto lightly floured surface; divide in half. Roll each half out into an oblong shape and roll up, starting with the short end. Place loaves in prepared pans, seam side down.
Cover with wet tea towel and let rise in a warm place until doubled, about 30 minutes.
Preheat oven to 375 ° F. Lightly brush tops of risen loaves with water, then sprinkle with oats.
Bake for 30-35 minutes, or until nicely brown. Remove loaves from pan and let cool on a wire rack.