Miscellany posts appear around here every now and then when I have a bunch of small things to share with you…things too small for individual posts, but too much fun not to share at all. You can poke through the miscellany archives, if you'd like to read more of this kind of thing!
__________________________________________
A Sight for Sore Eyes
If you've joined me in my fight against food waste, you know that a sink full of empty leftover containers is a sign of a very successful lunch.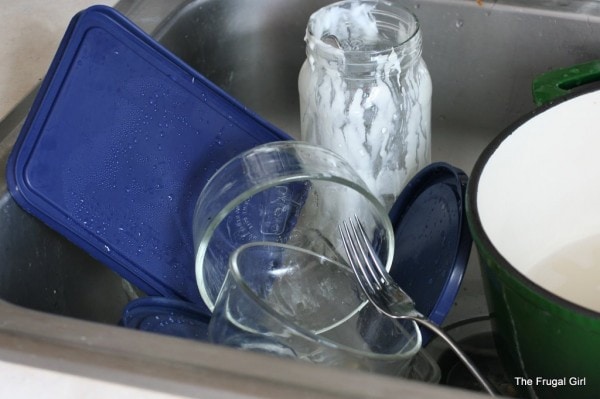 ___________________________________________
A No-Ziploc Chicken-Freezing Method
Way back near the beginning of my blog, I posted about how I freeze chicken. In case you don't feel like clicking on over to the post, I'll just tell you that I buy large packages of chicken, freeze the pieces on a baking sheet, remove the pieces, and store them in plastic bags. This method keeps me from having to buy the more expensive small packs of chicken and also ensures that I'm not trying to pull a few pieces of chicken off of a solid mass of frozen chicken (which is what happens when you stick the value packs straight into the freezer!).
The only downside to this method is that it requires plastic bags, and the plastic bags really can't be re-used after they've housed raw chicken. At least, I don't think that I could get mine clean enough to reuse.
It recently occurred to me, though, that plastic cereal bags could be used for this purpose. Since they'd be trashed anyways, and since I didn't pay anything extra for the cereal bag in the first place, I don't feel as bummed out about throwing them away.
I press as much air out as possible, fold the top of the bag over several times, and secure it with a couple of clips (two of those were saved from some helium balloons that were given to us).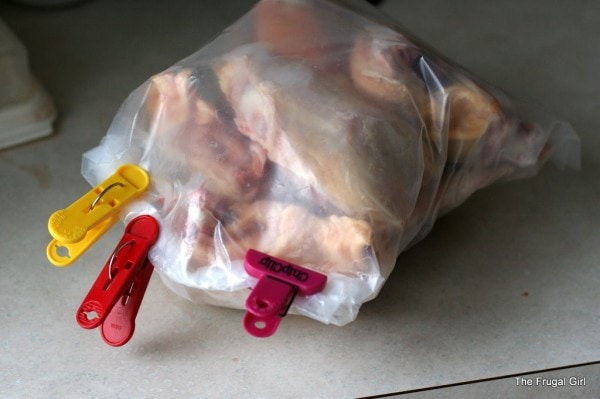 It's not pretty, to be sure, and it might not be the way to store chicken if you plan to keep it in your freezer for a really long time, but it's been working out fine for me. In some ways, I even prefer the cereal bags to plastic bags because the cereal bags are thicker and more resilient, even when frozen. I never have to worry that a particularly pointy chicken piece will puncture the bag and let the dreaded air inside of the bag (a sure recipe for freezer burn).
I'm not buying much cereal these days, but we do go through about one box a week, which is more than enough to meet my chicken-freezing needs.
I should mention that I am aware that you can buy bags of individually frozen chicken pieces, but I am partial to Tyson chicken (which mercifully goes on sale on a regular basis at Weis), and so far I have not found individually frozen Tyson pieces.
_________________________________
Goodwill+Pyrex=Love
Remember how I said I love the small size of my Anchor brand glass containers, but that the lids were cracking?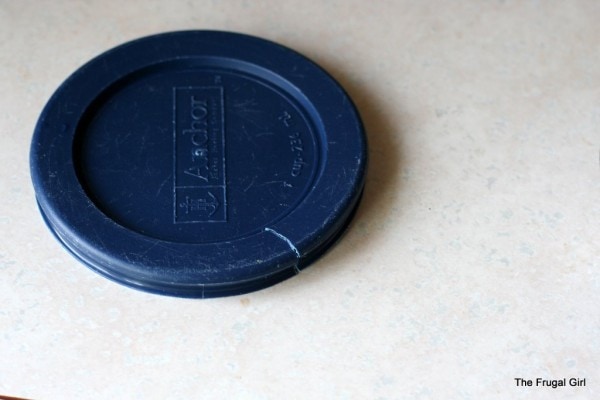 Well, I found a brand-spankin' new Pyrex brand container at Goodwill in the small size. Hooray! I love this size for lunch-packing purposes.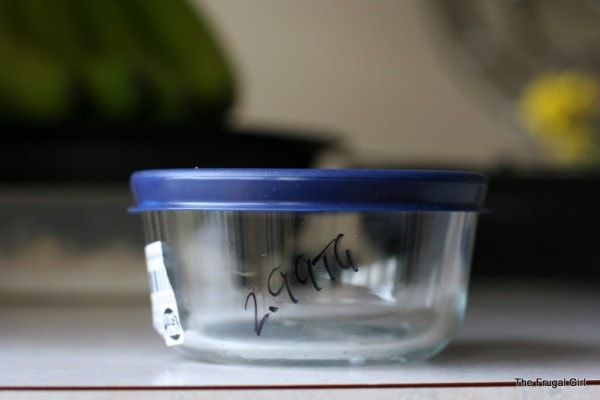 I thought $2.99 was a bit high for a single, small glass container at Goodwill. The salvage tag was the wrong one…it was from a larger container, so I pointed this out and asked if $1.50 would work. And it did.
____________________________________
Lastly, you might live with the Frugal Girl if…
you are eating Christmas M&Ms in January…
and Valentine M&Ms in March.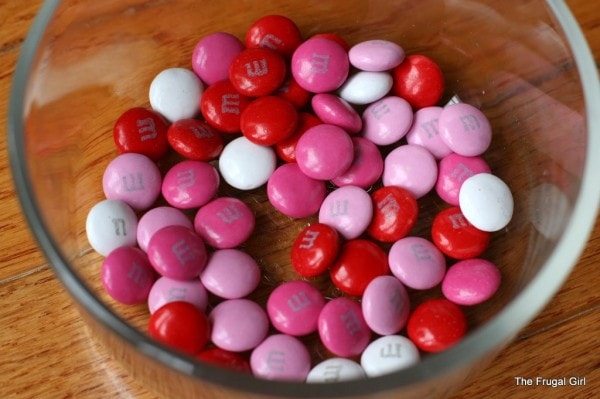 Because the Frugal Girl only buys M&Ms when they are on clearance after a holiday. 😉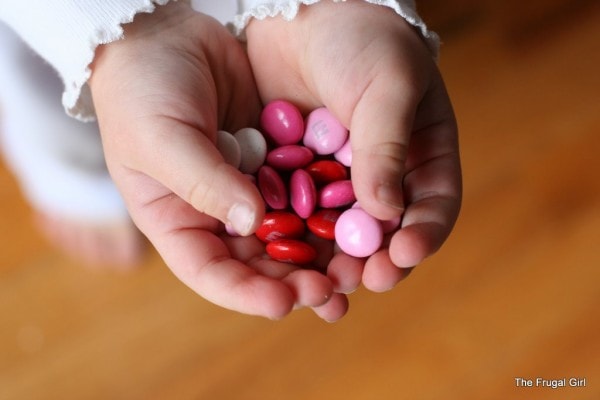 _________________________________
Check back here in a few hours, because over on my review page I'm going to be giving away an awesome prize that all of you could use (it might be some spending money 😉 ), and I'm going to be doing it again several times in the next few months. Whee!