On Tuesdays, I post a picture and just a few words.
Long-time readers know that while I do enjoy a good baking session, pies are rarely on my to-bake list.
I don't really like pie, is the thing. Pie crust in particular seems like a huge waste of calories to me. Why would I eat pie crust when I could eat cinnamon rolls? Or macaroons? Or any number of more delicious things?
But I made an honest-to-goodness pie, with a real crust.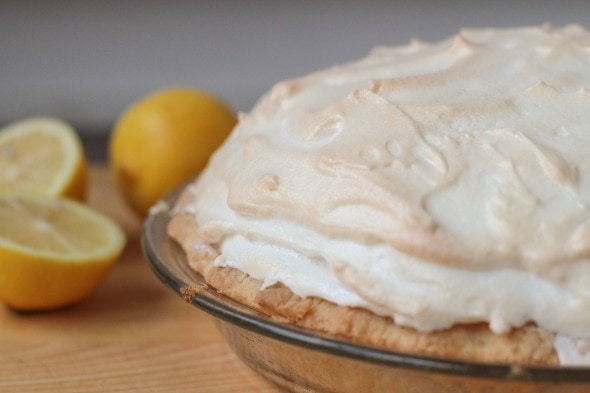 It was because of the 14 Days of Valentines, where I do something special for Mr. FG each day from February 1-14th. I might not really like pies, but Mr. FG does enjoy a good key lime pie and lemon meringue pie.
I'd made him a key lime pie for Father's Day this year (It has a graham cracker crust. Yay!) so I opted for the lemon meringue this time around.
I think I've only made pie crust twice in my life before, but I followed a Cook's Illustrated recipe, and mine turned out passably well.
I've also never made a meringue pie before in my life, but my trusty Cook's Illustrated book helped me out, and the pie was quite edible.
I still think bread-baking is easier, though. And tastier.
Pie is so overrated.
(The pie-lovers among us can now rake me over the coals. 😉 )