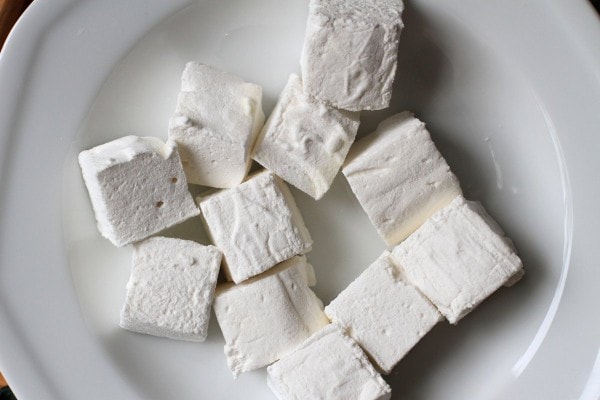 When I got the DIY cookbook from America's Test Kitchen and saw this marshmallow recipe, I knew I wanted to give it a try. I'd made marshmallows once, but that was long ago when I was a teenager.
It's not really possible to make cylindrical marshmallows at home, so these don't look exactly like commercial marshmallows. But they are really fun to make, they have a great vanilla flavor, and they're softer and fresher tasting than the ones in the package.
Now, they do call for quite a bit of gelatin, so I'm not entirely sure if they're cheaper than commercial marshmallows. I think I used three packets of gelatin, but the recipe made an entire 9×13 pan of marshmallows, which is equivalent to at least two commercial bags. So, that doesn't seem too crazy.
If you have a good source of bulk gelatin, that would make a big difference in the price. You know, I should check my local store that has a bulk section-maybe they carry gelatin. Hmm.
Anyway.
I wouldn't necessarily recommend making these to cut back on your grocery bill…you should make them because they're fun and because they taste good. 😉
And they would make kind of a fun Christmas gift, because really, how many people are going to give homemade marshmallows?
(hint: Fewer than will be giving homemade cookies. Go for the unusual, I say!)
Before you get started with the actual cooking, you'll need to line a 9×13 inch pan with aluminum foil. Use two pieces, running them in opposite directions, and pushing the foil down in the corners to make a neat lining. Then spray the foil with cooking spray. This will make it simple for you to remove the marshmallows from the pan.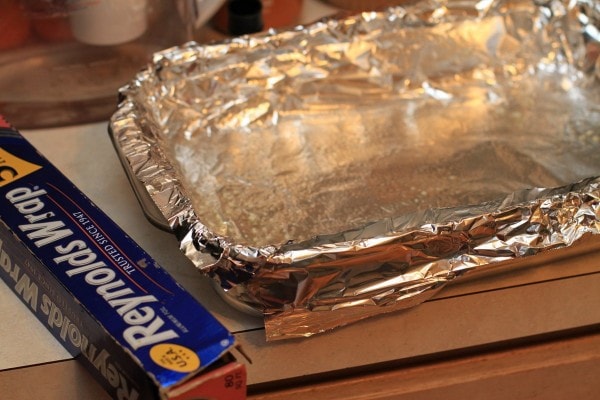 In a small bowl, mix together 2/3 cup confectioner's sugar and 1/3 cup cornstarch. You'll use this to de-stick-ify the marshmallows later.
Then pour 1/2 cup of water into your mixer bowl and sprinkle 2 1/2 tablespoons of unflavored gelatin over it. I used the Knox brand.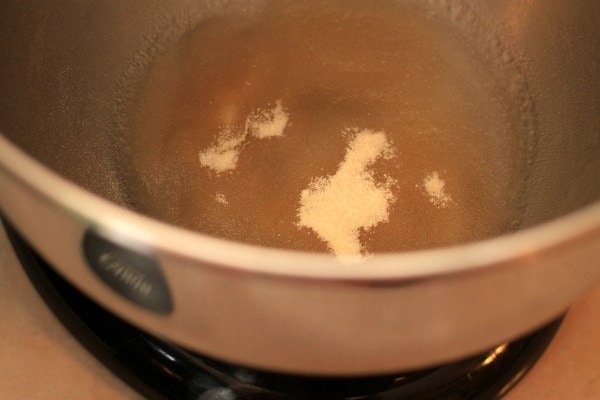 Let that sit for about 15 minutes. While the gelatin is sitting, you can make the sugar syrup.
In a saucepan, combine 1/2 cup water and 2/3 cup corn syrup. Pour 2 cups of granulated sugar and 1/4 teaspoon of salt into the middle of the pan.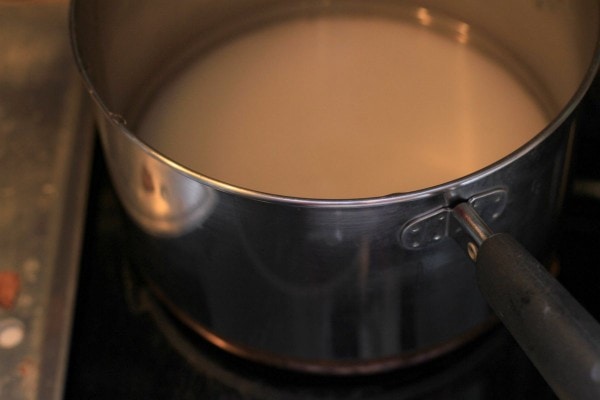 (ATK says not to let the sugar hit the sides of the pan. I have no idea why, but I trust them.)
Over medium heat, bring this to a boil, and then cook it, swirling the pan, until it reaches 240 degrees (240.5 also works.)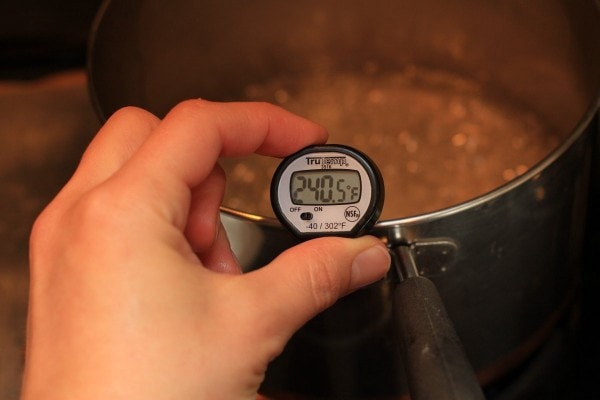 Turn the mixer on to low speed, and pour the hot sugar mixture into the bowl with the gelatin. ATK said to avoid hitting the whisk and the bowl during this process, but I couldn't figure out how to avoid that. And mine turned out fine.
Oh. Be warned. This smells a little bit funky as it mixes, but that's totally normal.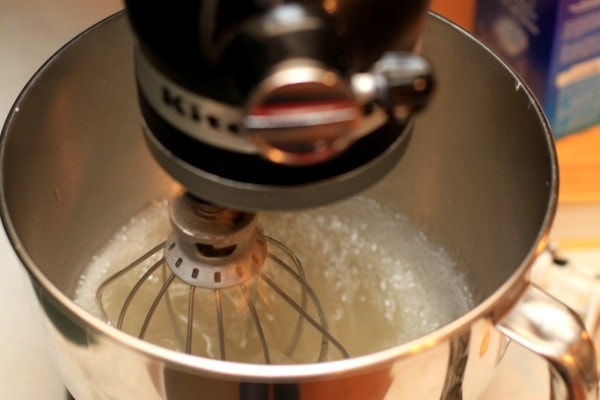 Increase the speed bit by bit until you've reached high speed. Then let the mixer go for 10-12 minutes, or until the mixture is really stiff. It'll look fairly stiff after just a few minutes, so set a timer instead of just going by sight.
The bowl should be just barely warm by the time you're done.
Once the ten minutes are up, you need to work fast, because the cooler the mixture gets, the trickier it is to work with. Stop the mixer, shake out the whisk really quickly, and then scrape the marshmallow mixture into your prepared pan. I used a rubber spatula to help me clean out the bowl and spread the marshmallow mixture.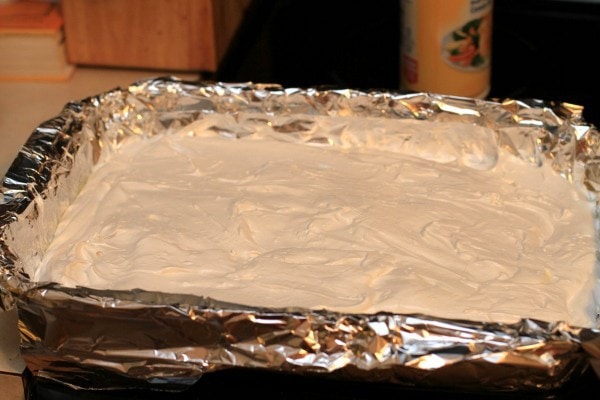 Don't worry too much about cleaning out the bowl thoroughly. If you mess with that for too long, the marshmallow mixture will get too cool to spread neatly.
Using a small sieve, sprinkle 2 tablespoons of the confectioner's sugar mixture over top of the marshmallows. Let them cool thoroughly, then cover them and let 'em sit overnight.
The next day, lightly dust a cutting board with the confectioner's sugar mixture, and spray a chef's knife with nonstick spray. Lift the marshmallows out of the pan, invert them onto the cutting board, and sprinkle that side with more of the sugar mixture.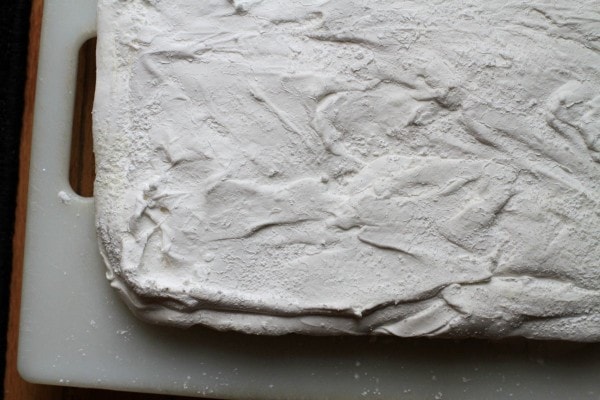 Then, using your greased knife, cut the marshmallow slab into cubes.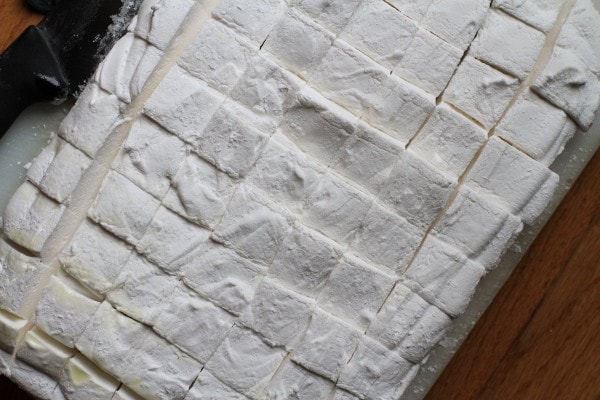 Place a few marshmallows into the confectioner's sugar bowl and toss to coat.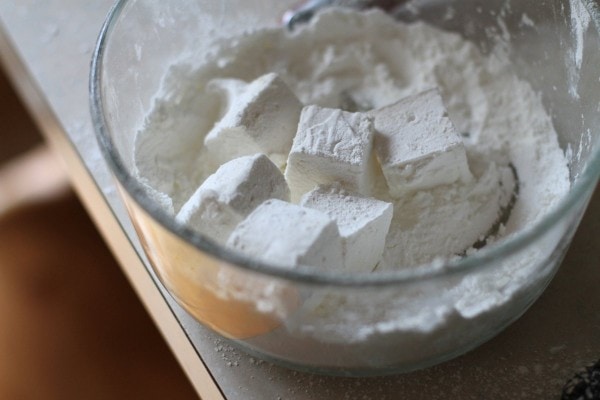 Then place the marshmallows into a strainer and gently shake to remove the excess sugar.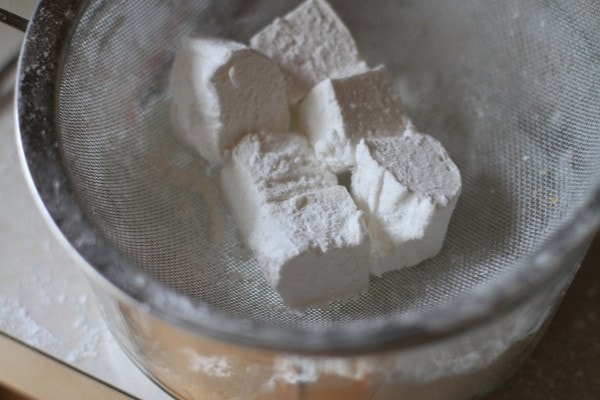 You thinking this sounds messy? It is.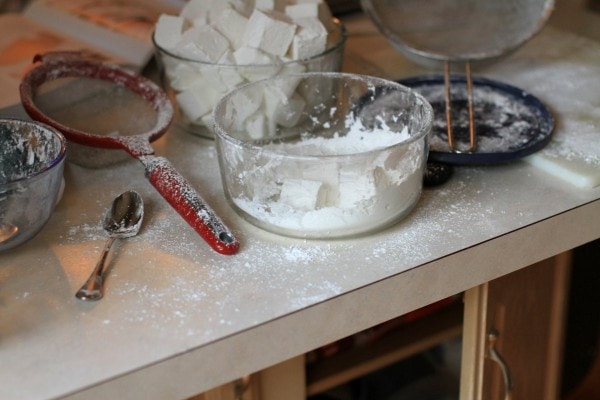 But hey, powdered sugar is water-soluble, so it's not as horrible as if you were flinging, say, bacon grease all over your counters.
Once you've finished coating all of the marshmallows, store them in an airtight container.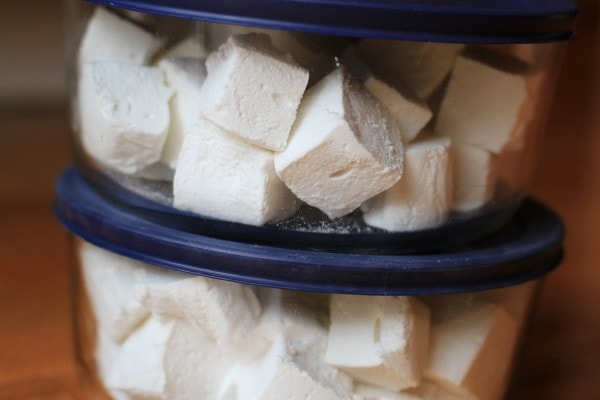 They're pretty delicious eaten as-is, but they're especially tasty if you eat them with a bit of chocolate. 😉
DIY Homemade Marshmallows
Printable Homemade Marshmallow Recipe
2/3 cup confectioner's sugar
1/3 cup cornstarch
1 cup cold water
2 1/2 tablespoons unflavored gelatin
2/3 cup light corn syrup
2 cups granulated sugar
1/4 teaspoon salt
2 teaspoons vanilla extract
In a small bowl, mix together confectioner's sugar and cornstarch; set aside.
Line a 9×13 inch pan with two pieces of foil, running one length-wise and the other width-wise, pressing foil down into corners of pan. Spray foil with nonstick cooking spray.
Pour 1/2 cup cold water into the bowl of a stand mixer, then sprinkle gelatin over water. Let stand 15 minutes.
Meanwhile, in a medium saucepan, combine corn syrup and remaining 1/2 cup water. Pour granulated sugar and salt into the middle of the pan.
Bring to a boil over medium heat without stirring. Cook until the mixture reaches 240 degrees °, gently swirling pan.
Turn mixer on low speed, and carefully pour the hot sugar mixture into the bowl. Gradually increase the mixer speed to high, and mix until mixture is very thick, about 10 minutes (the bowl should be barely warm.) Add vanilla near the end of the mixing time.
Use a rubber spatula to quickly scrape marshmallow mixture into prepared pan. Spread evenly. Sprinkle with 2 tablespoons confectioner's sugar/cornstarch mixture. Let cool thoroughly, cover, and let sit overnight.
The next day, dust a cutting board with 2 tablespoons confectioner's sugar mixture. Invert 9×13 pan onto the cutting board, peel off the foil, and dust slab with 2 tablespoons confectioner's sugar mixture.
Using a chef's knife spray with nonstick cooking spray, cut slab into cubes.
Working with several cubes at a time, toss marshmallows in confectioner's sugar/cornstarch mixture, then shake in mesh sieve to remove excess sugar. Repeat with remaining marshmallows.
Store in a airtight container.
___________________________________
Joshua's 365 post:Briary