Some of you who have been reading my blogs from the very beginning(alllll the way back in March of this year! lol) will recognize this post, which was originally published on my food-wasting blog. I was making some applesauce today and remembered this post, so I thought I'd republish it here.
I'm guessing that a lot of you out there in blog world end up with random apple slices at your house the way we do at ours. It seems like when I cut an apple up for lunch or dinner, we never eat exactly the number that I cut. Sometimes I save them to eat later, but leftover apple slices are never very appealing since they turn an unappetizing shade of brown. So, sometimes I'll start a Leftover Apple Slice Bowl in the fridge and when it gets full, I use the apples to make applesauce. This is also a good thing to do with apples that have lost their crunch or with apples that have random bad spots or bruises.
Since this isn't a very exact recipe, you can easily adjust it to accommodate the number of apples you happen to have.
Homemade Applesauce
Core and peel the apples and place them in a saucepan or pot.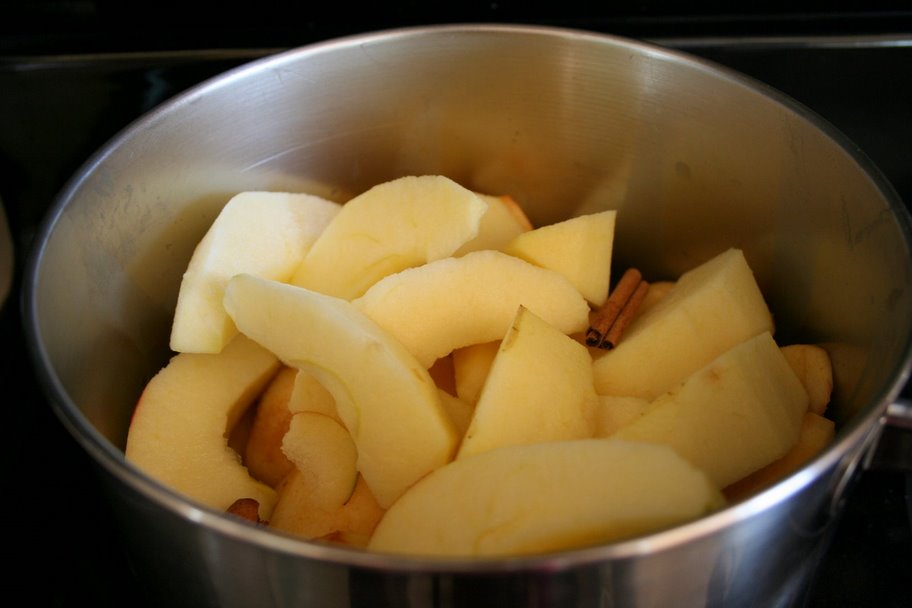 The peels can be composted or you can feed them to your children if, like mine, they're anxious to eat them.
Add about 1/2 inch of water to the pot, cover, and bring to a boil over medium high heat. Turn heat to low and simmer for about an hour, or until the apples look like this: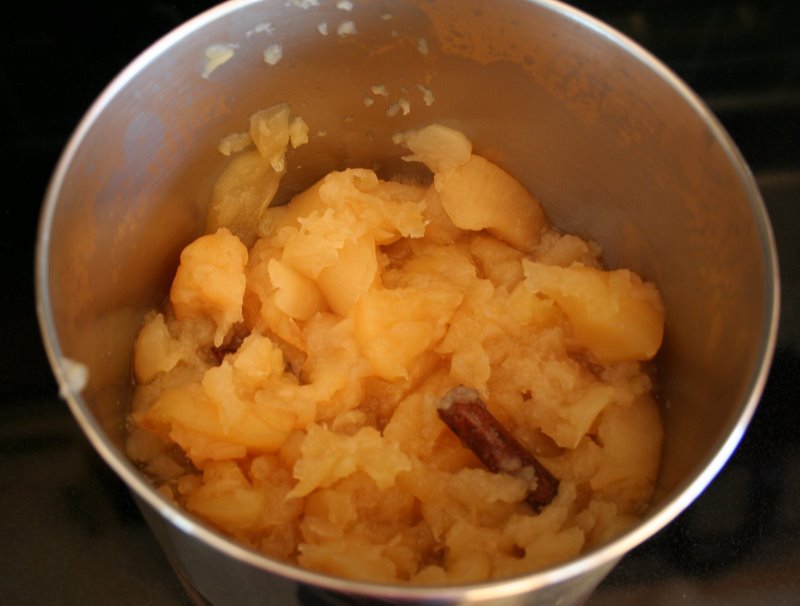 and are very soft. Keep an eye on them to make sure that all the water hasn't boiled out(in that case, you'd end up with burnt apples and a very messy pot. Ask me how I know.). Remove the cinnamon stick and, using a slotted spoon, remove apples to a bowl. For chunky applesauce, mash by hand, using a potato masher. For a smoother applesauce, pour the apples into a food processor and process them until they are the desired consistency, adding liquid from the pot as needed.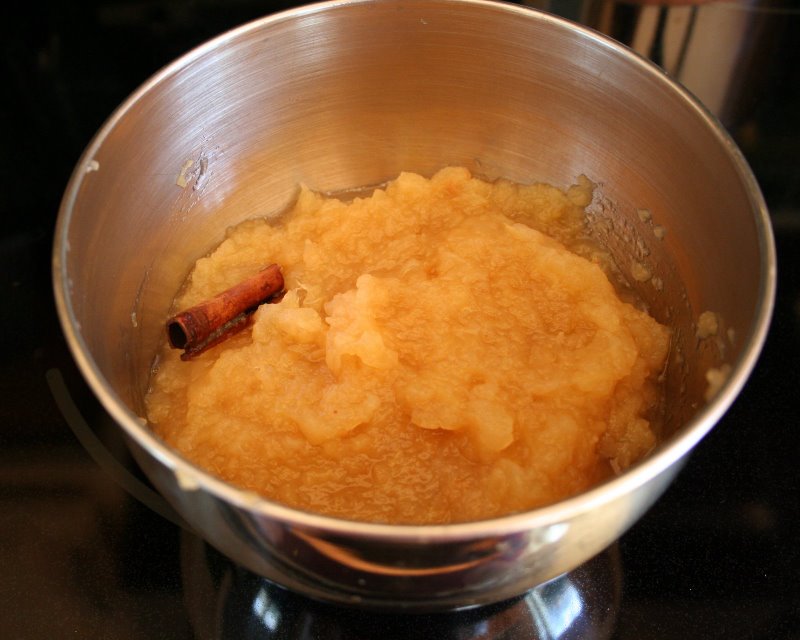 The finished product should look something like the above picture, and it will be delicious. Even with no sugar added, homemade applesauce is SO much tastier than store-bought applesauce. And it's a far better alternative to throwing the unwanted apples away.
By the way, the liquid from the pot is usually quite sweet and tastes sort of like apple juice, so I save mine to give to my younger two at breakfast.