I love fall for a lot of reasons, but one of the largest is that I can make soup again. I love, love, love a bowl of soup with some fresh bread, and this is one of my favorite soups.
I got this recipe from the a piano students' mom way back when I was pregnant with Joshua, and I think she got it from one of those community recipe compilation books.
There are a number of baked potato soup varieties out there, and having tried a couple at restaurants, I can say that this one definitely leans toward the indulgent side. It's rife with dairy fat (the best kind!) in the form of milk, butter, sour cream, and cheese, which makes it super delicious and probably super caloric.
So, maybe just don't eat this every week. 😉
I wouldn't say this is a super fast soup, but neither is it an all-day affair.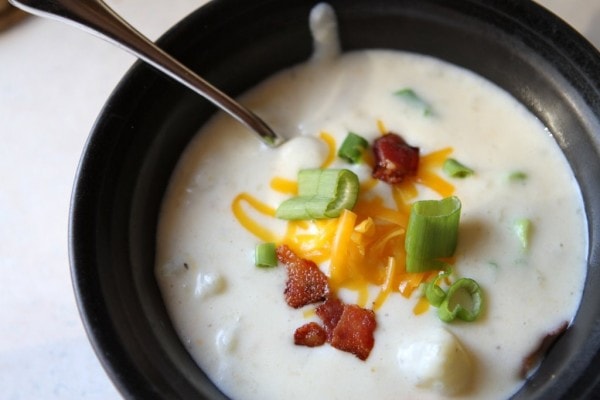 First, you'll need to bake 4 russet potatoes. You can do this in the microwave, but by the time you microwave 4 russet potatoes, the microwave is not a particularly large time-saver. Plus, if you're baking bread the same day, it's not like the oven heat goes to waste.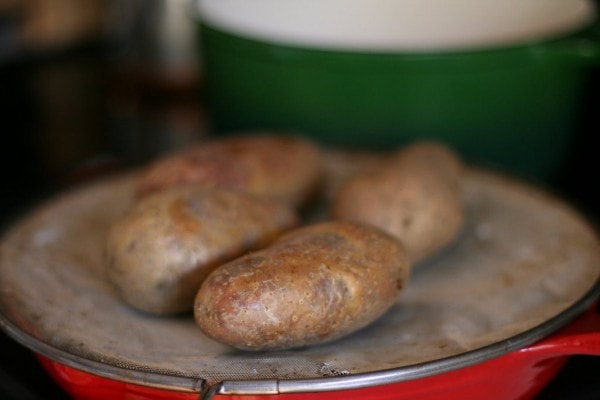 When the potatoes have cooled, slice them open and scoop out the potato insides into a bowl (or measuring cup, if that's what's handy!).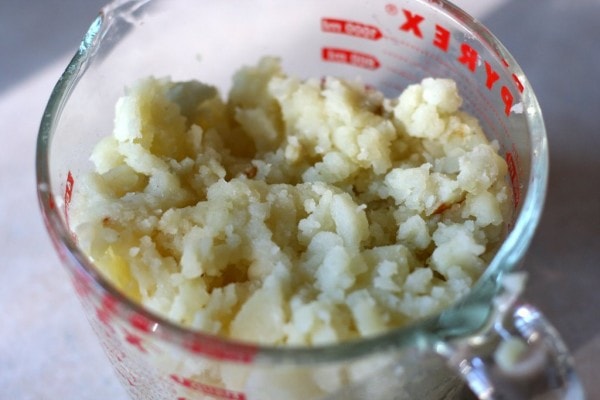 Next, cook the bacon until it's crispy and browned. Since the bacon is going to be chopped up for use in the soup, you may want to chop it up before you cook it. That way you don't have to bother with flipping the bacon and can instead stir it around with a spatula.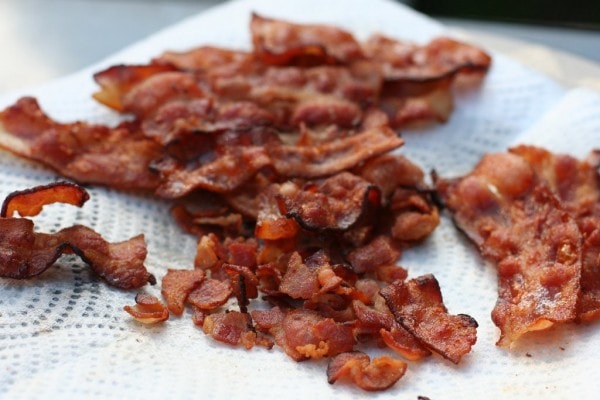 On to the soup base! Melt the butter in a large pot, and stir in the flour. Stir and cook the flour/butter mixture for 1 minute.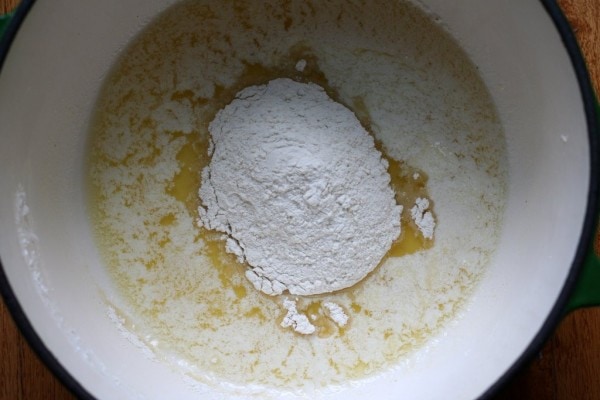 Add the milk, stirring constantly, and cook and stir frequently over medium heat until the mixture comes to a boil. This process takes a while, so if you want to speed things up, you can microwave the milk before adding it to the pot.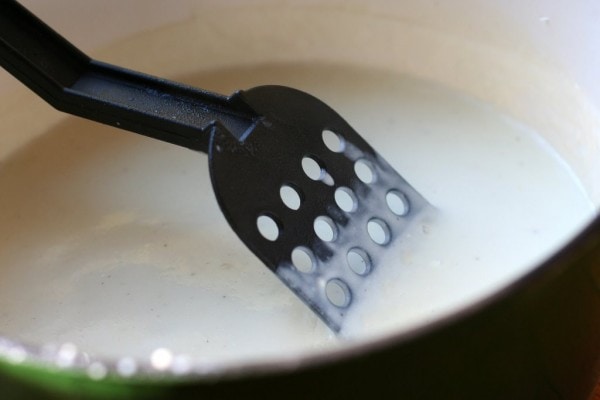 Don't be tempted to skimp on the stirring or to turn up the heat…a mixture like this is quite prone to burning, so a low heat and regular stirring are essential.
Once the milk mixture has boiled for a minute, stir in the cheese, bacon, green onions, and potato pulp.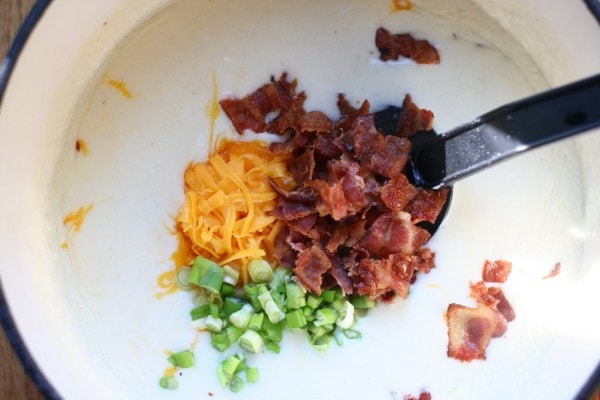 To finish the soup off, stir in 1 cup of sour cream. After you've added the sour cream, be very careful not to boil the soup, as that will cause the sour cream to separate, and your soup will have an odd texture.
Ladle the soup into bowls, and top with additional cheese, bacon, and green onions.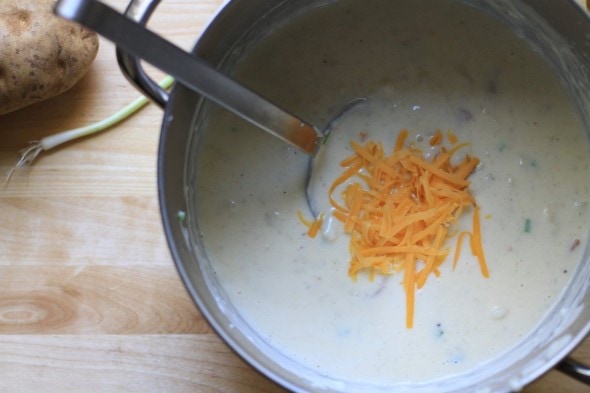 The bacon flavor in this soup gets better after a day or two, so if you've got the time, you may want to make the soup one day and then heat it up for dinner the following day. If you go that route, I recommend leaving out the sour cream until just before you serve the soup. That way if you accidentally boil the soup as you heat it up, the sour cream won't suffer.
Baked Potato Soup
Printable Baked Potato Soup Recipe
4 large baking potatoes
2/3 cup butter
2/3 cup flour
6 cups milk
3/4 teaspoon salt
freshly ground pepper to taste
4 green onions, chopped
12 slices bacon, crisp-fried and crumbled
1 1/4 cups shredded cheddar cheese
1 cup sour cream
Bake potatoes until tender; cool. Scoop out pulp into a small bowl and break up into pea-sized pieces.
Melt butter in a heavy saucepan over low heat; stir in flour. Cook for 1 minute, stirring constantly. Add the milk gradually. Cook over medium heat until thickened and bubbly, stirring regularly. Season with salt and pepper.
Add the potato pulp, 2 tablespoons green onions, 1/2 cup of the bacon, and 1 cup of the cheese. Cook till heated through.
Stir in sour cream (do not boil after this point). Sprinkle each serving with reserved green onions, bacon, and cheese.
Today's 365 post: This is me.