I did not go to Weis and Aldi this week, which is very unusual. I did spend money on groceries…just not at those two stores.
Safeway
Last Saturday I stopped at Safeway and spent $9.42. I bought $.99/pound grapes and $3.99/pound shrimp (I needed the shrimp for our Sunday meal, and none were on sale at Weis).
Giant
Then on Thursday, I went to Giant because we had a $25 gift card from filling a prescription. I spent $29.36 there, and I'm sorry, but I have no photo of those groceries. I bought all-natural lunch meat, bacon, strawberries, milk, green beans, bananas, and a few other things.
Safeway, part II
I thought the Giant trip was the last grocery store trip I'd make for the week, but after seeing the Safeway sale ad yesterday morning, I had to stop by and get the cereal deal. Safeway was right on my way home from helping at a sister church yesterday, so I popped in and bought these groceries: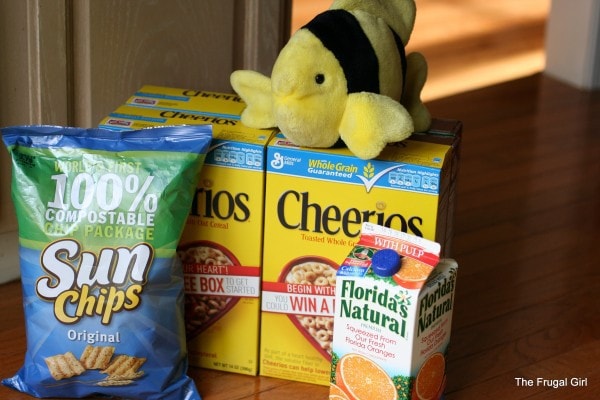 This cost me only $6.50, which makes me happy. I had a coupon for a free bag of Sunchips (I think I got it by becoming a fan on Facebook or something), and I am totally going to try composting the bag. I got the OJ because I forgot to get some at Giant, and the cereal, of course, I got because of the sale.
The 5 boxes of cereal were $9.50 before coupons, and I had $4.50 in coupons. That means my 5 boxes cost $4, which is even less than I thought I'd pay (woohoo!). That's because when I calculated my deal yesterday, I didn't realize Safeway doubled $.75 coupons…I'm so used to Weis' policy of only doubling $.50 or less.
Local Food
I got local eggs ($5 for 2 dozen) from my blog reader and some beef from a local farm. It was (gulp!) $4.50/pound, which is a lot more than I'm used to paying for beef. I know that's not a lot to pay for real, local beef, but it's an adjustment for me! I got 2 4.5 pound chuck roasts, so I paid $40.50 for that.
But, because I did minimal shopping this week (which is forcing me to use up the food I already have here), my total for the week was still only $90.86.
Breakfasts this week will be yogurt, bananas, muffins, toast, and oatmeal. Lunches will be homemade yogurt, yogurt smoothies, fruit, sandwiches, and leftovers as necessary.
Saturday
Sunday
Monday
Tuesday
Zucchinni/Chicken Pasta Salad
Wednesday
Grilled Hamburgers
Grilled Vegetables
Thursday
Shrimp and Ravioli in Pink Sauce
Whole Wheat French Bread
green salad
Friday
Chicken Quesadillas
fruit salad