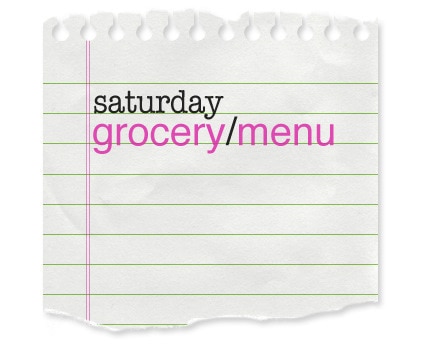 On Saturdays, I share my menu plan for the upcoming week along with a photo of my groceries and a tally of my spending. My goal is to spend $100/week for our food, toiletries, and cleaning products. I'm currently in the midst of trying to buy more local, sustainably-produced food while sticking to my budget. Can it be done? I don't know, but I'm going to try, and I'll share what I learn as I go along.
There I go again with the long titles.
Here's what I bought this week.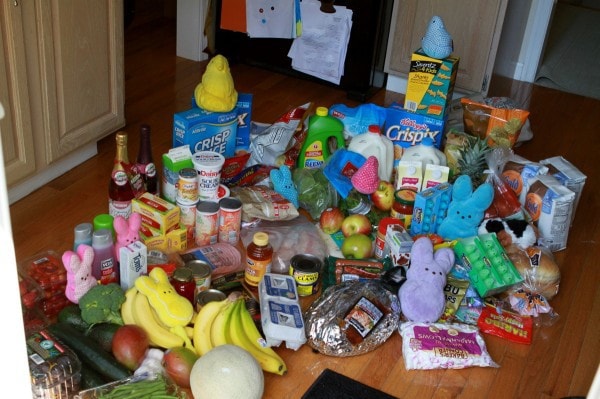 My fridge no longer looks as empty as it did in yesterday's post, that's for sure.
I spent $125.20 at Aldi and $83.93 at Weis. Plus, I spent $28.60 at the organic store earlier in the week.
Yikes.
That puts me at $237.73, which is $37.73 over budget. But, there are several good reasons for this. For one, I bought a ham for Easter dinner, I bought a whole pile of chocolate and candy for our Easter egg hunt, and I picked up some extra bags of flour (the 5 pound bags were on sale for $1.99, which isn't great but is better than $3). Without that extra stuff, I'd have been pretty much on budget.
I'm not worried about it, though…Easter only comes around once a year, and I've been under budget a number of times in the last couple of months. 🙂
What are we eating around these parts this week?
Breakfast is the usual. I don't feel like typing it out right now, so I won't. 😉
Lunches will be comprised of sandwiches made with whole wheat bread, homemade yogurt, yogurt smoothies, cottage cheese, fruit, raw veggies, nuts, cheese, and leftovers as necessary. Of course, we don't eat all of that every single day…it's just a list of the things we choose from for lunch each day. And Mr. FG eats leftovers for lunch pretty much every day.
O to dinner meals! I'll type those out because they're a little more interesting than breakfast meals.
Saturday
We had pizza last night because we couldn't do takeout date night due to the Good Friday service. But no matter…we're just going to do it tonight instead. Yay! I do love me an occasional no-cooking day. In fact, a no-cooking day once a week works out very nicely. I highly recommend it if it's in your budget.
Sunday (my parents are coming over for dinner, and they're going to help us hide eggs for the kids)
Monday
Sloppy Joes (made with happy local beef)
fruit salad
I think maybe we'll have some chips with that too.
Tuesday
Clam Chowder (I know this is a weird time of year to make soup, but I have some clam juice and red potatoes that need using!)
green salad
Wednesday
This day happens to be the anniversary of the day I was born. I haven't decided yet what we're eating, but I'm not cooking! Also, I might take the day off of blogging. Or I might just be lazy and post a bunch of pictures. You'll just have to wait and see.
Thursday
Grilled Chicken Sandwiches
fruit salad
Friday
Takeout date night for Mr. FG and me, something easy for the kids (they usually root for popcorn, cheese, and fruit, and there is great rejoicing when I give in)
Have a lurvely Saturday!
Today's 365 post: Cheap Entertainment (I think I only have to take one more picture with Joshua's point and shoot, and then it's back to the SLR for me!)
Joshua's 365 post: Pollen Season