It wasn't an official grocery shopping week, but I did buy 40 pounds of blueberries.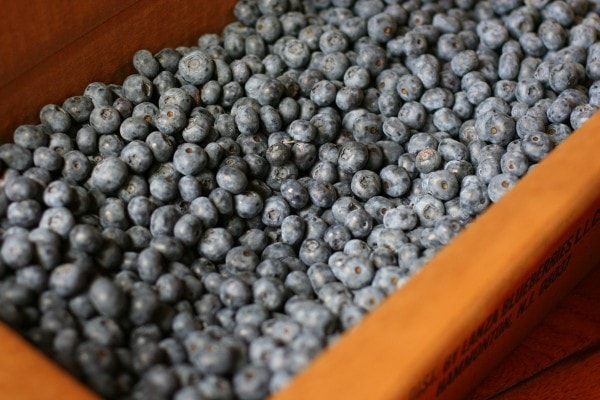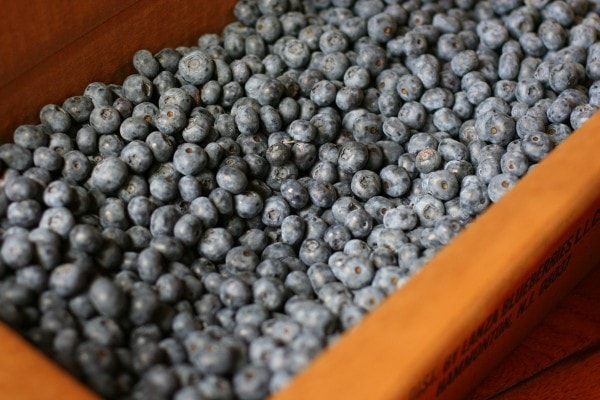 They're not organic (though the farm uses less pesticide than most larger farms do), but they're fairly local (from New Jersey), come in recyclable cardboard boxes, and they're delicious.
And at $1.75/pound, they're cheaper than what I can typically buy at the store. Even when they're on a really good sale at Aldi, they're a little less than $2/pint (I think they were more like $2.50 recently).
We're eating them by the handful, of course, and I'll also freeze quite a few of them for smoothies and make jam out of some.
For breakfast, we'll be eating blueberry muffins, blueberry buttermilk pancakes, yogurt topped with blueberries, and cereal topped with blueberries.
(are you sensing a theme?)
Lunches will be comprised of sandwiches made with whole wheat bread, homemade yogurt, yogurt smoothies, cottage cheese, fruit, raw veggies, nuts, cheese, and leftovers as necessary. Of course, we don't eat all of that every single day…it's just a list of the things we choose from for lunch each day. And Mr. FG eats leftovers for lunch pretty much every day.
This is the dinner plan:
Saturday
things are a little bit up in the air as to what we're doing tonight. I'm currently discussing it with Mr. FG. 😉
Sunday
We're getting together with Mr. FG's parents, and I'm responsible for dessert. I think we're going to do ice cream, some bars, and some frosted oatmeal cookies.
Monday
Meatball Subs
green salad
Tuesday
Lemon Sage Chicken (this keeps getting bumped, but I'm really going to try to make it this week!!)
green beans
Wednesday
Beef Enchiladas (a new recipe, and I'm using beef instead of turkey because I have tons of beef and no turkey)
fruit salad
chips and salsa
Thursday
Friday
Takeout date night for Mr. FG and me, something easy for the kids
Have a fabulous Saturday, dear readers! I don't normally post on Sundays, but I have a little picture post to share with you tomorrow, so do stop back in.