I just have one picture this week because I had a photo session scheduled shortly after we got home. So we were in a hurry to take a picture and put away our groceries.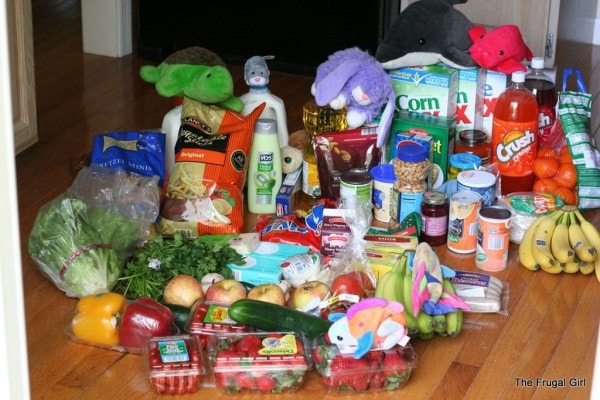 I spent $72.63 at Aldi and $19.10 at Weis, so my total was $91.73. Also, in happy news, I found out that my beef only cost me $30, not $40 like I thought last week. So, I was actually $20 under budget last week, and I'm $8 under this week. Yay! This means that I'm going into May with a surplus, and I think I'll probably spend it on some nuts (pistachios, pecans, and almonds).
Breakfasts this week will be yogurt, bagels, muffins, bananas, and tangerines. Lunches will be homemade yogurt, yogurt smoothies, fruit, sandwiches, and leftovers as necessary.
Saturday
Sunday
snacky stuff….i.e. fruit dip and fruit, crackers and cheese, veggies and dip, and so on. Because we need a break from breakfast for dinner every now and again.
Monday
My birthday is on Tuesday. But on Tuesday, I have to teach all day, Mr. FG has to work, and there's Bible Study at church in the evening. So, Tuesday is not good for celebrating. But on Monday, neither of us has to work, so we're celebrating my birthday a day early. Which means that I am not cooking dinner on this day. I don't know for sure what we're eating yet, but I do know I'm not making it! 🙂 And I do know that we'll be having an ice cream cake for dessert.
Tuesday
Wednesday
Thursday
my husband is helping a friend move and so I'm figuring on him not being here for dinner. So, the kids and I will eat up whatever leftovers are hanging around by then.
Friday
Chicken Bouillabaisse (I'm trying a Cook's Illustrated recipe)
green salad