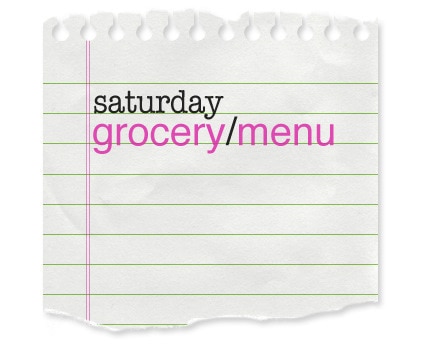 On Saturdays, I share my menu plan for the upcoming week along with a photo of my groceries and a tally of my spending. My goal is to spend $100/week for our food, toiletries, and cleaning products. I'm currently in the midst of trying to buy more local, sustainably-produced food while sticking to my budget. Can it be done? I don't know, but I'm going to try, and I'll share what I learn as I go along.
The Shoppping
I went about a week and a half between grocery shopping trips this time around…and of course, whenever I can put off grocery shopping, that makes me a happy camper.
Here's what I bought.
I spent $43.83 at Weis and $68.31 at Aldi for a total of $112.14.
The Menu
Since Mr. FG works second shift, we eat our dinner meal at noon during the week, and at night on the weekends. And our lunch meal happens at night during the week and at noon on the weekends.
We do eat breakfast in the morning, though, all week long!
Breakfast options are homemade yogurt, granola, scrambled eggs, oatmeal, fruit, and cereal.
Lunches will be comprised of sandwiches made with whole wheat bread, homemade yogurt, yogurt smoothies, cottage cheese, fruit, raw veggies, nuts, cheese, and leftovers as necessary.
Here's the dinner meal plan (some of these are meals that got bumped from last week's plan)
Saturday
Sunday
Monday
Tuesday
Shrimp/Fish Creole
Roasted Green Beans
Wednesday
Rustic Dinner Rolls
Spinach Salad
Thursday
Meatball Subs
green salad
Friday
Pizza (hmm. I just saw that I have pizza and subs right next to each other. That might be kind of boring, so maybe I'll switch the order of things up a bit!)
Things are usually quiet around here on Sundays, but you should come back tomorrow because I have a fun giveaway just in time for Valentine's Day!
See you then. 🙂
____________________________
Today's 365 post: Check out what Mr. FG made for me!
Joshua's 365 post: I'm a Ninja! In a plaid shirt! With ninja stars!