I spent $66.96 at Aldi and $26.11 at Weis, which means I spent $93.07 total. Considering that this shopping trip included a fair amount of Christmas candy purchasing, I'm really happy with that (the Christmas candy is not shown in the photo, naturally!).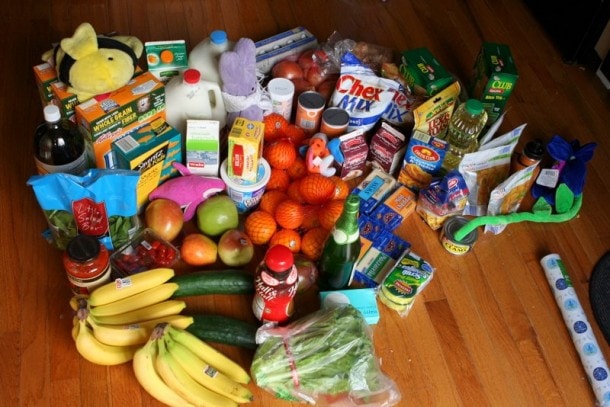 I know I bought several boxes of cereal last week, but this week miniwheats were on sale 4 for $6 and I had $2 in coupons, which means I got four boxes for $4. I hate to pass up a deal like that, and since cereal keeps just fine, I got four boxes. So, I now have a stash of miniwheats and Chex…yay!
If you remember from last week, I had $55 extra in my grocery envelope, and since I was under budget again this week, I have another $7 to add to that. So, as of now, $62 will be going to Living Water at the end of the month. That will provide water for 62 people for an entire year, which is very exciting.
Anyhow, here's what we're eating this Christmas week:
Saturday
Sunday
Monday
My husband and I have a date night planned (last week's didn't work out), so I don't have to cook! Very happy about that.
Tuesday (this meal got bumped from last week)

Wednesday
Thursday-Christmas Eve

Cream of Crab Soup
green salad
maybe a special dessert, if I have time
Friday– Christmas!

Ham (provided by my mother-in-law)
Scalloped Potatoes
Jello (provided by my grandmother-in-law
a vegetable of some sort (exactly what is still up for debate!)
pies for dessert (probably provided by my sister-in-law)