The groceries are a little lacking in stuffed animals this week.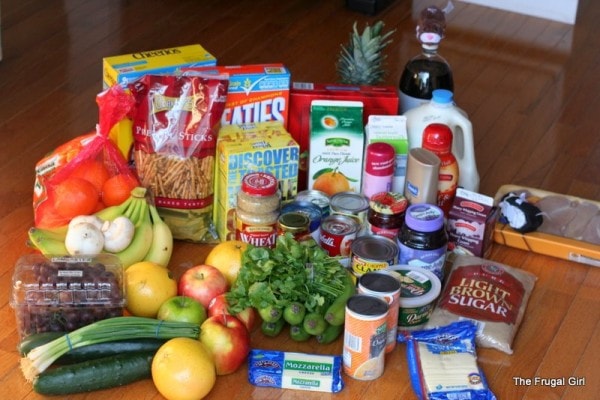 That's because it was a lovely, warm day when we went shopping (50 degrees!), and my kids were out enjoying the weather instead of putting stuffed animals on the groceries.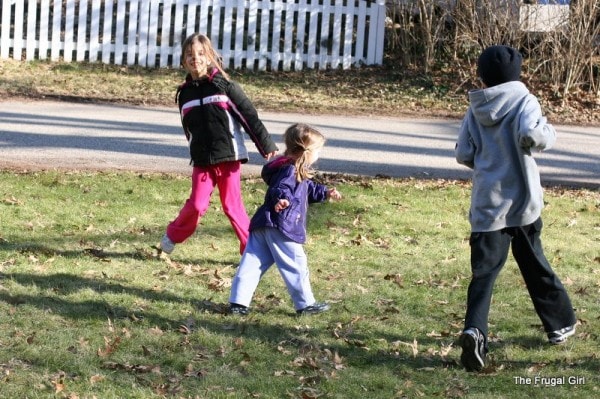 Of course, Zoe had a sea creature with her.
(the kids have named this whale "AnneMarine"…you know, sort of like AnneMarie. Except not quite.)
Sonia was out there too, of course (and she does still have hands. hee-hee.)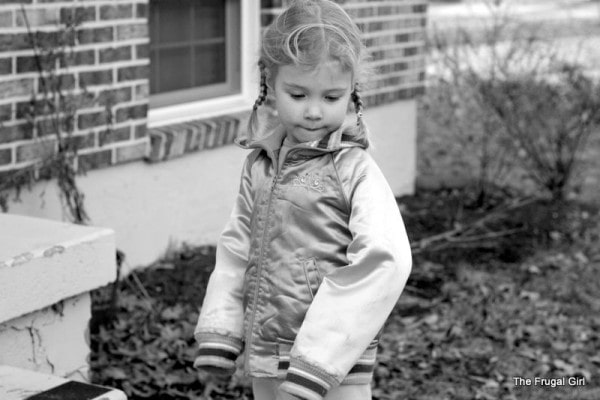 She was just busy chucking bouncy balls out into the grass and then running to pick them up. 😉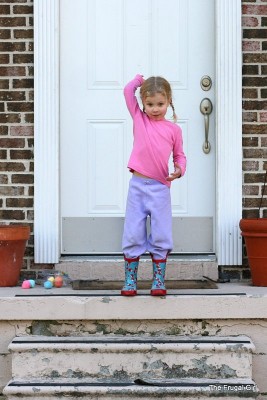 I'll leave her and her mismatched outfit up (which I love!) there on the side while we talk about grocery spending. Let's see…if you remember from last week, I was working with a limited budget ($77.23) this week, so I tried to plan a menu that required minimal spending.
I spent:
–$42.50 at Weis
–$34.15 at Aldi
And that makes for a total of $76.55, which is just under my $77.23 budget. Phew.
Next week it's a new month, and a new budget…yay! I'm hoping to actually have some money left in my envelope at the end of next month.
Breakfast this week will be a combination of toast, oatmeal, Cream of Wheat, pancakes, and cereal. Lunch, as usual, is yogurt, yogurt smoothies, fruit, sandwiches, and leftovers as necessary.
And, here's what we're eating for dinner.
Saturday-We're having a date night (woot!). My dear brother and sister-in-law gave us a restaurant gift card for Christmas with the attached gift of free babysitting (double woot!). I am e x c i t e d, both for the food and the company. 🙂
Sunday
Monday
Chicken Tacos
fruit salad
Tuesday
Shrimp Taco Salad
garlic bread, made with French bread from the freezer
Wednesday
Herbed Wheat Rolls (a new recipe)
for a side dish, I'll use up whatever veggies happen to still be around
Thursday
Tomato Tortellini Soup (a new recipe)
green salad
Friday
Chicken with Parmesan Risotto
green beans