Yeah. This week I'm way over budget. So much so that I really felt like skipping out on today's post. But, I'm trying to be real here, and in real life, sometimes you go over budget.
Let's begin to asses the damage, shall we?
At Aldi, I spent $67.43. I then proceeded to spend $44.13 at Weis. That's $111.56, which is of course $11.56 over budget. That's not that bad, right?
It wouldn't be, except that earlier in the week, I had to send my husband to Weis to pick up some things I forgot, and that set us back $23.43 (worry not, he stuck to my list admirably, except that he did buy me a six-pack of marshmallow pumpkins. Hmmmm….maybe I don't have to count those in my grocery budget.)
And then a little later in the week we were out picking up a pair of jeans for my husband, and I stopped into the grocery store next door for a few things ( for example, I was going to make hamburger buns for that night's dinner but ran out of time, so I spent $3.19 on buns). Anyways, that added another $12.10 to my spending.
All told, I spent $147.09 on groceries this week, so I'm officially $47.09 over budget. Dear me.
However, I have $400 for the month, so if I spend less for the next three weeks, I could still come out ok. I just need to average $84 a week, which I think I can do if I work at it.
Here's what I bought minus the stuff from the random trips earlier in the week.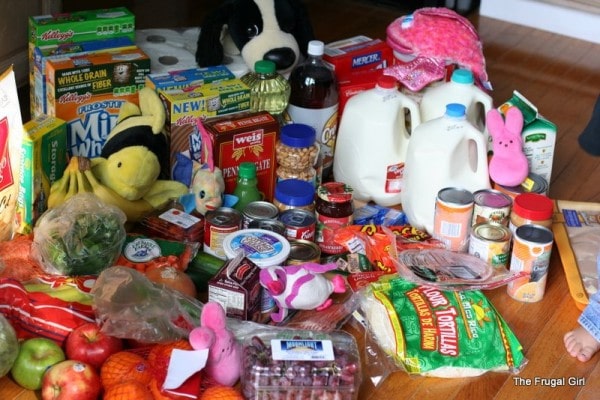 Breakfast this week will be a mixture of muffins, oatmeal, cold cereal, toast, sweet potatoes (Lisey likes to eat them for breakfast), yogurt, and bananas.
For lunch we'll eat yogurt smoothies, bread, leftovers, and fruit.
Dinners will be as follows:
Saturday (this is our new pizza night because my husband's work week currently runs Tuesday-Saturday)
Sunday
grilled cheese sandwiches
chicken noodle soup
carrot sticks and cucumber slices
Monday
Chicken Fajitas with grilled vegetables
fruit salad
Tuesday
Penne in Cream Sauce with Sausage
buttermilk drop biscuits
green salad
Wednesday
Chicken Wraps
fruit salad, and whatever vegetables need using by then
Thursday
Quick Crispy Chicken Breasts (a new recipe from Cook's)
green salad
Challah
Friday
Shrimp and Fish Creole
Corn Muffins
the vegetable side for this will depend on what produce is on sale next week