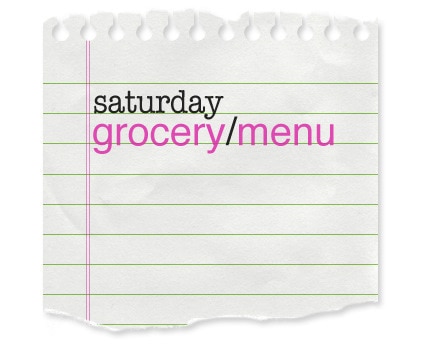 On Saturdays, I share my menu plan for the upcoming week along with a photo of my groceries and a tally of my spending. My goal is to spend $100/week for our food, toiletries, and cleaning products. I'm currently in the midst of trying to buy more local, sustainably-produced food while sticking to my budget. Can it be done? I don't know, but I'm going to try, and I'll share what I learn as I go along.
If you follow me on Facebook, you already know this, but I did something unusual and went grocery shopping after dinner last night. I don't think I've done that in eons, except on vacation. But, you gotta do what you gotta do.
The kids and I just went to Aldi instead of to Aldi and Weis. Here are the fruits/veggies I bought. (Well, mostly fruit, since I have a number of veggies still in my fridge.)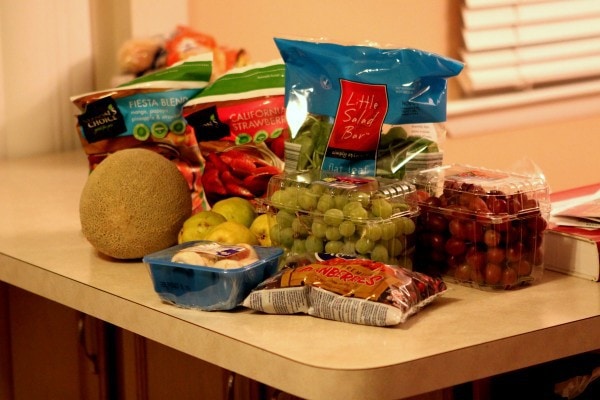 And here's the rest of my food. Can you tell I'm bringing cheese and crackers to the church lunch on Sunday?? And that's we're planning to roast marshmallows over our fire pit to make s'mores?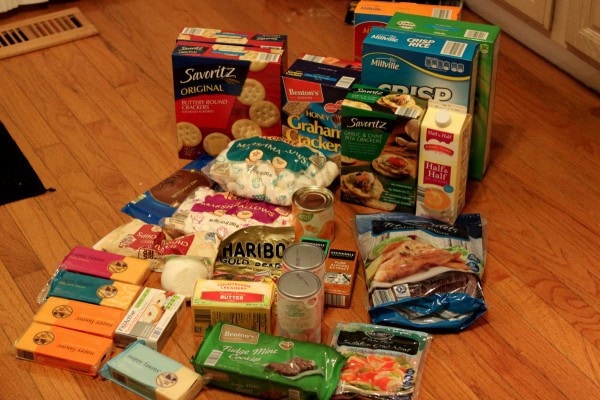 I spent $65 at Aldi, but I had run out of milk a day before I went shopping, so in addition to these groceries, I also made a $20 trip to a local store to buy two gallons of milk (one for cereal, one for making yogurt) and several other things.
Breakfast options this week will be yogurt, granola, cereal, toast, eggs, and fruit.
Our evening meals will be comprised of sandwiches made with whole wheat bread, homemade yogurt, yogurt smoothies, cottage cheese, fruit, raw veggies, nuts, cheese, and leftovers as necessary. And Mr. FG eats leftovers for this meal pretty much every day.
Here's the dinner plan, which includes weekend nights and weekday noon meals (during the week, we eat our big meal of the day at noon, before Mr. FG leaves for work.)
Saturday
Sunday
Monday
takeout pizza (sometimes you know ahead of time that's just the right choice to make!)

Tuesday
Wednesday
Teriyaki Chicken
Cheese bread
green beans
Thursday
Friday
Pizza (homemade this time!)
________________________________
Today's 365 post: Zoe didn't do this.
Joshua's 365 post: Jack be Little, Jack be Quick!