I know it's Wednesday today, but I don't have a baking post ready just yet. I hope to get something made today so that I can share with you tomorrow, but if I don't get a baking post ready for tomorrow, I promise I'll have one next Wednesday!
______________________________________
At the beginning of the year, I make a list of finance-related goals that I want to meet over the next 12 months. At the beginning of each month, I report on my successes or failures. If you're new here, you might want to read my original goals post, my February update, March update and April update.
1) Save up for a new camera body by September.
This has been the last goal on the list all year, but I have such an exciting update on it this month, I decided to put it first! 🙂
I HAVE A NEW CAMERA BODY!!!!
Ahem.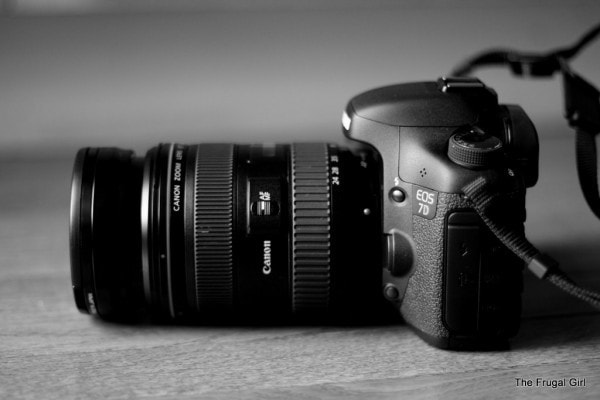 It arrived here on Saturday, and I think it's totally awesome. I haven't figured out all the controls yet, so when I do, I'm sure I'll think it's even more awesome than I do right now! 😉
Because I'm not one to be shy when talking about money (I personally think the way we keep our money so private is a little bit silly!) and because I know some of you will wonder, I bought the Canon 7D, which normally sells for $1699. I found it for $1599, and by some stroke of providence, I managed to remember to sign into my Ebates account before I bought the camera, so I'm getting $50 back from Ebates. Yay! (Ebates is a cash-back shopping program…if you click through to stores from their site, you get a percentage of your purchase back in cash. I have a dreadful time remembering to do this, so I'm really grateful I remembered before making such a big purchase! *)
$1550 (which is my total layout after my $50 back from Ebates) is a lot of money, I know. Next to my house, my van, and my piano, it's the most money I've ever spent on a single item. I don't think I necessarily need to turn in my Frugal Girl title after this purchase though. As I mentioned yesterday, frugality, to me, isn't always about spending the minimum possible. It's about getting a lot of bang for my buck.
So, why do I feel ok about forking over so much money for a camera body?
I love, love, love to take pictures, so I feel like this purchase is worth it solely for the enjoyment it will bring me. If my usage of my entry-level SLR is any indication, my 7D will get a workout. So, I'd say that the odds of my camera body sitting in a corner collecting dust are about nil. I will, as they say, get my money's worth out of this purchase.
Another thing that makes this purchase less horrifying is the fact that I am earning money with my camera (s!). Because of this, I can deduct this purchase from my self-employment taxes, which will save me some moola come tax-time next year. And of course, earning money with a purchase softens the blow of the original purchase price. My $5000 piano has paid for itself over and over and over again, and I think my camera will do the same.
I anticipate being able to use this camera for many years without being desirous of an upgrade, so it's not as though I'll have to keep forking over piles of cash to support my photography habit. I contentedly used my entry-level body for several years, so I think I can easily manage to be happy with this one for a LOT of years.
I saved up and paid cash for it. This purchase hasn't come out of our regular income at all…I've been saving all of my extra money since last fall, so buying my camera has not put us into debt and it hasn't even slowed our regular savings goals down.
So, there you have it. The Frugal Girl has spent a lot of money, and she doesn't feel at all guilty about it. 😉
I'll try to be less verbose about the rest of my goals so that you don't have to spend all day reading this post!
2) Eat non-cereal breakfasts 4 days a week.
We're still doing well at avoiding cereal for the most part. However, the weather has gotten pretty warm here, and so I really need to do a little bit of advance preparation for some cool breakfasts (which are usually fruit, yogurt, granola, and muffins).
I always have yogurt around, so I'm good there and of course, I always have fruit here too, but I need to set aside some time to make granola and also to do some batch muffin baking. In the winter I don't mind baking a dozen muffins at a time because the heat from the oven is kind of welcome, but in warmer weather, I prefer not to turn the oven on all the time.
Hopefully at the beginning of June I'll be able to say that I actually made some granola instead of just talking about it. 😉
3) Save for a replacement van.
This is going fairly well…we crossed the $1000 mark this past month (and my husband, knowing how impatient I am to meet this goal said, "Oh, great, sweetie! Now we only have to do that 15-20 more times!")
Hee. Yeah, "only"!
I'm actually feeling kind of encouraged about the progress we should be able to make on this goal because now that I'm done saving for my camera body, most of the extra income I bring in should be able to go straight into the van fund.
So, look for some cheerful updates on this goal in the next few months!
4) Buy more local/organic/real food.
My first month of trying to achieve this goal went pretty well, I think. I've been regularly getting local eggs, I bought some local beef, I bought some Laura's Lean Beef at the grocery store, I found some extra grocery money to stock up on bulk nuts, and I've got a semi-local chicken in the freezer (it's from a natural farm in PA). And I managed to do this without going over $100/week, which is encouraging.
In the coming months this goal should be even easier to reach because farmer's markets and the like will be opening up. And my own garden plants should start producing some food shortly as well (my spinach is about ready to eat, actually.).
5)Keep Quicken updated once a week.
Major fail here this past month. Sigh. I cannot seem to stay on top of this to save my soul! I'm going to keep trying, though. I'm thinking of writing Quicken time into my weekly calendar or something…a date with my financial software, if you will.
*I keep meaning to do a post about Ebates, but I haven't gotten around to it. If you want to give Ebates a try, you can sign up and get a $5 bonus to start you off. I think I get a $5 bonus too after you make your first purchase of $20 or more, or something like that. But as always, please know that I am not recommending Ebates simply because I want a referral bonus…I've personally used the program since 2001, and I've been very happy with it. At least, when I remember to use it! 😉