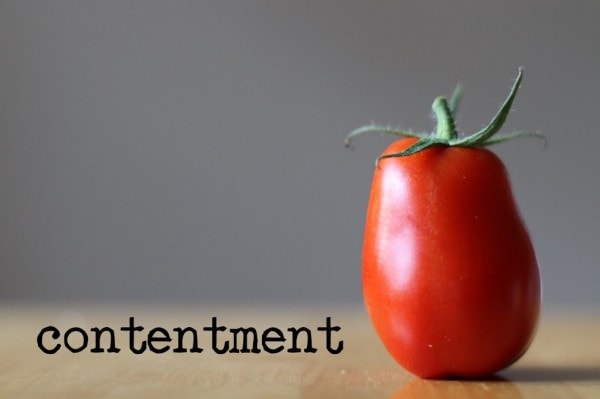 Probably that's this blog. 😉
I have long felt that a contented attitude is key to cheerful frugal living, and key to proper money management. Why?
People who lack contentment will never be happy, regardless of how much money or stuff they accumulate. No job, no home, no car, no wardrobe and no income is ever quite enough for the discontented heart. Because of this, I'd venture to guess that discontent is the driving force behind much of the overspending that happens in our culture. Credit cards offer people an opportunity to get more, more, more than they can really afford, but since more is never enough, credit card debt just keeps piling up.
On the flip side, people who are content can be happy in any situation…with a little money or a lot of money, with a little bit of stuff or with a lot of stuff. I don't think I have to expand on why this sort of attitude is good for money management!
So, over the next three Thursdays (starting this coming Thursday), I'm going to share 3 habits that have helped me to grow in contentment. If you struggle with discontent, maybe they'll help you to change your attitude (which will make you much happier!). I practice these habits myself and I also use them as I help my children learn to be content. I hope they serve you as well as they have me.
I should add too that ultimately, the reason for my contentedness lies in my faith. God gives me the grace and power to fight against ungratefulness and discontent, and since I know that God loves me (even when I sin!) and is always working things out for my good, I am inspired to be content with whatever He sends my way. Of course, this doesn't mean that I don't try to improve things (I took medicine for my hyperemesis, we saved up so that we could move out of our basement apartment), but it does mean that I try to keep a contented attitude in the midst of difficulties.
That said, I'm quite confident that the 3 habits I'm going to share with you will be helpful and practical no matter what worldview/faith you embrace.
I know sometimes I've started series before and then been very hit-or-miss with them, but I've actually planned this one out ahead of time, so I think I should be faithful with it. I planned it out on the way home from Myrtle Beach, and while I was at it, I planned a Productivity Series (which many of you have asked for), and that's slated to come in November. I also mapped out every single blog post for October and November, and that's never happened before. It's amazing what 7 straight hours in the car will do for a person.
Hopefully this plan will not only help me to faithfully finish these series, but will also make skipped Wednesday Baking posts a thing of the past. Also, hopefully I can manage to keep ahead with my planning. Because fly-by-the-seat-of-your-pants blogging is a little bit overrated. 😉
Today's 365 post: I think it's time for these to go.