This post contains affiliate links. Thanks so much for supporting the companies that help support The Frugal Girl. I really appreciate it!
Guys, I've done a fair number of partnerships with Grove Collaborative before, but this time around, I have something completely new to share with you!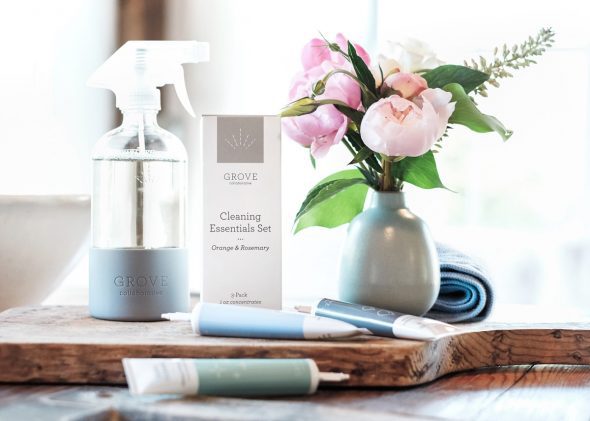 Grove has always had lots of cleaning products available, but recently, they developed their own line of cleaning concentrates.
Most cleaning products are largely water, but these are different. Grove puts all the cleaning power into a little tube, and you just add the water at home.
(A 1 ounce tube makes 16 ounces of cleaner.)
This greatly reduces the cost of shipping as compared to regular cleaners, since you're not having to package and transport all the bulk and weight of the water.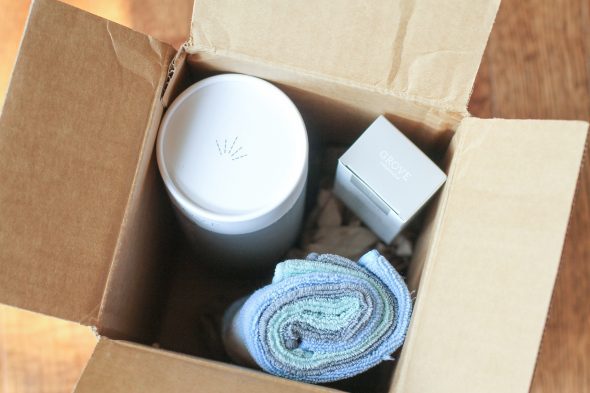 The concentrates are have no artificial fragrances…they're just scented with essential oils! And they have no colorants either.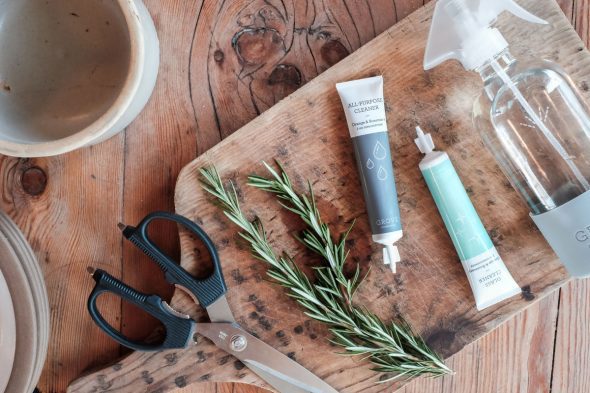 You'll obviously need a spray bottle for your concentrates, and while you can use whatever bottle you like, Grove's got a really great glass spray bottle.
They sent me one to try, and I was a little nervous about having a glass bottle (so many breakage possibilities!) But Grove's bottle has an awesome silicone sleeve, which keeps it from slipping on surfaces.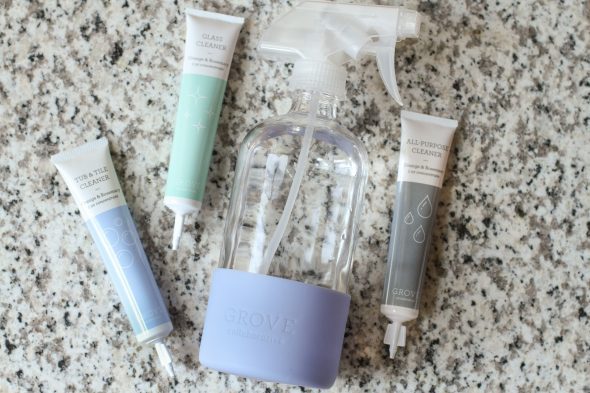 And since the sleeve covers the bottom of the bottle, you can easily set it down on hard surfaces like granite or ceramic tiles without cracking it.
Anyway, it makes a great reusable container for mixing your concentrates, and it's awfully pretty too!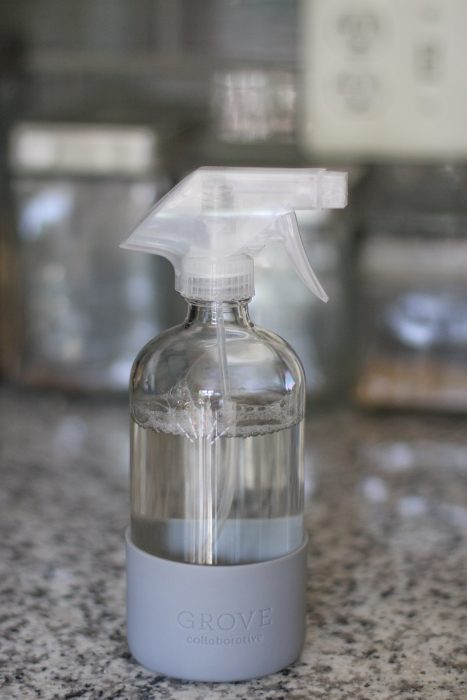 To help round out your set of low-waste cleaning products, Grove has a 3-pack of microfiber cleaning cloths.
If you're still cleaning with paper towels or disposable cleaning wipes, give these a try! I especially love cleaning glass with cloths instead of paper towels.  I always felt like I needed 983457369 paper towels to clean something like a sliding glass door, but a single cloth can handle that task and more.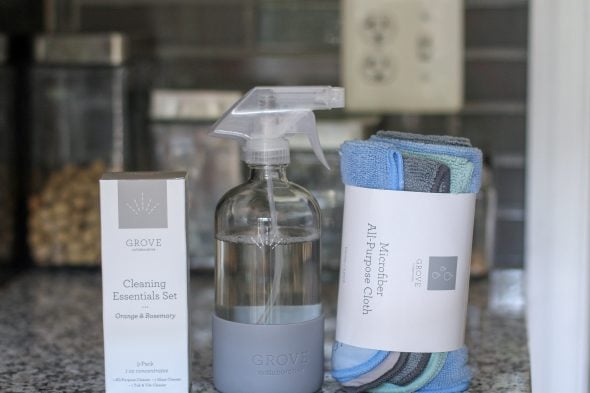 And guys, they really don't create that much extra laundry.  Throw them right in with your clothes, and stash them in a drawer or bin when they're clean and dry.  Super easy and waste-free.
Right now, you can try all of this for free with your first order of $20 from Grove Collaborative. Here's what's in the set: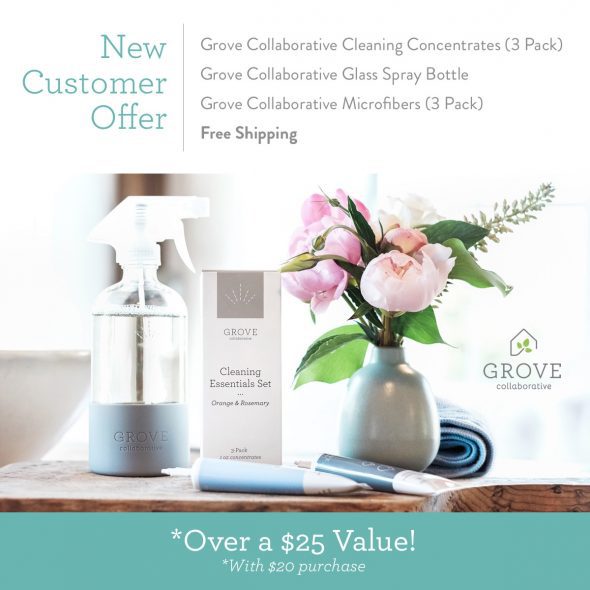 Free Grove Collaborative Cleaning Concentrates Set (3 pack of all purpose cleaner, glass cleaner, tub & tile cleaner)
Free Grove Collaborative Glass Spray Bottle
Free Grove Collaborative Microfiber (3 pack)
Free Shipping & 60 Day VIP Trial
Grove has all sorts of great cleaning and personal care products, so you'll have lots to choose from to meet your $20 order minimum.
(Pssst…they now carry Burt's Bees! The tinted lip balm is fabulous.)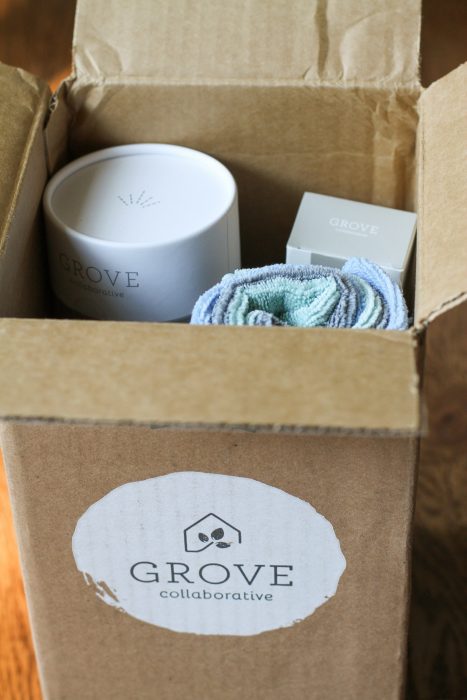 How to get your free concentrates cleaning kit
Just follow these steps:
Sign up for Grove Collaborative here. You will receive the Grove Cleaning Concentrates Set for free when you sign up!
To receive this offer, your order needs to be a minimum of $20. Choose the combination of products and scents you love and receive your first box within a few days.
You made it! Click Finish & Pay and place your order.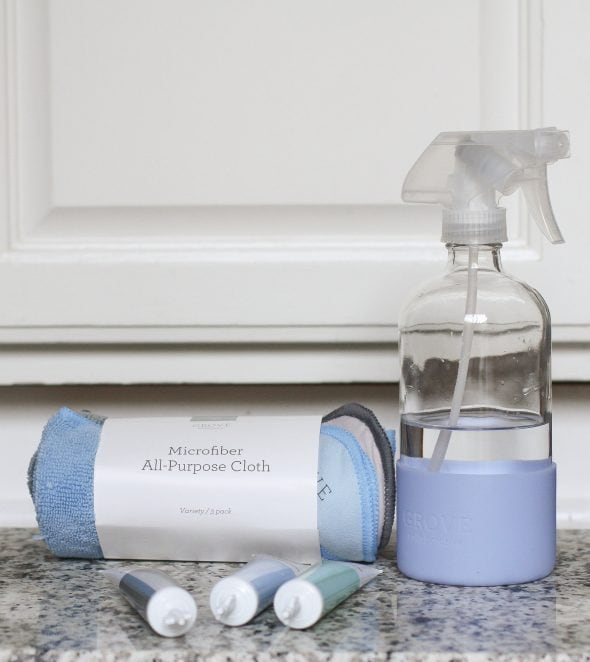 And here's a little bonus to help you save even more: Once you have submitted your Grove order, you will be signed up for the free 60 day VIP trial. For 60 days, save even more with free shipping, free gifts, price matching, exclusive sales and personal service.
Existing customers!
You get a freebie too. Click here to add a free 3 pack of Grove's walnut scrubber sponges to your next order!
Both offers end Sunday night (or until supplies run out), so don't put it off.
Let me know if you have any questions!
P.S. Grove is a subscription service…the idea is that they can regularly deliver the things you always use. But YOU get to decide how often that is, and you are under no obligation to get any more deliveries from Grove if you decide it's not for you.  There's no subscription fee, and you can manage your deliveries right through your Grove dashboard.
And if you need help with anything Grove-related, their customer service people are truly fantastic.
Save
Save
Save
Save
Save
Save