Since I was sick last week, I obviously didn't try a new recipe.  I was barely eating dinner, and it is not at all inspiring to cook a new recipe when you have no appetite.
But I'm pleased to report that I am hungry again.  Whee!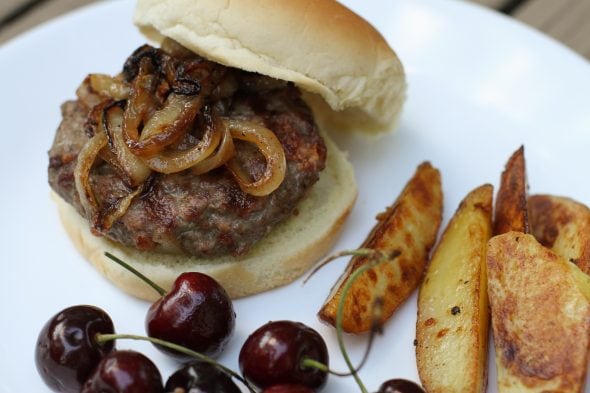 So, this week I tried the recipe I'd planned to try last week: a bacon burger from a recent issue of Cook's Country.
(actually, the bacon burger is on the cover of the magazine at that Amazon link right now!)
Instead of just slapping a few slices of bacon on top of the burger, this recipe calls for running bacon through a food processor, browning it, and then mixing it in with the ground beef.
This way you get a pleasant bacon flavor in every bite of the burger.
Plus, you slowly saute onion slices in the bacon fat and pile them on top of the burger.  So delicious.
The original recipe called for blue cheese on top of the burger, but no one here likes blue cheese.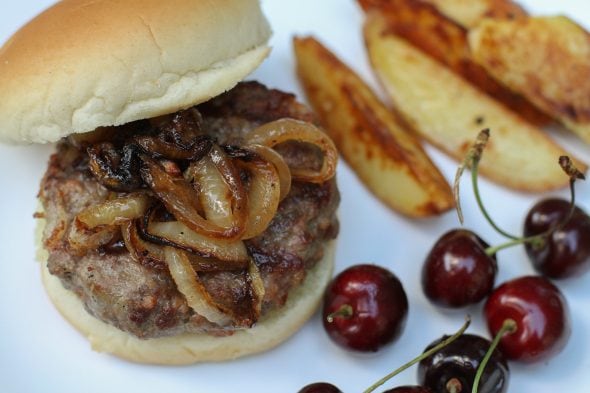 I ended up leaving off the cheese altogether, but I can see lots of great possibilities for future bacon burgers, like provolone or cheddar.
Anyway, this one gets a hearty thumbs up from us, and I'll definitely be making it again.
And when I make it again, I'll take more pictures so I can share the recipe with you all.
What new recipe did you try this week?
And was it good? Let us know in the comments!