What I Spent
Lisey left on Wednesday of this week, so from here on out, I'm usually only going to be feeding Zoe and me. It's been a long time since I was cooking for just two!
I spent:
$9 at McDonald's
$22 at Chick Fil A
$72 at Aldi
So, $103 for me.
It'll be interesting to see if I notice a difference in groceries with Lisey gone. She definitely didn't eat all her meals here, since she was often out with friends, so I don't know if much will change.
Time will tell!
What We Ate
Saturday
The girls came back from their trip pretty late; I'd had a late lunch, so I wasn't hungry. But they were, so we picked up some McDonald's for them on the way home.
Sunday
Zoe was with a friend, so for Lisey and me, I made pesto tortellini with sautéed veggies and shrimp.
Monday
I made fried rice with chicken and veggies.
Tuesday
I grilled burgers. Still so excited to have a grill again!
I grilled the buns too.
I added sliced jalapeños to my burger toppings and it was a delightfully spicy experience.
Wednesday
This is the day that Lisey flew out to Hawaii, so Zoe and I treated ourselves to a visit with all the cats at the cat shelter and then we went to Chick-Fil A for dinner.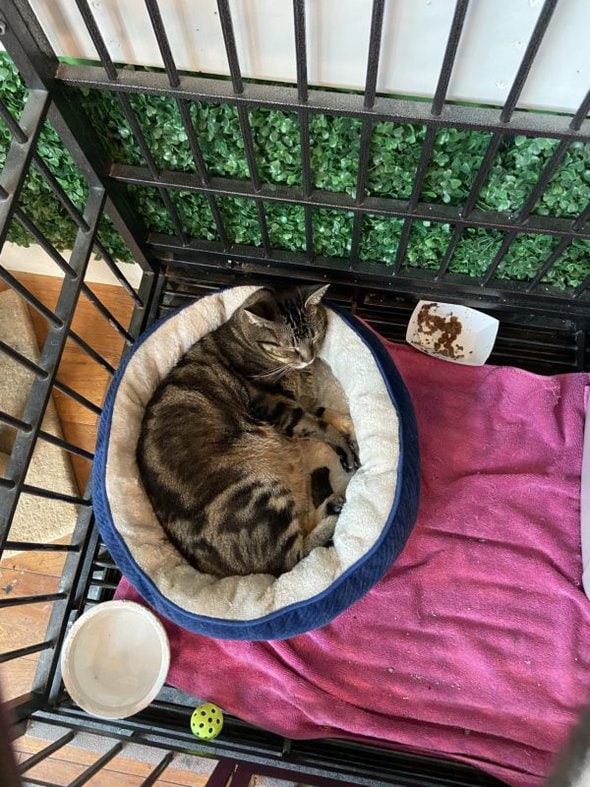 The day when Lisey moves halfway across the world, a bit of treating is in order for those of us who are left behind. 😉
Thursday
I went out for a belated Mother's Day meal with my sisters-in-law, my sister, and my mom.
I had shrimp and grits with fried green tomatoes, and OHHHH it was so good.
I love shrimp and grits, but now that I'm feeding just me and Zoe, I probably won't make it that often. Zoe's allergic to shrimp, and making a whole batch of shrimp and grits just for me is a little too much work.
So, a restaurant version was perfect. 🙂
(This is the recipe I use when I do make shrimp and grits!)
Friday
I have a day with a million and one things to do so I probably will do something very easy for dinner. I have some bacon in the fridge, so maybe BLTs are in order.
What did you have for dinner this week?