This giveaway is now closed. Congrats to Amanda!!
If you follow me on Facebook, you know that Coinstar recently sent me a blogger package. And you also already know that until this week, I'd never tried a Coinstar machine.(I opt either for manual rolling or just collecting large piles of coins because I am too frugal to pay a fee for coin counting!)
Initially when Coinstar contacted me, I was a little hesitant, but once they told me there's a fee-free way to get coins counted, I was all in.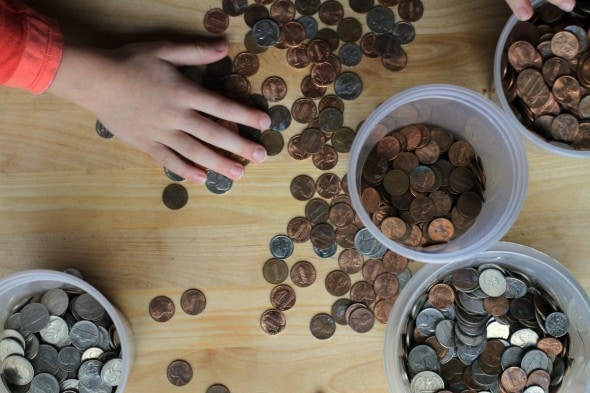 They sent me a roll of each coin denomination, but I also had a ginormous pile of change sitting in my kitchen cabinet.
I didn't really want to get rid of the quarters and such (they're useful for paying out allowance!), but I knew the penny-to-silver-coin ration in my containers was really high, and so I decided to take all the pennies to Coinstar.
The girls helped me sort them out.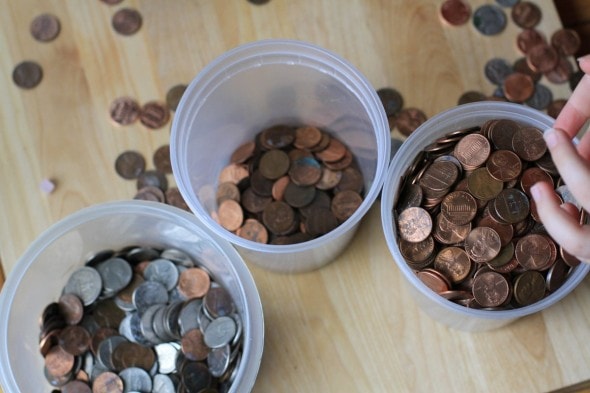 And we ended up with an impressive pile of pennies.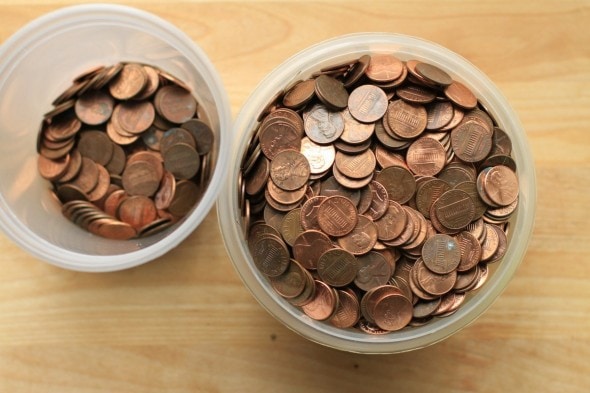 Then we headed off to a grocery store to find a Coinstar machine.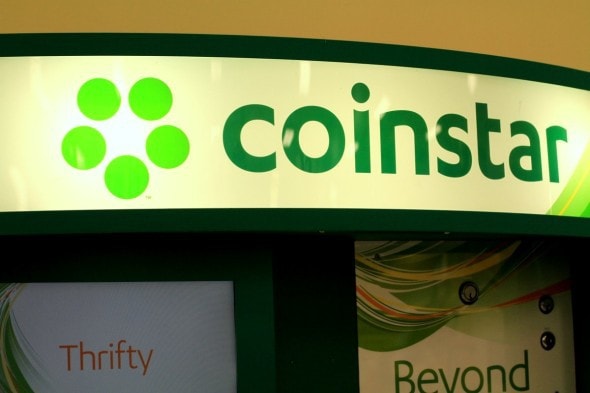 Here are all the options you can choose from when you bring your coins in.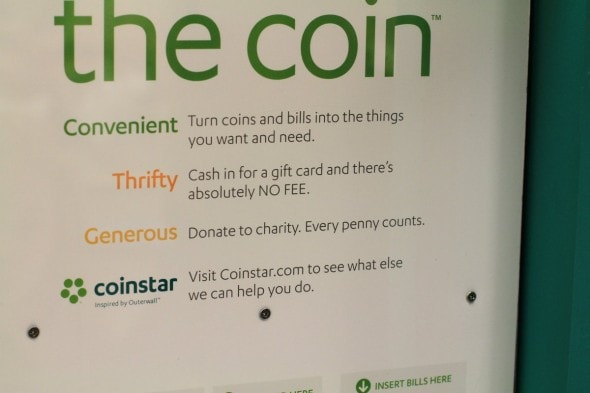 If you choose to get cash for your coins, you'll pay a 10% fee. But! If you cash your coins in for a gift card or you give your money to charity, there's no fee at all.
Yes.
I hemmed and hawed over the gift card options. There are a lot of good ones (three pages full, actually.)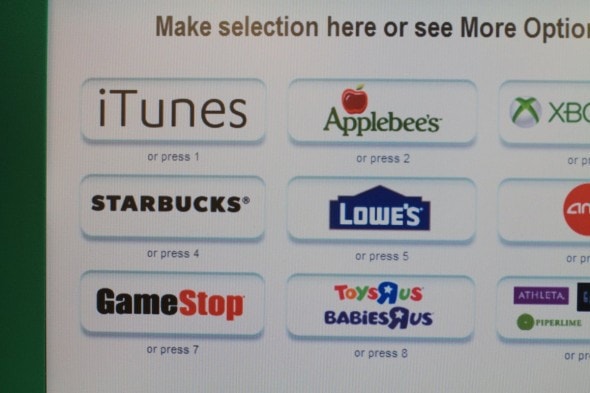 Eventually, I opted for a Starbucks card and we put in the coins that Coinstar had sent me.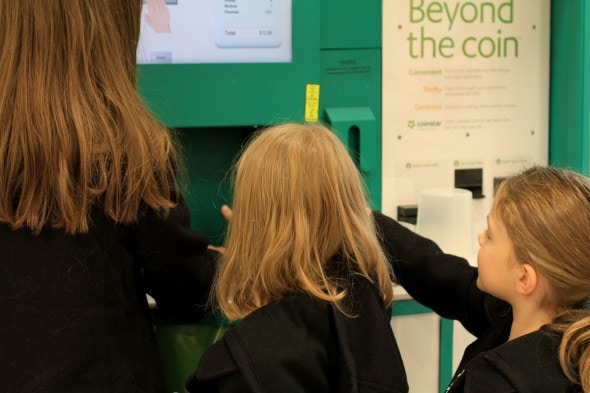 The girls rather enjoy pushing all the coins in.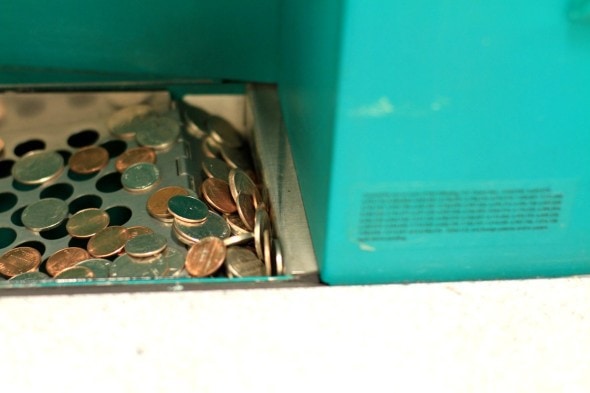 Just like magic, a Starbucks gift card appeared.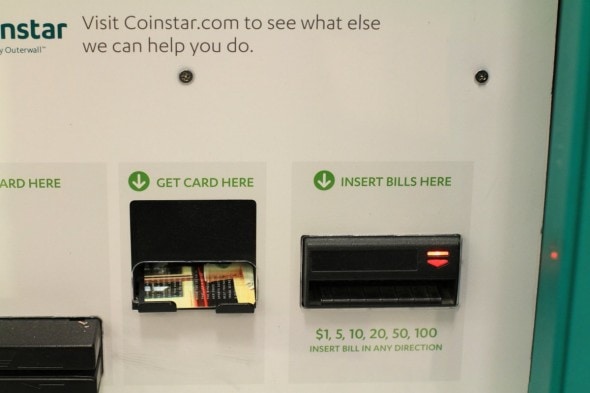 Then it was time for the pennies. We opted for an Amazon gift card this time.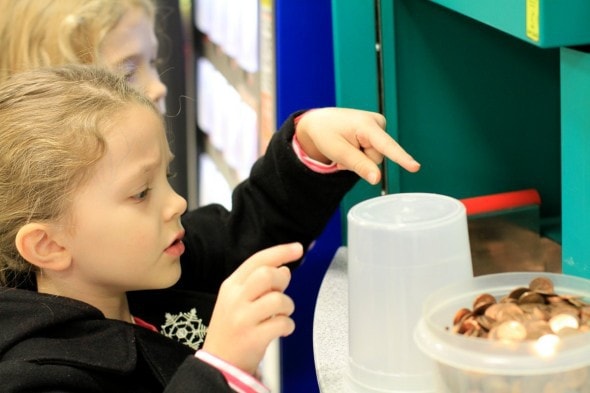 We had so many pennies, the machine told us to take a break from pouring them in so it could catch up.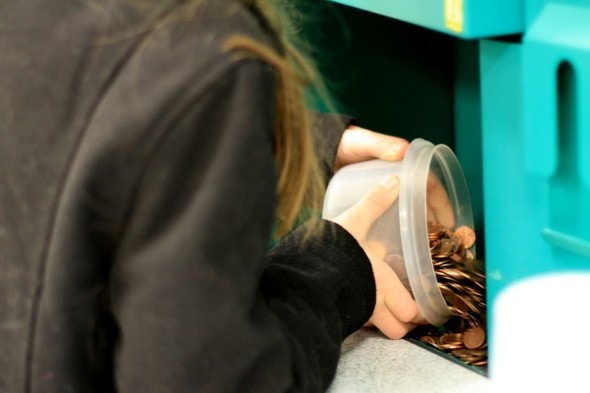 And you guys! We had over 1,650 pennies sitting in our house.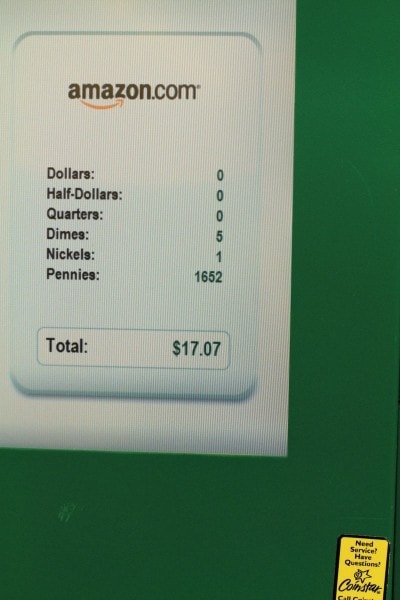 I'd never have guessed it was that much.
It's lovely to have gotten rid of all of those coins (yay for more cabinet space!) and to have exchanged them for Amazon and Starbucks money is pretty darn fantastic.
And no coin-rolling was necessary. Yay!
Coinstar > Coin Rolling.
For sure.
If you've got some coin piles around your house and you could use a little extra Christmas shopping money, definitely dump them into the Coinstar machine. It's free, easy, and surprisingly fun.
(And Coinstar says the average person has $56 of spare change lying around. That's nothing to sneeze at, so dig through your couch and purse and car to see what you can find!)
Almost 90% of the U.S. population lives within five miles of a machine, so you probably have one close by. Just hop on over to Coinstar.com to find a kiosk near you.
The Giveaway
Alrighty… on to the giveaway! I'll email a $50 Amazon.com gift card to one lucky reader.
To enter, just leave me a comment. Tell me what you'd spend your Coinstar money on, or you can just tell me you want the Amazon gift card.
So that the winner has time to use the gift card before Christmas, we'll make this a super fast giveaway. The deadline for entering is midnight tonight, EST, and the winner will be randomly chosen.
One entry per person, please.
I have no idea what countries can use Amazon, but if you live somewhere where you can use Amazon money, feel free to enter!
Disclosure: This post was brought to you by Coinstar, but the Amazon gift card is brought to you by yours truly.